Every luxury traveler looks for different things in a hotel experience. In the last decade or so, there has been a movement across the hotel industry to cater to one of the largest demographics: millennials. Hotel giants such as Hilton and Marriott have unveiled specific affordable luxury chains that cater specifically to (younger) millennials  — Tru and Moxy Hotels, respectively.
But millennials are as diverse as any other generation, so preferences of younger millennials may vary vastly from older millennials. I routinely work with luxury hotels on implementing strategies that tap into the millennial audience, and one of the perils of shifting to a generation-wide marketing strategy is categorizing the entire generational spectrum into one group without paying attention to the diversity of preferences, backgrounds, and ages. As a millennial myself, I agree with some of the changes that are being made, such as more efficient and ubiquitous uses of technology, but I don't agree with other changes such as taking away desks and making rooms smaller. While I work remotely often and may spend a limited amount of time in my room, I still prefer working at a desk when I am in my room. Additionally, I am in the millennial camp that would prefer that luxury hotel experiences not resemble communal hostels and be stripped of their air of splendor. Think: the personalization and attention to detail of Four Seasons meets the efficiency and technological innovation of the 21st century. With that said, the following are 10 upgrades I would like to see luxury hotels make in 2016 and beyond.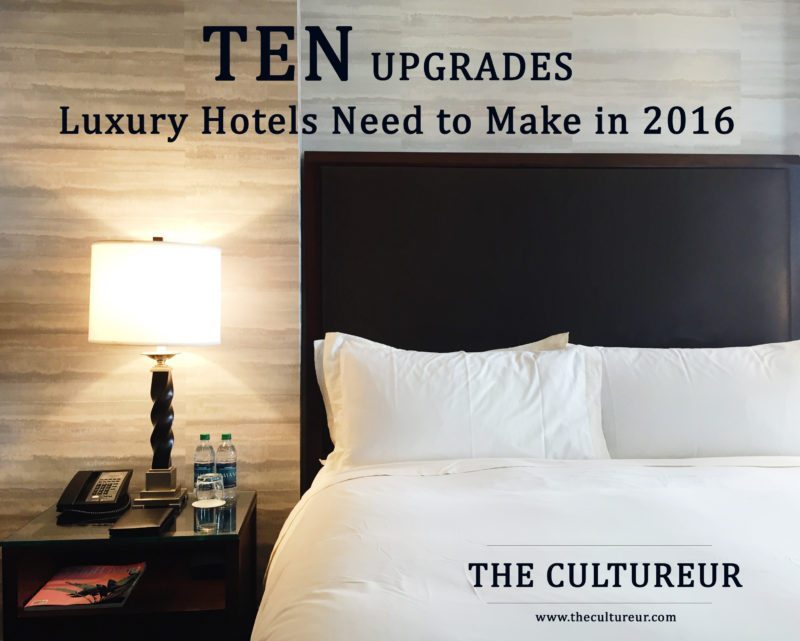 TECHNOLOGY
Docking stations, USB ports, and bedside outlets — I have yet to see a hotel room that has a docking station for an iPhone 5 or higher. It has been several years now and hotels are lagging behind technologies. Furthermore, if you're anything like me, my phone and other gadgets are usually drained at the end of the day, and I continue working on my phone and laptop when I jump into bed, so it's important that there are plenty of easily accessible outlets nearby.

Express checkin and checkout — After a long flight, the last thing I want to do is stand in a long line at reception to checkin. I would prefer to do it via an app on my phone and make specific requests in a matter of seconds. For checkout, I would prefer the hotel to email me my hotel folio beforehand so I can check the charges on my own time and then continue the checkout process without having to stand in line again. Another feature of express checkin should be keyless entry. It's currently being used by Starwood Hotels and via the retinal iris scan at luxury boutique hotels such as The Nine Zero Hotel in Boston.

Touch-sensitive dashboards — I love when hotels are equipped with touch-sensitive keypads that control music, curtains, room temperature, and lighting and allow you to communicate with the concierge and front staff to place special requests and make reservations. At the boutique hotel, Eccleston Square in London, at the touch of a button, you can even illuminate the "Do not disturb" sign outside the door.

Social media and pre-arrival correspondence — The hotel experience starts the moment I click "Book my Stay!" so get to know me and my preferences before I arrive, and that means send a personal email and converse with me on my social media channels. It's important that there is seamless communication between the social team and the on-property staff of hotels to ensure that details of digital conversations easily translate into physical manifestations. Hotels ought to use social media as a way to humanize their brands — find out if I have any special requests, the reason for my stay, etc. Most recently, the best example was during my stay at the Four Seasons Houston Hotel — the social media team knew I was in town for the

Hospitality Law conference

and that I would be checking in after 3 long days of the conference. Their welcome amenity included ingredients for one of my favorite cocktails and a personalized note from the Bar Manager.

Complimentary WiFi — This should be a no-brainer, but hotels are getting crafty and requiring guests to either sign up for their loyalty programs or punch in their emails before logging onto the network. Also, hotels have started to use WiFi as an incentive to book directly instead of through OTAs, and while I understand it from both business and legal perspectives, as a consumer, I still prefer high-speed, complimentary WiFi without any strings attached.
AMENITIES + SERVICES
Welcome amenity — Personalized and/or locally-inspired welcome amenities are always a delight. It shows me that the hotel is paying attention to details and understands that I could have stayed anywhere, but I chose their hotel. Champagne or a welcome drink upon checkin is great, but finding out my favorite drink through social media or giving me a taste of local flavors is much more appreciated. Two very special welcome amenities come to mind when I think about my most memorable stays: monogrammed bathrobes at the Hotel Ritz in Madrid and personalized chocolate with my logo ironed on top at the Ritz-Carlton San Francisco.

Complimentary water — On sheer principle, it irks me when luxury hotels charge for water in the room. It signals to me that the hotel is focused more on nickel and diming the guest instead of the overall experience.

Healthy food options — Staying healthy while on the go is hard enough as it is, so I appreciate it when hotels have healthy food options on the menu, especially on the late-night menu. I love a juice bar for breakfast and quick healthy bites after a long day.

Turndown service — Hotels should move past the usual pillow mints and curtain closures to make the stay truly memorable. Extravagance is in the small details — think about aromatherapy sessions, bedtime butlers, monogrammed pillowcases, and other highly personalized gestures.

Separate shower from bathtub — I don't want the total elimination of bathtubs, but bathtubs with standing showers are passé. I love seeing separate modern deep-soaking tubs and walk-in rain showers. Also, it's important for me that there is great lighting in the bathroom, whether natural light or otherwise, for vanity purposes. If a hotel really wants to stand out in the oversaturated sea of luxury hotels, add panoramic views of the city from the bathtub, and voilà!
What are some important features of a luxury hotel experience for you?