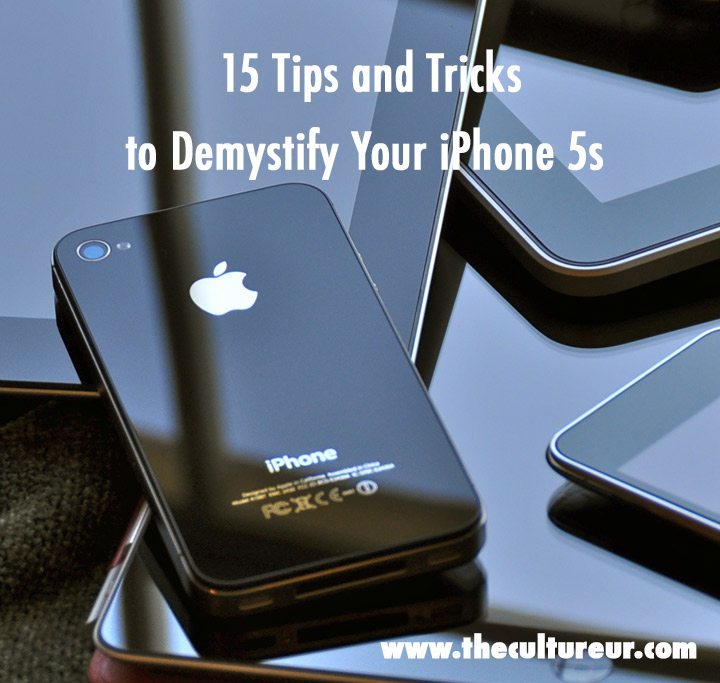 One of the many perks of traveling is the downtime that you have — given all the waiting sessions and in transit journeys. My iPhone is one of my most valuable travel gadgets, so that downtime offers many chances to get intimate with my phone and figure out all that it's capable of doing to make my life easier. I've been an iPhone user since 2009, but with every new model, update, and feature, I'm always learning something new.
I recently learned a few things about my iPhone 5s that I thought I'd share — some I've known for awhile, but I thought I'd make a pretty little list to put all the tricks in one place. Maybe you didn't know any of them or you knew most of them, either way here are 15 tips and tricks to demystify your iPhone 5s (and maybe other models).
1) You can have Siri read your emails and texts out loud.
Tell Siri, "Read my email," and she'll obey your order. You'll hear the sender's name, the date/time of the message, and the subject line. She also responds to "Read my latest email," "Do I have an email from [ ]?," and "Read my text message from [ ]." You may want to throw in please for good manners.
2) See the timestamps on your texts.
I can't believe they didn't introduce this feature earlier. Now if you want to view timestamps of your text messages, touch and drag message bubbles to the left, and voilà!
3) Shake your phone to delete text.
Did you just type a whole paragraph only to realize that that's not what you wanted to write? Shake your phone, tap the "Undo Typing" option, and POOF! If you change your mind after you've hit UNDO, shake your phone again for a handy "Redo Typing" prompt.
4) To turn on CAPS lock, double tap the SHIFT key.
No more having to hit the shift arrow every time you want to convey an emphatic text. If it's not that simple for you, go to Settings–>General–>Keyboard and make sure Caps Lock is enabled.
5) Take a burst of photos all at once.
Hold down the shutter button in your camera and you'll automatically activate burst mode. Your phone will capture a ton of photos in rapid succession and save them to your camera — a great way to guarantee you'll get at least one photo to your liking.
6) Take a photo with your volume button.
Instead of using the touch circle to snap your photo, push the "up" volume button on the side. It allows for a much steadier hand, meaning your photo will be in focus more.
7) Put your iPhone in airplane mode and it will charge twice as fast.
This is a brilliant tip for those that are trying to juice up their phone at every outlet they find. Guilty as charged. 
8) Quickly access the Camera app without unlocking your phone.
To ensure you're never late for that picture-perfect moment, swipe up on the little camera icon in the bottom right corner of your home screen. The Camera app will open, bypassing the unlock screen. It's also a handy feature when others are taking photos for you and you don't want to grant them access to your whole life.
9) When using autocorrect, type an extra letter when trying to spell a contraction.
Itss –> It's  |  Welll –> We'll  |  Weree –> We're
10) Print wirelessly from your phone.
AirPrint makes it easy to print email and web pages from your iPhone to your AirPrint-enabled printer. To print an email, tap the Reply icon and select Print. To print a web page, tap the Share button and select Print. You can also print photos, documents, and more.
11) View your entire week in calendar on one screen.
View your calendar by list, day, or month. Switch to landscape view to see a full five days.
12) To preserve battery life, close all running apps.
Double click on the home button and swipe up on all the open apps.
13) Make use of offline Google Maps when traveling abroad.
While you've still got internet access, look up the area you want to save. In the search bar, type "ok maps" and the map will be cached for offline use — so brilliant.
14) Format the text of your email.
Double-tap any word to bring up the options menu, tap the arrow, and select the B I U option to bold, italicize, or underline your text.
15) Use the built-in level gauge on your Compass app.
Open up the Compass app and swipe to the left and the level screen will appear. Hanging a photo for OCD folks has never been easier.
15 Tips and Tricks to Demystify Your iPhone 5s