We're in the last quarter of 2016 — can you believe it?! I say it every year, but time is zipping by and in no time at all, we'll be ringing in 2017. Before the year ends, I wanted to share my favorite travel gadgets that follow me on all my travels. The world of travel tech moves at lightning speed and it seems like new technologies hit the market daily, so consider this the 2016 edition. I'm always in the market for the latest and greatest technology to make my life easier and better, so I'll share what I find with you as soon as it weaves its way into my travel life. Beyond finding the best travel gadgets, it's also important to me that they be as light and easy-to-pack as much as possible, as I'm a carry-on traveler whenever possible. My rule of thumb is that unless there's a special event that requires additional clothes, I only take a carry-on for 2 weeks or less. I've even done it for 3 weeks once but I've found 14 days is the sweet spot for optimal convenience and style. So my winning killer combination for products = sleek design + beautiful color (champagne, please) + functional + lightweight.
Enjoy my favorite travel gadgets — they have passed all my tests, and I'm sure they'll do the same for you. Let me know what your most trusted travel gadgets are.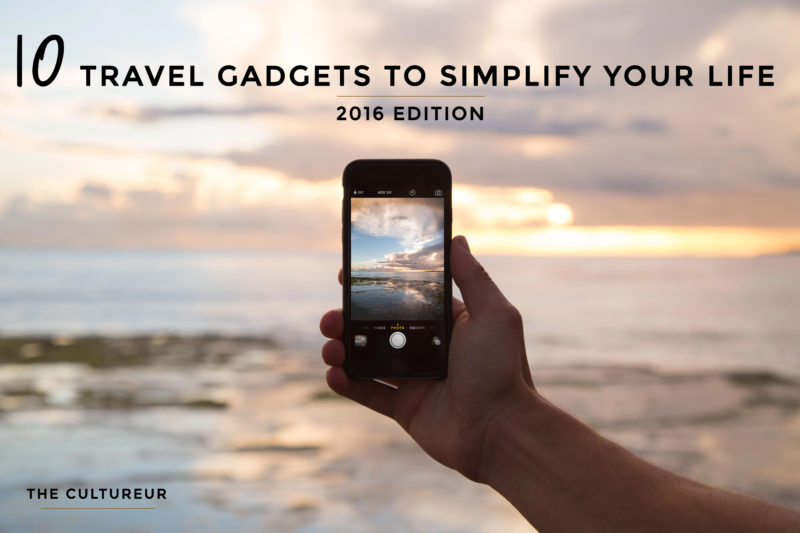 —
1) 

WV-LINK Universal All-in-One

Worldwide Travel Adapter
I love having to carry only 1 adapter instead of many individual attachments. Though it doesn't convert voltage, it has dual USB ports and works in more than 150 different countries throughout Europe, Asia, and the rest of the world. It also has built-in safety shutters and surge protectors so you can charge many different gadgets at the same time without the risk of frying them.

2) iPhone 6S
My trusted iPhone goes with me everywhere — thankfully, Verizon started unlocking its phones so they could be used abroad. They were late to the game, but I'm glad they finally saw the light. Beyond the obvious communication uses, my iPhone serves as my camera, music player, entertainment, work platform, calendar, and just about everything else. I love it in the gold color — it matches my champagne family of travel tech!
3) Anker

 PowerCore+ Mini Lipstick-Sized Portable Charger
Speaking of iPhones, as life-saving as they are, they require a great deal of power to function and given the pea-sized batteries of iPhones, they're always in need of being charged. I love carrying my lipstick charger around — it's compact, sleek, and handy, and it fuels my mobile addiction saves my life. It also comes in a champagne color — it's scrumptious! When I need a more amped up version for charging multiple gadgets, I love the Anker Astro Ultra-High Capacity Portable Charger — it can charge your phone, iPad, camera, and other gadgets all at once.

4)

Sony Alpha A7IIK Mirrorless Digital Camera
Nikon was my DSLR camera of choice for many years before the bulk really became a problem for me. For a while, I shot with my iPhone exclusively, but recently, I've welcomed Sony Alpha A7II to the family and I'm in LOVE! It's cutting-edge, has a lightweight design, produces beautiful photos, and travels well — all signs of a winning camera for me. I always thought twice before packing my Nikon D90, but my Sony is usually the first thing in my bag. I also use the

GoPro Hero4

for underwater photography

5) 

Bose QuietComfort 20 Acoustic Noise-Canceling In-Ear Headphones
Whether I'm trying to listen to music or drown out the piercing shrills of crying babies on-board (or both), my trusted Bose
 QuietComfort headphones never let me down. They're lightweight, durable, and do exactly what they say — they cancel out any unnecessary background noises. I've tried so many different brands, but I always end up coming back to these. 
6) O

nanoff Integrated Bluetooth Speaker Case for iPads
This is my favorite iPad case — it doubles as a portable speaker and stand. Surprisingly, the sound is quite powerful and crisp — it's much better than any other lightweight portable speaker I've tried. As claimed, it boosts the sound up to 400%. It's perfect for impromptu dance parties in my hotel room. And the best part? It comes in a gold/champagne color.

7) MacBook Air Laptop
I almost always travel with my computer and the only reason I'm able to do that is because my MacBook Air is super lightweight (2.96 pounds) and doesn't weigh me down. Small enough to fit into my purse, it serves as my omnipotent savior, right in the same league as my iPhone. I'm waiting with bated breath for Apple to release the gold version soon.

8) Anker Braided USB Cables
I go through USB cables like water — they either magically disappear or break apart like Legos. I now have many different USB cables throughout my flat and in almost every bag — in my luggage, in my purse, in my kitchen, and by my bed. I love that these are braided because they don't fall apart as easily and they are much more durable than the normal flimsy Apple cables. They also come in a variety of different colors and sizes. Yes, they even come in gold.

9) 

Toshiba Encrypted USB Flash Drive
I always have a flash drive with me — you never know when you'll need it. This one is particularly my favorite because it's encrypted and requires a passcode, so in the event you lose the drive, nobody can peek into your personal files. After 10 unsuccessful tries, the data gets erased automatically.

10) Fitbit Charge HR Wireless Activity Wristband
I don't like the design or bulk of Apple Watch, so this is my favorite fitness tracker so I can monitor my sleep patterns, heart rate, and calories. After exploring a city all day, I love looking at the cumulative distance I've walked around and how many calories I've burned. Wearable tech isn't generally my cup of tea, but I do love this.