'Tis the season to be giving…fa la la la la, la la la la!
It's time for a holiday giveaway! The Cultureur has joined forces with Stiletto Escape, a trip planning+concierge service for women (and men, if they're lucky!). The Escape Artists over at Stiletto Escape have agreed to raffle off a generous $75 giftcard that can be used towards any of their services. This is for all you current/future fabulous subscribers/followers–thank you!
Here's what Stiletto Escape is all about, straight from the horse's mouth:
Stiletto Escape creates personalized girlfriend getaways tailored to the interests of the client group. Our clients are busy women who struggle to plan trips with their girlfriends because they simply don't have the time. We start with an initial consultation to learn about the clients' needs and from there, we plan an interactive itinerary: transportation, accommodations, and one-of-a-kind experiences. We save women time and money by cutting through the clutter and offering discounts through our partnerships. A tiny glimpse of our work: our clients have celebrated upcoming nuptials in the most luxe suites at the W Hotel San Diego, have been pampered at posh nail salons along the beach, have viewed the San Francisco Fleet Week air show from a private rooftop party at the Mandarin Oriental hotel, and have watched the Fierce 5 win gold at the London Olympics.
Ladies, when was the last time you took a fun trip with your girlfriends? If you have to think about it, it's been toooooo long! Let the Escape Artists at Stiletto Escape do all the leg work for you and plan your perfect getaway! You can choose the destination of your choice around the world, and leave the rest to Stiletto Escape! They'll give you the lowdown on where to eat, shop, stay, and play with their global network and partnerships.
Gentlemen, why not use this as an opportunity to spoil that special woman in your life, be it your wife, girlfriend, sister, mother, or simply a good friend? Or if it makes you happier, you can use it for yourself too.
To enter the raffle, simply:
1) "Like" The Cultureur on Facebook.
2) Leave a comment down below on how you'd use the giftcard.
Small print:
The winner will be chosen at random on January 1, 2013!
Both steps above must be followed to ensure a successful entry.
Only 1 entry per person.
Open to readers/subscribers all around the world.
The giveaway ends on Friday, December 31, 2012 at 11:59 pm (PST).
If you win, you will be contacted via email, Facebook, or Twitter (whatever information is provided). If you don't respond within 3 days, another winner will be chosen.
The voucher will be sent via email as an e-gift certificate.
Trip planning services must be contracted by 12/31/2013, and travel must occur by 12/31/2014.
Meet your Escape Artists: Shivani Ballesteros and Jana Wallis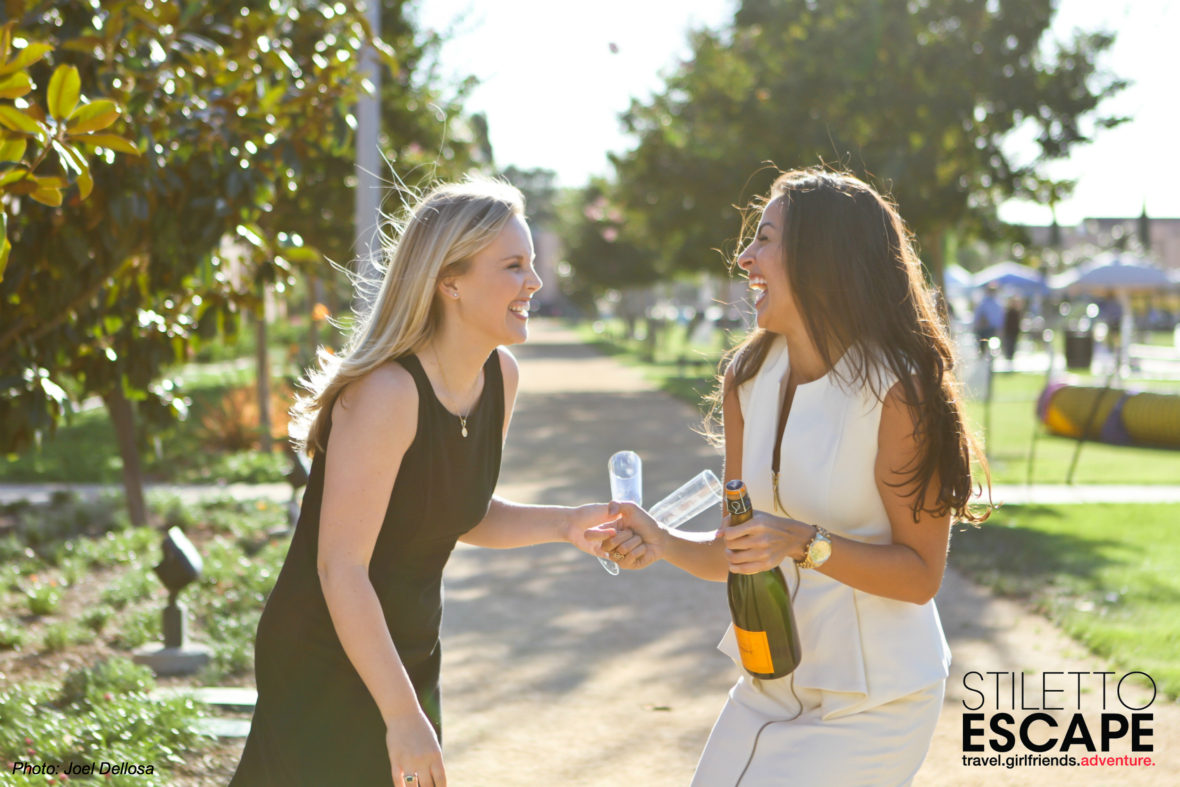 For more information on Stiletto Escape, check out their website, follow them on Twitter, and/or like them on Facebook.
Good luck! // Happy Holidays! =)
—
The winner is… Sandy Hou! Thank you to everyone who participated! And a special thank you to Stiletto Escape! 🙂
[CLOSED]