At the end of June, I visited Kauai, Hawaii for a few days. I spent four days and 3 nights, staying at a different property every night to ensure I got a proper taste of some of the best properties on the Island. For my first night, I stayed at the Kauai Marriott Resort, an oceanfront resort located only a few moments from Lihue Airport — this was welcomed after a very early 6-hour flight from LAX. Though it's an older property, Kauai Marriott underwent a $50 million renovation in 2010 and now features an elaborate tropical garden, waterfalls right off the lobby, Greek statues and columns, and an enormous 26,000-square-foot swimming pool — all great touches for a resort.
PROS:
-The views from my 10th floor room were heavenly — overlooked the beautiful Kalapaki Bay and all its glory.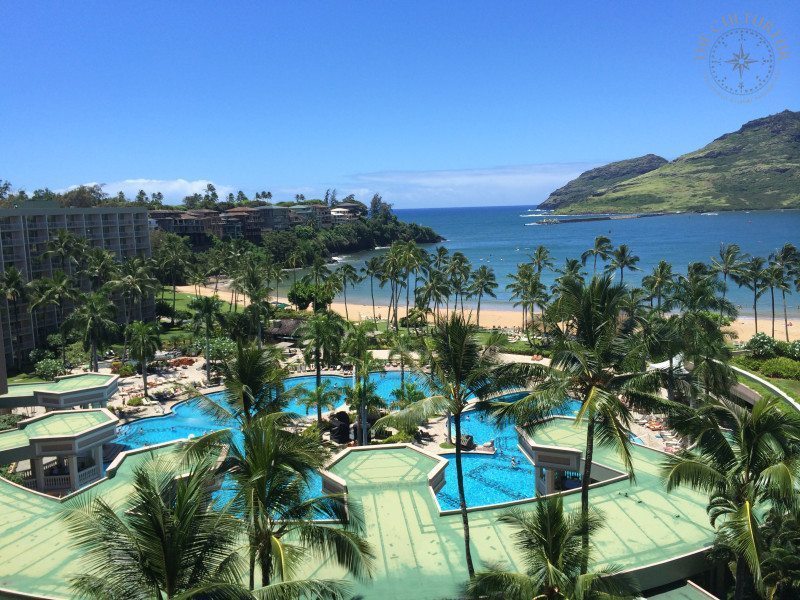 -As a digital millennial traveler, I really appreciated their very active social media team — truly an essential part of my hotel experience.
-Both check-in and check-out were very simple and easy.
-In-room coffee and tea service.
-The hotel is centrally located in Lihue, Kauai and very close to the airport.
-The lobby is beautifully airy with a grand wooden canoe parked in the middle.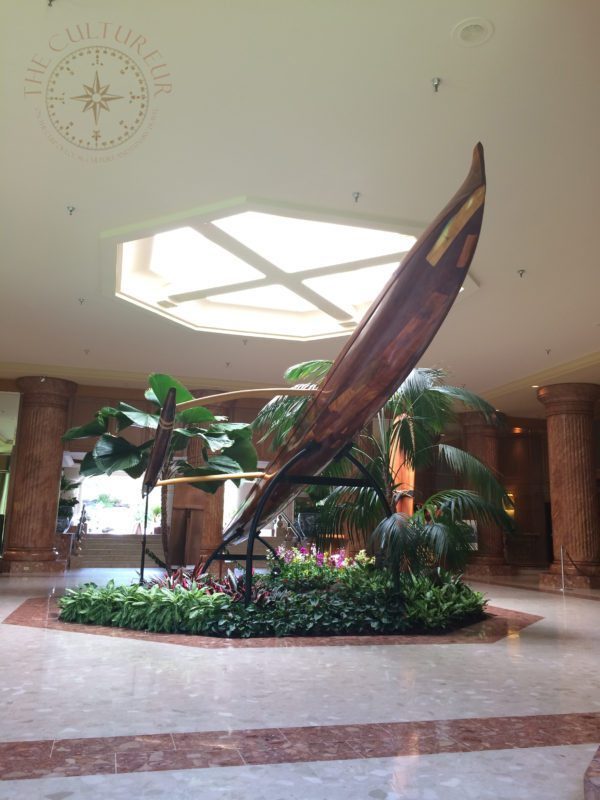 -I appreciated that the bathroom/shower was separated from the sink area.
-Thann aromatherapy toiletries were stocked – strong energizing scents are always welcome.
-A real hairdryer was well-received by my hair.
-Very comfortable robes.
-The pool area is the largest of all hotels in Kauai and it is breathtaking, as you can see…it's one of my favorite parts of the property.
-There were enough outlets next to the bed so I was able to charge my computer and iPhone while working in bed.
-Staying true to the Island's nickname, The Garden Isle, the property showcases a gorgeous sprawling garden to feast your eyes upon as you walk in.
-There is an airport shuttle for those that need this. We rented a car to allow for maximum freedom around the Island.
CONS:
-We had a few issues with mosquitos in our room; we left the window open during the day. Housekeeping didn't offer any solutions and instead told us that bug spray was available in the gift shop downstairs. That's not the customer service I would expect from a resort where this is a common issue.
-No room service during the day. I've actually never seen this before and was kind of annoyed when I wanted to order something quick from room service before heading out. There is a poolside restaurant that's open during the day, but it's take-out or dine-in only.
-Breakfast was not included.
-WiFi is not complimentary in the rooms.
-Water is not complimentary.
Duration: 1 night, June 27, 2014
Bottom line: The Kauai Marriott is a beautiful four-star casual resort that's the perfect option for those who are traveling with families and little children and prefer to be close to the airport. While the resort has it all–dining, shopping, a spa, golf, tennis, and water activities of all kinds, I personally prefer properties that are more intimate, smaller, and more exclusive.
*Disclaimer: my room was hosted by the Kauai Marriott Resort, but views are my own and accurately reflect my stay. I had the deluxe ocean view on the 10th floor. 
**My policy: there will always be full disclosure about whether my stay was hosted by the hotel or paid for with my own money. And even if the hotel decides to offer complimentary services, my review will never be swayed one way or the other. After all, if my experience was sub-par, and I continue to falsely rave about their services, no one will benefit–not me, not you, not the hotel (they'll never improve!). So, trust that you'll receive 100% truth in every review.