There's no shortage of luxury hotels in Houston.
I was in the Bayou City for a few days in October to attend a conference on travel risk management by Hospitality Lawyer, and it was my first time visiting Houston and staying at a Royal Sonesta property. The conference took place at the Royal Sonesta, so I decided to stay there for convenience reasons. I'll be back for yet another hospitality law conference in February 2016.
Recently renovated, the 485-room Royal Sonesta Houston Hotel is luxury chain hotel located in the Galleria area, one of Houston's premier shopping areas. Popular with business travelers, this property has chic rooms with stylish furnishings, geometric carpets, and Italian bath products.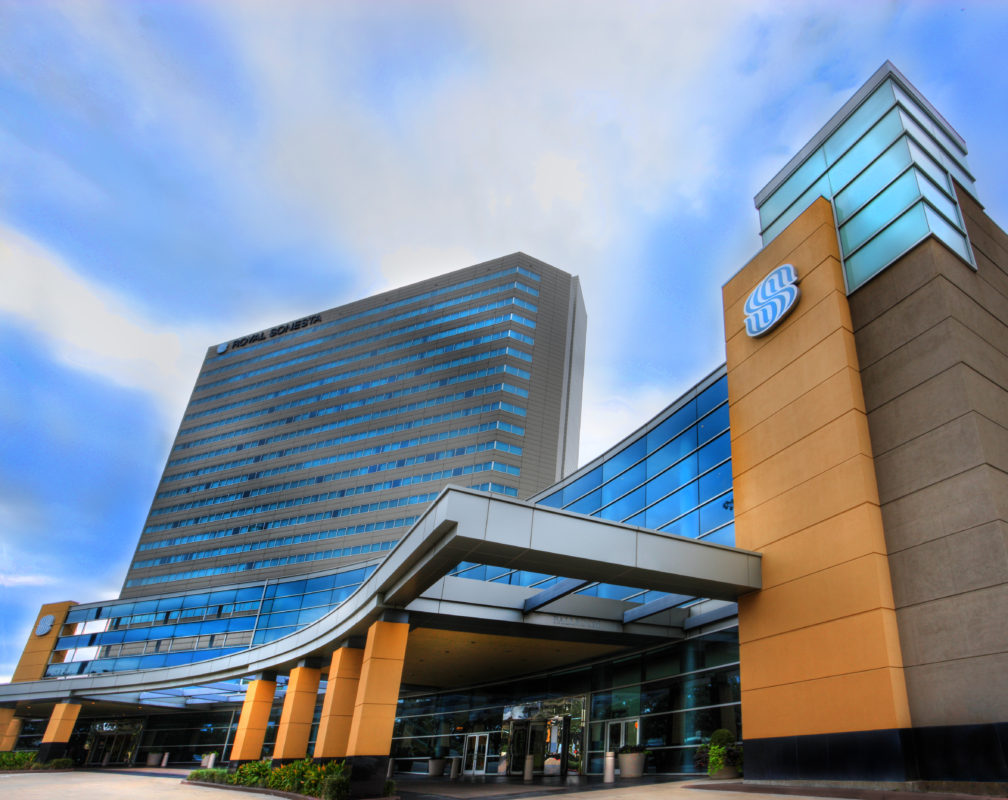 PROS
-Both check-in and check-out were a breeze. I'm not a happy camper if I have to wait to check-in/check-out.
-The location is great — nestled in the upscale Galleria area, next to tons of restaurants, bars, shopping, etc.
-The room was very spacious and comfortable.
-There's floor lighting that gets activated in the dark.
-The bustling scenes of Houston outside my window were beautiful at sunrise and sunset.
-There's a full-length mirror inside the closet.
-The lovely curtains weren't solely for show and managed to perfectly block out the morning sunlight, making it easier for me to sleep in — a MUST on vacation.
-The service was great — attentive, hospitable, and warm. From the front desk to the housekeeping staff to the concierge, the service was fantastic.
-Loved the understated palette of beige, teal, and gray dotted throughout.
-The bedding was luxurious, with a surfeit of fluffy pillows.
-I love the glamorous decor in the lobby — packs a good punch as far as first impressions go.
-There's a spa in the hotel, but I didn't have a chance to check it out.
-There's a cafe/coffee shop in the lobby area — super convenient for on-the-go and business travelers.
-A beautiful, state-of-the-art fitness center was available.
-There was a NORMAL hair dryer that was actually functional.
-The toiletries were from the Italian brand, Poggesi.
-WiFi is complimentary and high-speed — yes!
-Room service was very quick and efficient. I also love that it's 24 hours.
-Lots of outlets near the bed — perfect for digital travelers.
-Breakfast was included.
-There's a house car for guest use on a first-come, first-served basis.
CONS
-There was no personalized welcome note — this small gesture goes a long way.
-No slippers were available.
-No social media activity before, during, or after my stay.
-The shower with bathtub seemed a little dated.
-Water is not complimentary — can't believe some hotels don't get something as simple as this.
-Turn-down service was disappointingly ordinary.
Duration: 2 nights, October 11-13, 2015 
Bottom line: The Royal Sonesta is a newly-renovated property with sensibilities that cater largely to the business traveler. Officially ranked as an AAA-rated Four Diamond luxury hotel and touted as a popular conference hotel, the Royal Sonesta Houston is a great option for those who want to stay in the upscale Galleria area and/or have business in the hotel. With amenities such as a coffee shop in the lobby, the hotel plays to its strength of being a business hotel and doesn't try to be something it's not. Though they sell a comfortable experience, unless I had a conference at the hotel, it's unlikely that it'd be my luxury hotel of choice in Houston, as there are many and I'd prefer to stay in downtown.
*Disclosure: I was a guest of the hotel, but views are my own and accurately reflect my stay. My room was 2026 on the 20th floor.
**My policy: there will always be full disclosure about whether my stay was hosted by the hotel or paid for with my own money. And even if the hotel decides to offer complimentary services, my review will never be swayed one way or the other. After all, if my experience was sub-par, and I continue to falsely rave about their services, no one will benefit–not me, not you, not the hotel (they'll never improve!). So, trust that you'll receive 100% truth in every review.