Paris has two main airports: Charles de Gaulle (CDG—the main international airport) and Orly (ORY). Both airports are well-connected and serviced by public transportation, so getting to central Paris should not be a difficult or inconvenient task. Here are some guidelines to help you:
1)     Roissy-Charles de Gaulle Airport (CDG):
The quickest and least expensive way to get to central Paris is by taking the RER B suburban city train (all the lines are color-coded—look for the blue trains) which leaves from Terminals 2 and 3. Look for the trains heading in the direction of Paris (Robinson, Antony, St.-Rémy-lès-Chevreuse). Purchase a "Billet Ile-de-France" Aéroport CDG (Zone 5) to central Paris (Zone 1). A single journey ticket costs about 8,50€, with a discounted fare of 5,95€ for children aged 4 to 9. It is free for children under 4 years. The first train leaves at 4:56am and the last train departs at 11:56pm. There are 7 stations serviced along the way: Gare du Nord, Châtelet Les Halles, St. Michel/Nôtre Dame, Luxembourg, Port Royal, Denfert-Rochereau, Cité Universitaire—all centrally-located.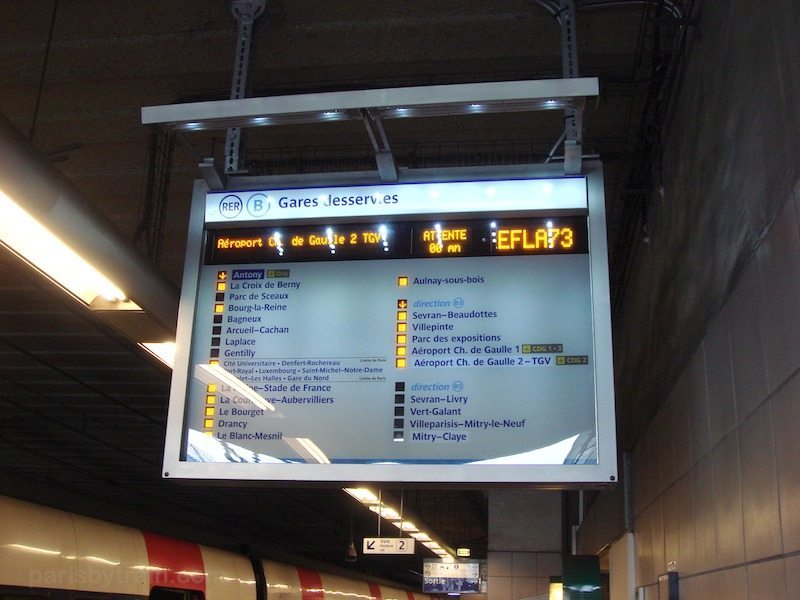 2)     Orly (ORY):
There are quite a few options available from Orly Airport—RER B + Orlyval (trains), Orlybus, RER C + shuttle bus (train + bus), and bus #183, #285, #292. Economically, the Orlybus would be the best option, priced at €6.40 each way. The best option in terms of convenience is the RER B train and the Orlyval express train, which takes about 35 minutes to reach the very heart of the city— Châtelet Les Halles. You can take the Orlyval train to "Antony" station and from there, you take the RER B train to one of 7 stations serviced along the way: Cité-Universitaire, Denfert-Rochereau, Port-Royal, Luxembourg, St. Michel/Nôtre Dame, Châtelet Les Halles, and Gare du Nord.
Just a quick note, the ticket machines at the airport generally don't accept credit cards without smart chips, which is usually a problem for American travelers.  But tickets are also available at ticket windows, which are manned by SNCF staff during operational hours.