For the past 6 months, I have had the pleasure of getting to know Colin and discussing all aspects of automotive design–a topic I previously knew very little about. After touring the luxurious Buick Design Center and other General Motors facilities in the greater Detroit area, I wanted to share more about the fascinating process of automotive design and all that it entails. While I could try to articulate my mangled incomplete understanding of the process, there is no better person to explain the intricacies, subtleties, and stages of the design process than a designer himself, so without further ado…
Meet Colin R. Phipps. He has been an exterior designer for General Motors for over ten years and has worked for various brands in the company. He worked for Buick previously and now exclusively designs for Cadillac as a Senior Exterior Program Designer, expanding on an already impressive global portfolio that reveals his expertise in strategic design, concept development, advanced design, and exterior design. He graduated from the College for Creative Studies with a BFA in Transportation Design in 2001.
In addition to his professional automotive career, Colin lends his talents and time at the College for Creative Studies as an Adjunct Professor of Transportation Design. As a native Michigander and the son of art educators, he views teaching not only as a platform to inspire and shape future generations of automobile designers, but also as a way to give back to his community and fulfill a strong sense of civic duty that his parents instilled in him at a very young age.
Read on to learn more about the melding of design influences that comprises the automotive design process and to see what sets Buick design apart from other brands.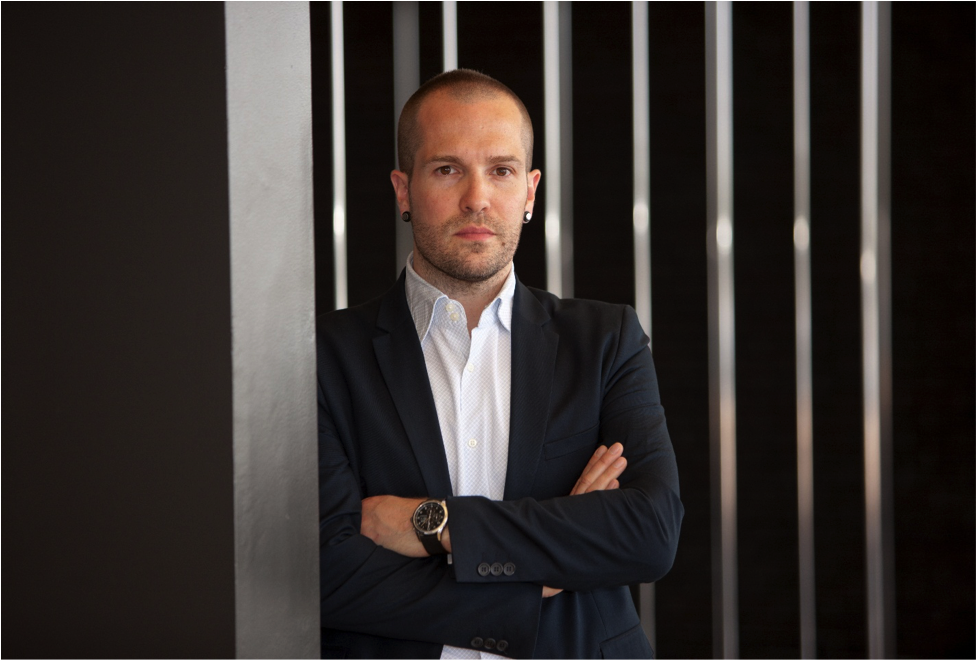 1) How did you fall into automotive design?
I come from a family of artists – my brother, mother and father, are a designer, painter, and illustrator, respectively. Beginning at a young age, my parents instilled in me the benefit of being able use my imagination to formulate ideas and methods that bring them to life. I noticed cars growing up, but my seminal moment was seeing a 1965 Jaguar drive past me.  It was the first time I saw a car from an artistic and aesthetic point of view. I vividly recall it being a beautiful fall day and seeing the way the reflection of the leaves danced across the hood of the car and animated the sculpted forms on the fenders. From that moment on, I saw cars as animated sculptures. However, it wasn't until several years later that I connected the dots between art and cars as a career at the College for Creative Studies.
2) What are you generally responsible for as your role as senior exterior program designer?
Our responsibility starts at the beginning of the design process or ideation and continues all the way through to the start of production. Having the support of a knowledgeable staff and extended team of partners like engineering that are customer-focused around great design and flawless execution creates a strong foundation for segment-leading vehicles. During the early phase of the design process, my task is the development of a set of 2D design sketches.
3) What are your sources of inspiration?
I am inspired by anything that creates shape and form and the way these shapes are defined in light and shadow.  An example is the simple yet dramatic way fabric flows and drapes over another object, giving it a more monolithic appearance.
4) How do you balance innovation and trends with long-term appeal?
It begins with a deep understanding of our customers' tastes and preferences.  They are a compass that guides the design exploration and development processes and helps us come up with new and innovative ways to delight them.  Designers are problem-solvers and successfully anticipating future needs and wants is what we strive for.
5) What does the design process entail, from the beginning until end? How long does it take? How long in advance do you design? Is there a difference between the design processes of Buick and Cadillac?
Working at the world headquarters of GM Design is rewarding on so many levels.  Being in a building and on the Technical Center campus that has achieved historic landmark status (iconic Saarinen architecture) is immensely inspiring.  It is also about the people – the caliber and diversity of talent we have is exceptional.  We work very closely with our partners in engineering, marketing, and manufacturing, as it takes diverse disciplines and lead times typically ranging from 36-48 months to bring a new vehicle from theme to production.
The vehicle design process is very similar across the car industry. As a designer, you embrace and internalize the values that define the brand and how those values inform a design philosophy for its unique customers.
6) How has car design and in particular, Buick design evolved over time?
Engineering and manufacturing dominated early car development. However, that all changed in 1927 when the leadership of General Motors hired Harley Earl as director of a newly-formed department known as the Art and Color Section.  Within his first year, Earl had assembled a team of 50 designers and drafters and directed them in the design and color the work of every GM vehicle.
The field of styling in general and Buick design in particular, stepped into a spotlight when Earl unveiled the Buick Y-Job in 1938.  Deemed the world's first concept car, this two-passenger sports convertible was a futuristic showcase for Buick and the corporation at large. Each new Buick concept has pushed the brand forward and made a significant influence through design. To this day, concept cars telegraph a vision and are a great way for the studio team to explore future themes and ideas.  The current Buick Avenir concept advances that legacy.  At the end of the day, design is the great differentiator.
7) What's next for Buick design? What direction is it headed? What sets the design of Buick apart from other cars?
People are taking a fresh new look at Buick. There is a growing global desire for vehicles with premium attributes and we have a talented young team to build on the momentum and forge a bright future for the brand.  The bold proportions and sophisticated shapes and sculpture that form the core of Buick design inspire our modern interiors and exteriors.  What's more, young designers request to work on Buick, as it is so rewarding to design beautiful and sculptural works of art at this level and on this scale.  It has been an honor to be part of its exciting trajectory.
8) How has Detroit influenced the design of cars?
The people of Detroit and the auto industry in general are makers, inventors, and doers.  They are also incredibly resilient. We design and manufacture the car, a symbol of freedom and an invitation to explore the world.
9) What is your favorite part of the process?
I enjoy the entire vehicle development process from sketch to public debut, but coming from a fine art background, I especially savor the moments before I begin to sketch when the concept is still just an idea in my head. The experience of seeing your idea flow out onto paper in the form of a sketch is incredibly fulfilling.
10) What has been your best accomplishment during your time at GM?
I am fortunate to have worked on a number of vehicles, but one of my all-time favorite assignments was the Cadillac, CTS Sports Wagon. The fact it was the first vehicle I had the opportunity to develop from start to finish – shepherding the design development along the way – made this experience especially rewarding.
Follow Colin on Twitter (@PhippsColin) to stay up-to-date on his cutting-edge work in the automotive world!