Mustering up the courage to step outside your comfort zone is the first step in moving to a completely foreign and unfamiliar country and becoming an expatriate. Once you're at your home away home, the second hardest step is building a network and meeting like-minded people who can relate to your situation. Maybe meeting new people is exacerbated by the fact that you don't speak the local language, or maybe you get nervous in high-stress professional environments, but whatever the reason, it's never easy to establish a social network from scratch in an unfamiliar setting. So it's no wonder why Internations, the world's largest community of expats is thriving all over the world and helping to make expat life that much more manageable.
Meet Malte Zeeck, the founder of Internations, an organization that believes in connecting global minds, one expat at a time. Originally from Kiel, Germany, Malte started Internations with his two friends, Christian Leifeld and Philipp von Plato, in hopes of making living abroad easier and and much less daunting. The idea of meeting locals as well as people from all over the world, from different cultures and paths of life in a fun, casual environment is the cornerstone of the Internations concept.
Read on to find out more about Malte, what Internations is all about, and how you can benefit from such a dynamic organization.
—
1) Please briefly introduce yourself. 
I have always enjoyed travelling and spending time abroad. My university studies took me to Switzerland, Italy, and Brazil, and I also worked as a flight attendant during that time. When I had received my degree in business and film studies, I began to work for various TV stations. My job allowed me to explore both my creative abilities and my love for travelling, while working as a reporter in India, Brazil, or Spain. Today, I live in Munich with my family.
2) Tell me about InterNations. What is it? Why/how did you start it? 
InterNations is a global expat network that allows global minds and expatriates around the world to get in touch both on- and offline. Together with two friends I founded InterNations in 2007. We had all lived and worked abroad before and had experienced first-hand how time-consuming and difficult it could be to settle in, deal with the red tape, and make new friends. With InterNations, we wanted to make it easier for expats to interact, exchange information, and ultimately make the best out of their life abroad.
3) How would people benefit from the organization?
What's special about InterNations is that our members can connect both online and offline. After their registration, each member is automatically placed in a Local Community and receives information that is directly relevant to them. On the local forum, they can get in touch with other expats in their new home, ask for advice, or help other expats with their knowledge. Our Guides and Expat Magazine articles provide them with useful information about specific destinations or expat life in general. And the Places section lists restaurants, bars, museum, as well as doctors and schools, in their Local Community.
However, our Ambassadors also host official events all around the world where our members can get together in real life. These events usually take place about once per month and give our members the chance to make new friends in a somewhat casual setting. In April 2012, we also introduced our Activity Groups that allow our members to get together with other expats who share the same interests. These groups are a little more intimate than our big events and focus on hiking, art and culture, professional networking, or language exchange, to name just a few.
4) How many countries/cities around the world have chapters?
Currently, we have over 770,000 registered members in 361 Local Communities (or chapters) in all countries of the world. Our members also come from all around the world as they do face the same challenges when living abroad.
5) Do you fly around to the different chapters to attend the different events?
Whenever I get the chance, I hop on a plane and visit one of our Local Communities. Unfortunately, I cannot do that as often as I wish. But I really enjoy seeing how popular our events have become. I also take the opportunity to talk to as many InterNations members as possible during my visits: it's a unique chance to get feedback from our members, to find out how they make use of InterNations and think about new ways to best address expats' needs.
6) Who manages the events around the world when you're not there?
Luckily, our Ambassadors take care of everything! InterNations Ambassadors are dedicated members who organize our official events and welcome new members to their Local Community. They make it possible for us to offer the same services in all our chapters and we could not do it without them.
7) Are there plans for expansion or branching out?
Of course, InterNations grows with its member base. We constantly add more features and open new Local Communities around the globe. At InterNations, we want to connect all expatriates and global minds worldwide. We welcome them all as active participants in our network, both on our online platform and at our offline events and activities. InterNations is already the largest community for expatriates, connecting global minds at events and activities, and we also strive to become the number-one resource for expat-relevant information and services. Expatriates have many needs and we want to try address more and more of them as good as possible in the future.
8) What is your favorite part of Internations? Least favorite part?
What I love most about InterNations is that it brings together people with completely different backgrounds and nationalities and really touches their lives. Especially at our offline events it is great to hear from our members how they met their best friends, how they found their husband or wife, how they found a job or an apartment through InterNations. These moments are far more touching to me than the numbers of member growth or event participation.
Also very dear to me is the InterNations Charity Empowerment Program (ICEP), which we have started only last year. I do envision a world in which privileged people support the ones in need. ICEP involves our members in social projects around the world and mobilizes them to donate their talents and resources to worthy causes. We aim to establish one project in every local InterNations Community in order to have a global impact on society.
As for my least favorite part: with all the work and responsibilities at the Munich office, I don't get to meet as many of our members as I would like.
9) How does one sign up?
InterNations is a community of trust. We handpick each expat who joins InterNations to ensure our members' safety and privacy. This is why you have to tell us why you want to join InterNations and what makes you a global mind. Once our team has approved your registration, you can get started right away.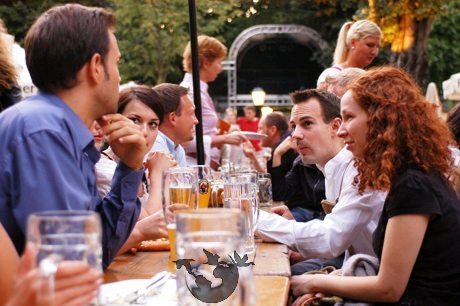 For more information, head over to www.internations.org!
*I have attended Internations events in Berlin, New Delhi, and London and can personally vouch for the awesomeness of this organization.