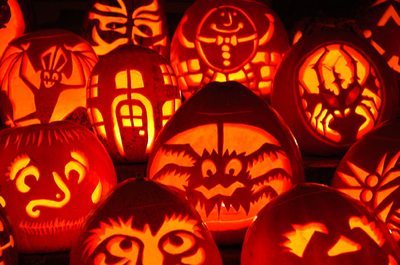 What: Halloween, short for "All Hallows' Evening," is a highly commercialized, secular American holiday that's celebrated all over the country, and now, world.
Halloween is often associated with pumpkin carving, trick-or-treating, pranks, horror films, costume wearing, and morbid decorations based on the supernatural (mummies, ghosts, tombstones, etc.).
Foods commonly associated with the day: candy corn, pumpkins, candy apples, and caramel corn.
Black and orange are the dominant colors of the day.
The day was traditionally a fun day for children to dress up and go door-to-door asking for treats, but in recent years, it's acquired a more crass commercial overlay.
It's thought to be in preparation for All Saints Day on November 1.
When: October 31, 2012: All day, but trick-or-treating is usually done in the evening, starting around 5pm
Where: All over the United States
Who: Traditionally, it was reserved for children, but today, anyone with a sweet tooth and a knack for a good time can join in!
Why: There is still a lot of ambiguity regarding the origins of and reasons for Halloween, but it's commonly believed that it was a pagan harvest festival that honored the dead, particularly linking it to the Celtic festival of Samhain. It's believed that the Celtic immigrants brought the holiday over to the U.S. in the 1840s, giving the day a complete make-over. It's in America that Halloween lost most of its religious implications and picked up all the customary traditions that we currently associate with the day. It's also believed that it's the one night of the year when all the spirits from the dead can come back to life.
Check out other monthly festival highlights: August (La Tomatina) and September (Oktoberfest).