If you've been following me on this space or my other social media channels, you'll know how excited I was to attend the  57th Inauguration Ceremony for President Barack Obama in Washington DC. Since 2008, it had found a home on my bucket list and 10 days ago, I was finally able to cross it off. No better way to kickstart 2013.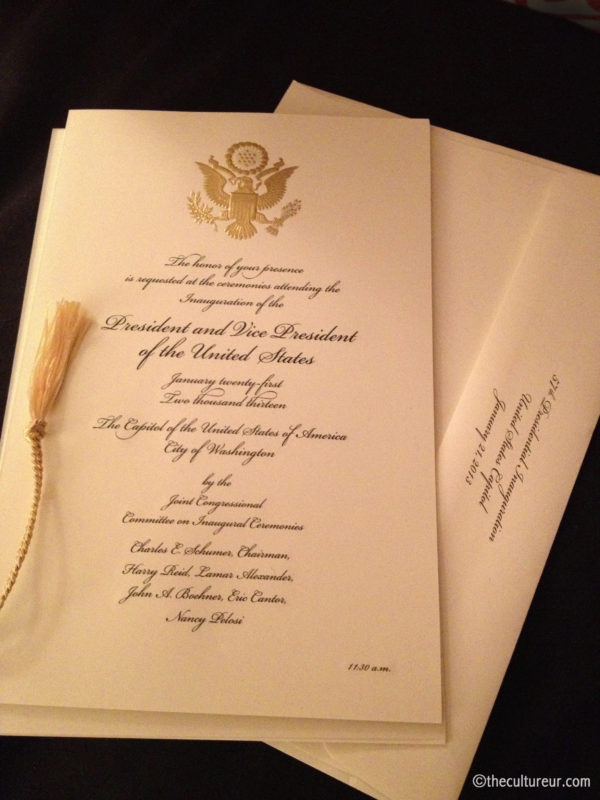 Thinking about why attending the event was so important to me, I came up with a few reasons. For one, it's historical impact is undeniable. It's an event that my children are sure to learn about in school, and the fact that I can say that I was present and was witness to it all is sweetly satisfying. Not to mention this Inauguration fell on MLK Day, making its symbolic significance even greater. But that's just me channeling my inner history buff. Second, I actually like President Obama. Shocker. For a country that wouldn't even allow African-Americans equal access on public transportation no more than 50 years ago, it brings me immeasurable joy to see a minority President on the platform, surmounting all odds and establishing himself as one of the most-loved presidents in our history. Given the voting age in the U.S. is 18, I've only been able to really be part of our democracy and exercise my right to vote for the past decade. Before 2008, I can't say my interest in politics ran too deep, but since then, Obama's presidency has awakened a fierce passion for the field, and I must thank him for that. Third, now let's get real, I was absolutely looking forward to seeing the dazzling fashion of the event, from the First Lady to the esteemed guests. The woman has incredible style, one that is more relatable, which is mostly a result of her being much younger than previous FLOTUSes. Fourth, it gave me an excuse to travel, not that I ever need one. But to see Washington DC don a completely different persona during this monumental time was amazing.
Onto the event itself…
The day was colddddd, about 1*C cold. Though, I was thrilled to see no rain or snow (umbrellas weren't allowed for security reasons). And waking up at 5:30 am certainly did not help in any way. But still I was determined to attend, knowing fully well that I'd probably contract a cold afterwards and that standing out there would be sheer discomfort. Check and check. But none of that mattered. Anything for the bucket list, right?
Though I was in the ticketed area and could actually see the stage, I couldn't believe how many people behind me (hundreds of thousands) had flocked the National Mall area, mostly to say that they were there. They could have caught much better views in the warm cozy confines of their homes, but they chose to stand out there in the biting cold weather and watch from the LED screens that were planted everywhere. That's really saying something.
As my friend and I waited for the festivities/speeches to begin, we had a healthy dose of people-watching. In all directions, you could see people decked out in Obama gear, some even from head to toe. Scarves, jackets, headbands, T-shirts, you name it. People had it all. And the sheer number of people selling the paraphernalia was incredible. Everyone came out of the woodwork to make a dime on the Obama brand.
I tried taking as many photos as I could, but the thought of having to remove my gloves every time and expose my hands to such arctic winds got less and less appealing as time passed. And even better, my camera decided to malfunction later that day.
Lip-sync or not, Beyonce's rendition of the National Anthem was absolutely beautiful and one of the highlights of the event. And the poem delivered by Richard Blanco was a sheer delight to hear, even for my frozen ears.
Unsurprisingly, President Obama's Inaugural Address was phenomenal; exactly what our country needed to hear. It was rooted in current issues, and relayed our past and current struggles with a strong hope for the future. He was also the first President to make any mention of gay rights in his speech. Bravo, we seem to finally have arrived in the 21st century! Aside from the poignant rhetoric, the best part was watching glimpses of Sasha Obama, the President's youngest daughter yawning during his speech, but I reckon it's only because she heard him rehearse it so many times. It was still funny.
The speech was followed by the Inaugural Parade that saw our Armed Forces and the Obamas/Bidens sashay down Pennsylvania Avenue to the White House. I arrived late to that because we were routinely misguided by the clueless security personnel stationed throughout the city, but I still caught glimpses of the Armed Forces and several performances by students from all over the country. The atmosphere was electric, and with the ubiquitous red, white, and blue, it was hard not to be consumed by a strong rush of patriotism and pride.
By the end of the parade, not having eaten a bite all day (wanted to avoid those disgusting portable bathrooms at all costs) and not having slept the 2 nights before, I was thoroughly exhausted, starving, and unable to feel my limbs. Though extremely happy with my decision to attend, I was pretty ready to go home and have a 12-hour snooze fest. Which is exactly what I did, right after a drink or two to celebrate and a yummy Malaysian meal. There were initial plans to attend private parties and one of the balls, but I couldn't muster up enough energy to go and party all night. Was I getting old(er)? Never. It was just one of those off days.
Would I go again in 2017? Probably,  but it all depends on who's President and where I am. As much as I would love to see Julian Castro on this platform, it's high time we elect a minority woman!