Rainy days always call for an impromptu baking session. While it poured outside, I scoured my kitchen for inspiration for new recipes. I stumbled upon coconut oil that hadn't been used in awhile. I had been craving warm, chewy chocolate chip cookies all day long, so I figured I'd try to substitute coconut oil for butter. I had no idea how it'd turn out, but I welcomed the thought of injecting gentle hints of coconut flavor in my beloved chocolate chips cookies.  I mixed everything together, put the dough in the oven, and was more than pleasantly surprised at the turnout — magical, gooey bites of rich chocolate coconut heaven. Now, that's a winner in my book.
Try it out for yourself and let me know what you think.
—
Yields: 2 dozen
Ingredients:
a little less than ½ cup coconut oil, room temperature (I like using organic, extra virgin, and unrefined.)
½ cup brown sugar, firmly packed
½ cup granulated sugar
1 large egg, room temperature
1 teaspoon vanilla extract
1 cup whole wheat flour
¼ cup oats
½ cup all-purpose unbleached flour
¾ teaspoon baking powder
½ teaspoon baking soda
⅛ teaspoon cinnamon
¼ teaspoon of sea salt
1 cup chocolate chips (milk, semisweet, or dark chocolate)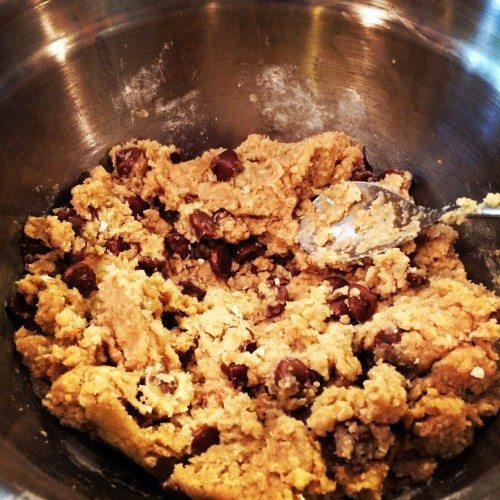 Directions:
1) Preheat oven to 350°F / 175°C.
2) Line a large cookie sheet with parchment paper.
3) Using an electric mixer, beat the coconut oil and sugars in a bowl until light and fluffy. Add eggs and vanilla, and beat until well mixed, for about 2 minutes.
4) In a separate bowl, sift together both of the flours, oats, baking soda, baking powder, cinnamon, and sea salt. Add the flour mixture to the wet ingredients and mix well.
5) Stir in the chocolate chips.
6) Roll the dough into small balls and place them on the cookie sheet. Bake for 10 to 12 minutes or until golden.
7) Remove from the oven and cool the cookies on a rack. Store at room temperature.
NOTE: The dough will be crumbly, but once you roll it into a ball and put it on the cookie sheet, it'll hold its shape.