While I was in Atlanta last week, I was invited to attend the pre-opening of the National Center for Civil and Human Rights. If you know me or have been following me on here for awhile, you'll know that I have a background in international development and human rights, so this museum was especially dear to my heart and I was more than thrilled to add it to my Atlanta itinerary. The museum had its inaugural public opening yesterday, June 23, 2014 and is fully operational now.
As a member of the media, I was given a 2-hour guided tour around the sprawling 2-story, 43,000-square-foot space. Located in downtown Atlanta, it's sandwiched between two of the main attractions of the city: the World of Coca-Cola and Georgia Aquarium, so it's hard to miss. Frankly, I was surprised to find out that there wasn't already a human rights/civil rights museum in place, given that Atlanta was the epicenter of the American civil rights movement. But I'm thrilled to see it open now, and my inner history buff and human rights activist were more than pleased with the way the stories, facts, and experiences were presented and exhibited. To my mind, it's honestly one of the best human rights museums I've seen all over the world. Starting soon, there will also be a streetcar that connects the Center for Civil and Human Rights to the Martin Luther King, Jr. National Historic Site, bringing together some of the most vibrant and historic neighborhoods in Atlanta.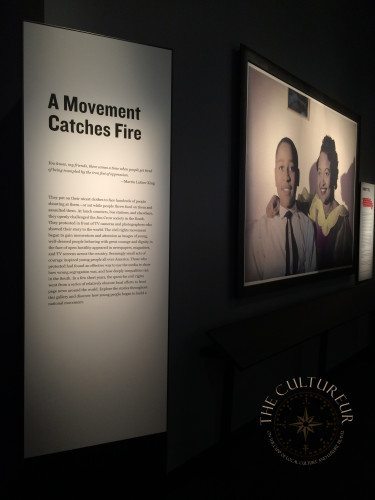 As the city's first civil rights museum and one of the nation's only global human rights museums, it serves as a connector between the past and present, giving a voice to the powerful stories of individuals who shaped the American Civil Rights movement of the 1950s and 1960s and continue to spearhead the modern human rights movement. Designed with multimedia displays, compelling artifacts, and interactive activities, The Center's exhibits are created to empower people to take the protection of every human's rights personally and to reflect on how they can create a better tomorrow. Though it's an interactive space everyone can enjoy, it was particularly made for Generation X and beyond to ensure that future generations never forget the struggles and challenges of our tumultuous past, fueling the idea that you don't know where you're going until you know where you've been.
Former Atlanta Mayor and National Center for Civil and Human Rights Board Chair Shirley Franklin expressed The Center's importance to her by sharing a personal story of her life as a young adult. "When I went to college in 1963, I couldn't be mayor. It just wasn't possible." Franklin shared. "In my lifetime, I have seen change and it is my role – my responsibility – to do whatever I can to make sure that everyone living and breathing in the world has the right to pursue their dreams and aspirations."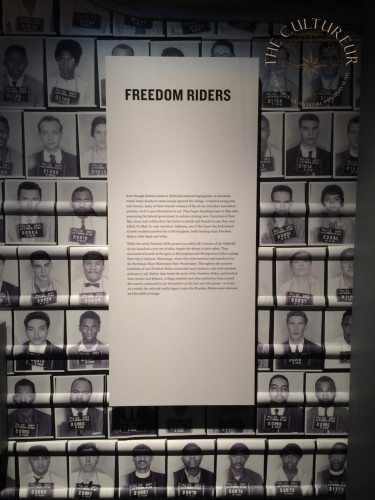 There are four primary exhibitions:
"Voice to the Voiceless: The Morehouse College Martin Luther King, Jr. Collection" Gallery presents a rare collection of Dr. Martin Luther King, Jr.'s personal papers and items.
"Rolls Down Like Water: The American Civil Rights Movement" Gallery created by George C. Wolfe is comprised of a series of eight sequential exhibitions that bring to life the defining moments of the modern American Civil Rights Movement of the 1950s and 1960s.
"Spark of Conviction: The Global Human Rights Movement" Gallery designed by Jill Savitt illuminates both individual and global human rights issues. The exhibition is designed to allow visitors to experience a personal connection to individuals who are taking a stand in the contemporary fight for human rights.
A fourth temporary exhibition space features inaugural-year exhibits celebrating selected works from the "John Lewis Series" by Georgia artist Benny Andrews (American, 1930-2006): this powerful, iconic series of paintings depicts scenes from the life of John Lewis.
Here's a quick glimpse of one of the interactive human rights rooms: The Center for Civil and Human Rights, Atlanta
If you're in Atlanta and/or interested in human rights (everyone should be!), I HIGHLY RECOMMEND this experiential museum — it not only stimulates your brain and offers plenty of food for thought, but it also stirs up every one of your senses to ensure the underlying message is both powerful and energizing.
The Center is open daily from 10 a.m. to 5 p.m., with closures on Thanksgiving and Christmas Day. Adult tickets are $15 and child (ages 3–12) tickets are $10.
For more information on The Center, please visit www.civilandhumanrights.org. Join the conversation on civil and human rights on Twitter and Facebook.