The warm comfort of a soft, gooey chocolate chip cookie is second to none. I have been tweaking and tweaking this recipe for years, and now, this brown butter chocolate chip cookie recipe checks off all my boxes. It is my go-to recipe any time I need a little pick me up or want to satisfy my sweet tooth. With three different flours, the recipe may seem a bit high maintenance, but I promise that it is well worth the extra effort.
I hope it sparks as much joy for you as it does for me!
INGREDIENTS: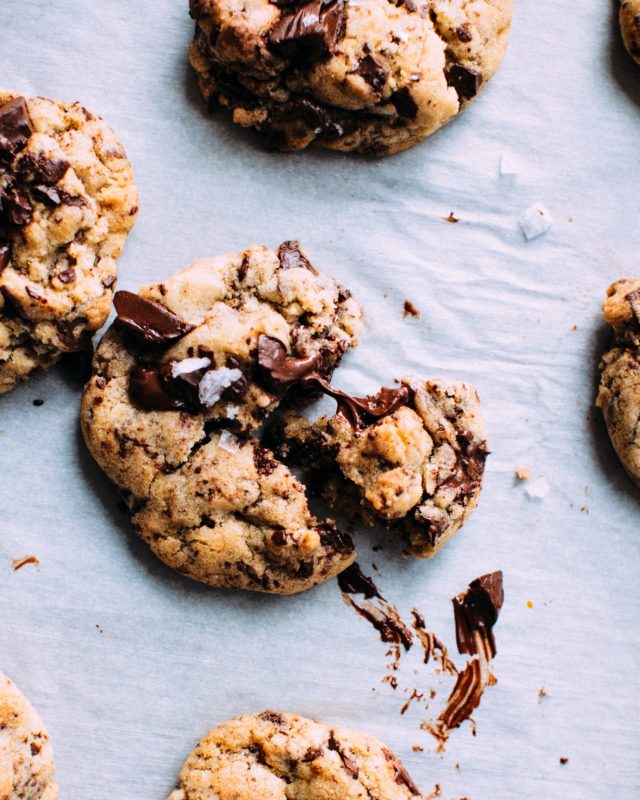 ½ cup bread flour
½ cup cake flour
1 cup all-purpose flour
1½ teaspoons fine sea salt
1 teaspoon baking soda
1 cup unsalted butter (2 sticks)
1 cup dark brown sugar, lightly packed
½ cup white granulated sugar
2 teaspoons vanilla extract or vanilla bean paste (preferred)
½ teaspoon cinnamon
1 teaspoon espresso powder
2 large eggs, room temperature
½ cup mini semi-sweet or milk chocolate chips
2 oz dark chocolate bar, roughly chopped
1 cup walnuts, chopped
flaky sea salt
DIRECTIONS:
In a medium bowl, sift together all three flours, salt, and baking soda. Set aside. TIP: do not pack the flours in.
In a medium saucepan, melt the butter over medium-low heat. As the water begins to boil out of the butter, the milk solids in the butter will separate and sink to the bottom. As this begins to happen, make sure to stir constantly so the butter browns evenly. It may become quite foamy and splatter a bit. There's very a small window between the perfect browning and burning, so keep a close eye on it.
Once the butter has turned a nice nutty brown, remove from the heat and pour it into a large liquid measuring cup to stop the cooking. Those brown bits of butter at the bottom hold all the flavor, so don't waste any bit of it. Allow it to cool down for a few minutes, and if needed, add 1-2 tablespoons of water to the butter to bring it back up to 1 cup of liquid.
Set aside to cool to room temperature. To help accelerate the process, you can place it in the fridge for 10-15 minutes. You want to make sure the butter is still in its liquid state when you add it to the dough, so don't keep it in for longer than 15 minutes. But you also want to make sure it's cool enough so the eggs don't scramble when added later.
In a large bowl, add the sugars, vanilla, cinnamon, espresso powder, and cooled brown butter (scrape down every brown bit!). Cream together until light and fluffy, 3-4 minutes.
Add the eggs one at a time and beat until incorporated. Do not over mix it — it can cause the cookies to become tough. 
Add the dry ingredients, about ⅓ of the mixture at a time, and beat between additions until just incorporated.
Using a wooden spoon, fold the chocolate chips, chocolate bar shreds, and walnuts into the dough.

TIP: soak the walnuts in hot water for 1-2 minutes before putting them in the dough to get rid of the bitter taste of the skin. Dry them off before incorporating.

Scoop the cookies onto a parchment paper-lined baking sheet in 2-tablespoon-sized mounds.

TIP: use parchment paper instead of a silicone-based mat — silicone is a good insulator, but it'll prevent the bottoms of your cookies from browning.

For the best results, cover and refrigerate the dough for at least 12 hours.
When ready to bake, preheat the oven to 350˚F (180˚C). Sprinkle a few pieces of flaky sea salt on top of each cookie.
Bake in a preheated oven for 12-14 minutes.
Let the cookies cool for 10-15 minutes before eating. As difficult as it may be, don't skip this step as the cookies will continue to bake even after you take them out of the oven.
NOTES:
– If you don't have cake flour or bread flour, you can substitute it with all-purpose flour. But it will change the texture and overall outcome.
– With cinnamon and espresso powder, these cookies offer a complex, multilayered flavor profile. You can leave it out if you don't have them or like them.
– Use pure vanilla bean paste if you can get your hands on it. I personally like this brand. The paste adds a richer flavor and makes a big difference!
– Make sure the leavening agent (baking soda) has not expired or the cookies may turn out flatter than expected.
– It's best if you use the dough right after you take it out of the fridge instead of waiting for it to come to room temperature.
– Try my spiced and nutty chocolate chip cookie recipe as well — it's my favorite for winter.