I'm an absolute sucker for chocolate chip cookies. Always have been. I strongly believe that there's very little a warm, chewy cookie with chunks of gooey chocolate can't fix. In good times and bad, it's there for me. In sickness and in health, it does its thing. So the least I could do for it is share the love, so YOU too can appreciate the goodness.
I have different recipes that I turn to over and over again, and choose one based on my mood, season, audience, etc. Given the addition of spices here, this is my go-to chocolate chip cookie recipe for winter. It's adapted from one of my favorite food blogs: www.smittenkitchen.com.
Before we dive in, check out my go-to brown butter chocolate chip cookie recipe for all seasons — it's ALWAYS a crowd-pleaser.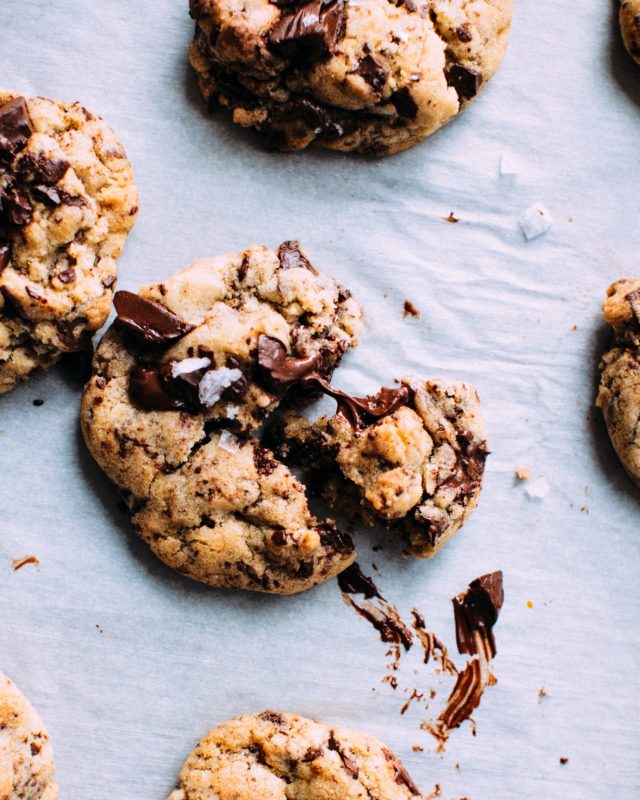 INGREDIENTS:
½ cup unsalted butter, room temperature (1 stick)
½ cup granulated white sugar
1 cup light brown sugar, firmly packed
¾ teaspoon fine sea salt
1 teaspoon vanilla extract
2 large eggs
1½ cups all-purpose unbleached flour, sifted
1 teaspoon baking soda
½ teaspoon ground cinnamon
¼ teaspoon ground nutmeg
1 cup rolled or quick cooking oats
1 cup pecans, chopped
1½ cups chocolate chips, milk or semisweet or dark
DIRECTIONS:
Preheat oven to 325°F / 165°C.
Line a large cookie sheet with parchment paper.
Using an electric mixer, beat the butter in a bowl until light and fluffy. Add both sugars, salt, and vanilla, and beat until well mixed, for about 3 minutes. Add in eggs, one at a time.
In a separate bowl, sift together the flour, baking soda, cinnamon, and nutmeg. Add half of the flour mixture to the butter with the mixer on low speed. Once the first half of the flour has been incorporated, add the second half and mix well.
Stir in the oats, pecans, and chocolate chips.
Roll the dough into small balls and place them on the cookie sheet. Bake for 12 to 14 minutes or until golden.
Remove from the oven and cool the cookies on a rack. Store at room temperature.
NOTES:
– Make sure the leavening agent (baking soda) has not expired or the cookies may turn out flatter than expected.