I LOVE, LOVE the book, The Great Gatsby. I've loved it ever since I was first introduced to it in high school. Fabulous 1920s fashion, extravagant parties, free moral climate, Prohibition, gangsters, excess prosperity, and female independence–that's how I remember the book. I loved reading about the lavish, classy parties that Jay Gatsby hosted for his guests and ladies. Since then, I've wanted to host a party of my own, reminiscent of the Roaring 20s charm and glamour.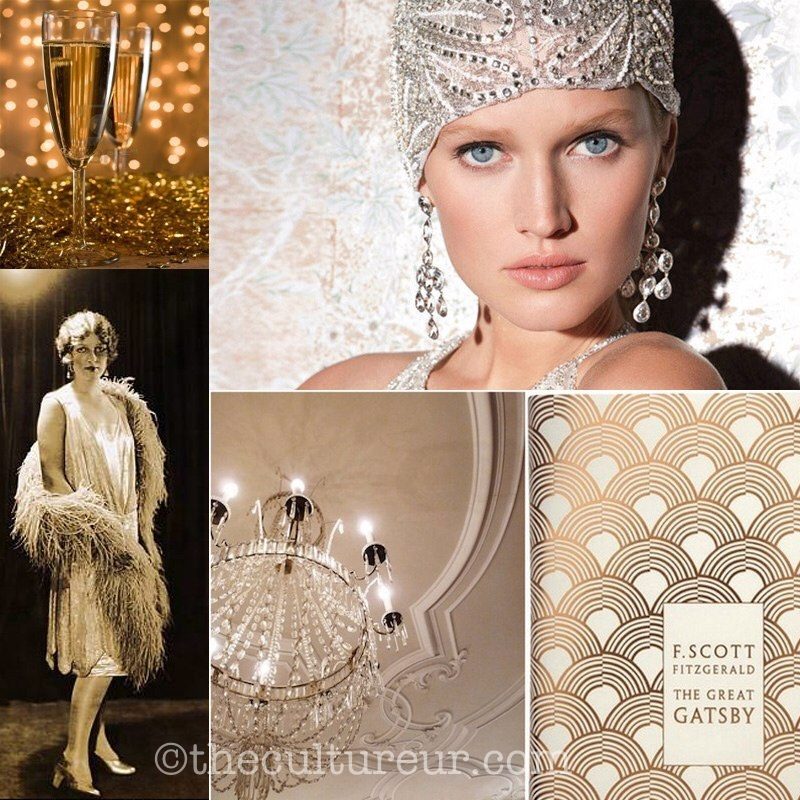 Some ideas for the perfect 1920s soiree:
Decor:
lots of white and cream hues
string twinkle lights snaked around the trees
large white tents in the courtyard
gentle candlelight with tea lights in mason jars on tables
tiki torches
place card holders in the shape of cigarette holders with name cards tied around them
circular dance floor
crystal chandeliers
Food+Drinks:
served on fancy, silver platters
glistening array of hors d'oeuvres: mini crabcakes, crudités, shrimp cocktail, stuffed mushrooms, cucumber watercress sandwiches, deviled eggs, cabbage rolls
desserts: fruit tarts, Angel food cake, bread pudding, chocolate-covered cherries
cocktails: martinis, mint juleps, sidecars, champagne
buffet tables with a separate bar station
Music:
live orchestra
cocktail music with saxophone and percussion beats in the background
jingly jazz from Louis Armstrong, Parisian accordion music, gypsy jazz from Django Reinhardt, and fancy-free compositions from Cole Porter
Charleston/Foxtrot/Waltz music
vintage record player
Attire:
women: cloche hats, sleeveless tubular dresses with fringes/pleats/slits/feathers, long strings of pearls/beads, bobbed hair, flesh-colored stockings, kitten heels, red lips/dark eyes, fascinators, feather boas, headbands
men: black tailcoats with white waistcoats, bow ties, gloves
Entertainment:
gambling stations with poker, roulette, and blackjack tables
dance contests
croquet
gangster murder mystery
charades
silent movie playing in the background
The ideas are endless–have fun channeling your inner flapper!
The Great Gatsby party ideas