ICELAND. I touched down in the beautiful country after a 12-hour flight from Seattle to Reykjavik. While up in the air, I received an email from a lovely reader asking what I take with me on the plane and if I had any tips on how to survive temporary imprisonment, err…a long flight.  I'm happy to share what works for me and what accompaniments always travel with me.
I have no idea how many international flights I have taken. But what I do know is what to take to survive long flights and how to perfect that art. I can never sleep on airplanes, even on first-class flights. I know, I'm cursed. So I have to find other ways to occupy my time and keep me from going stir crazy on my sometimes 20+ hour flights. Apart from my passport, boarding pass, and wallet, these 10 things you will always find stowed away in my large Mary Poppins-esque tote.
I'm not a yoga pants kind of traveler, but I do find a practical balance between chic and comfort. As much as I love my heels, the only time you'll see me in heels on flights is if the flight is less than 2 hours and I need to be in a meeting immediately after.
10 Travel Essentials:
1)

Magazine/book:

 In my bag, I usually have either the Economist, Harper's Bazaar, or the New Yorker stowed away.
2) MacBook Air: My laptop is always preloaded with I Love Lucy, The Mindy Project, Gilmore Girls, and Sex and the City episodes. With endless doses of fabulousness and humor while 35,000 up in the air, there's never a dull moment.
3) Small notepad and pen: I'm always jotting down random ideas and making lists; it must be the journalist in me. It's also handy to have a pen when you need to fill out any customs forms on the plane and/or upon disembarkation. I love the fabulous Garance Doré notebooks and the Pilot Dr. Grip 4+1 in champagne — it's 4 pens and a pencil in one.
4) Granola bar + small snacks: Nobody wants to deal (read: mess) with a hangry sleep-deprived traveler.
5) Chinti and Parker Cashmere Travel Blanket: It's a multipurpose lightweight accessory — it can be a chic scarf as well as a blanket.
6) iPhone + Bose QuietComfort Noise-Canceling Headphones: What can't the trusted iPhone do? It's my savior, music player, scheduler, and so much more. With this and WiFi and no flight is too long. And those earbuds drown out any unnecessary noise, i.e. crying babies.
7)

Extra pair of clothes/underwear:

 Even if you're extra careful about not spilling, you can't guarantee the same level of care by your beloved seat mate. Also, in case you find yourself luggage-less when you reach your destination, at least you can feel somewhat fresh.
8) Small toiletries bag:
» Lip balm
» Pocket-size tissues
» Tylenol, eye drops, and bandaids
» Guerlain Red Lipstick: the easiest way to glam up your look after you disembark
» NARS nude eyeliner: It's tired eyes' best friend. I tend not to wear much eye makeup on long-haul flights, but rimming your lower lash line, especially the inner corner with nude eyeliner (or white liner for super light skin tones) works wonders and makes me look instantly refreshed and awake. I also like having a dark colored eyeliner such as amethyst or black to add a bit of drama quickly once I get off the plane.
» Mascara
» Small powder compact with mirror
» Hair tie/clip
» Gum or mints: the perfect temporary solution when a brush/toothpaste isn't readily accessible
9) Sony Alpha A7II

 camera

: This may have been replaced by my iPhone 6 for most trips, but there are certain destinations that are simply best captured by a DSLR. For me, Iceland is one of those places so I was willing to carry around the bulk in exchange for fabulous photos.
10) Empty water bottle: I can refill it anywhere, meaning I'm hydrated throughout my entire journey. You can even find a TSA-approved deflatable water bottle.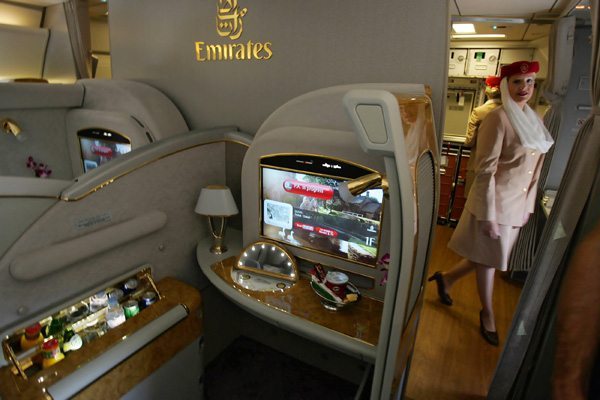 TIPS:
• Entertainment and work aside, the best things you can do for yourself on a long flight are drink lots of water and get up at least every 2 hours to stretch. Try a few basic airplane yoga moves. I try not to reach for any alcohol, but every now and then, I like to indulge with champagne, wine, or Bloody Marys. Always keep a mini cocktail kit on hand to spruce up your trip — it's TSA-approved!
• A few more practical considerations: purchase WiFi and get Global Entry to make the entire process go faster and easier.
• If you have a very short window in between your connecting flights, consider checking in your bag to your final destination to expedite the process, especially if you have to run from one side of the airport to the other.
• I tend to feel slightly claustrophobic if I'm not seated near the window. Use SeatGuru to discover the best seat for you.
• It goes without saying — pay a little extra or put those frequent flier miles to use whenever you can and upgrade!
• Don't bother taking socks, eye masks, dental kits, etc. unless you're rather attached to a particular one — you can get it all on the airplane.
• Just memorize your passport number and expiration date — you'll thank yourself.
• Always have chargers (phone, laptop, etc.) on hand so you never run out of juice and can keep your devices plugged in while you're working on them. My favorite portable chargers are the Anker Mini Charger for individual uses and the Anker Ultra-High Capacity Charger for multiple gadgets.
—
Bon Voyage! What are your essentials?