I love Los Angeles. I love Hollywood. They're beautiful. Everybody's plastic, but I love plastic. I want to be plastic. 
A pioneer of American pop art, Andy Warhol paints only one version of my darling hometown, Los Angeles — a city of extremes, where the opinions are as diverse as its demographics.
Before you ignite a passionate affair with the City of Angels, there are some things to take note of to maximize your Angeleno experience.
DOs
1) Eat from a gourmet food truck.
The concept may not have started in LA, but it sure was popularized here by the brilliant enterprising chef, Kogi, who dared to fuse the Mexican and Korean cuisines. Following suit, lured by the absence of overhead cost burdens, many others decided to take their restaurants mobile and snake around Southern California, making their next move discoverable only through social media. Today, you can find a wide array of tacos, gourmet French food, lobster rolls, fusion concoctions, grilled cheese sandwiches, burgers, cupcakes, burritos, and pizza on offer. Some of my personal favorites: Cousins Maine Lobster Truck, Jogasaki Sushi Burrito, and The Grilled Cheese Truck. (Two other foodie musts: In-N-Out Burger + Mexican food)
2) Rent a car and drive down Pacific Coast Highway. 
Ah, this is one quintessentially Californian (read: clichéd) experience that never really gets old. Rent a convertible and cruise down one of the most beautiful and scenic highways in the world — Pacific Coast Highway, Highway 1, or PCH, as known by locals. Forget your GPS, let your hair down, and soak up the splendor of the Golden State. But whether or not you get a convertible, get yourself a car if you plan to enjoy mobility while in Southern California.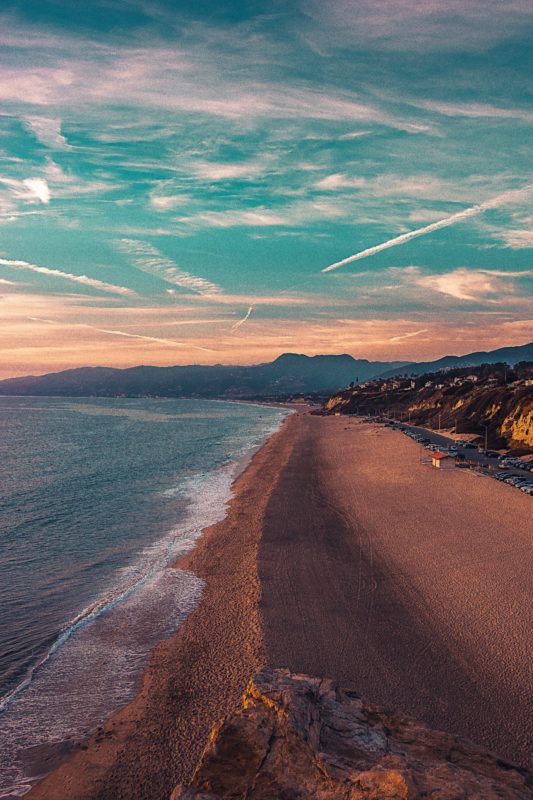 3) Familiarize yourself with L.A.'s geography and notorious traffic problem.
With more than 100 distinct neighborhoods, L.A. is no easy city to navigate, especially with sub-par public transportation options and endless traffic.  Sprawled over 469 square miles, L.A. is notorious for its neverending traffic and unfortunately, it lives up to its reputation so well that Angelenos spend more time in traffic/day than inhabitants of any other city in the U.S. Don't be surprised if it takes more than an hour to travel 10 miles (or less). Have somewhere to be? Great, just make sure to factor in a hefty chunk of time for traffic, especially if it's during peak hours. And heads up, a few geographical phrases you might hear being tossed around: WeHo = West Hollywood, NoHo = North Hollywood, SanMo = Santa Monica, and The Valley = San Fernando Valley.
4) Look beyond the Hollywood version of Los Angeles.
Rodeo Drive? Check. Hollywood sign? Check. Walking plastic? Check. Now, it's time to see the non-Hollywood version of L.A. Head to the boutiques of aspiring designers in Venice, indulge in gourmet coffee in Silverlake, check out the historic district of Downtown, sample food at a local farmer's market in Santa Monica, and stroll through the ethnic enclaves (Little Tokyo, Koreatown, Little Armenia, Olvera Street, etc.). Or take advantage of the city's diverse terrains: go hiking in Mt. Baldy or Runyon Canyon, wine tasting in Temecula/Malibu, or surfing in Orange County. A few favorites for stunning panoramic views/vantage points: Mulholland Drive, Glen Holly, Griffith Observatory, the Getty Center, and rooftop restaurants/bars in downtown such as The Standard and Perch.
This is not specific to LA and applies to the U.S. as a whole, but tipping is both customary and ubiquitous. You tip taxi drivers, waiters, bartenders, concierges, delivery folks, salons, bellboys, etc. The amount you tip varies for the service and context, but know that it's expected in any case. Tipping is ingrained in American culture and enjoys a reciprocal relationship with the *usually* great customer service that the U.S. is known for. One thing to note: many restaurants automatically will add 15-21% gratuity for parties of 6 or more, so double check the bill before you end up paying a 2nd tip. A few general rules, with some exceptions, for tipping are: 1) restaurants: 18-21% and 2) bartenders: $1-2 per drink.
DON'Ts
1) Don't stay in Downtown LA unless the purpose of your visit involves the Convention Center or your itinerary includes Downtown-specific exploration. 
Downtown may have experienced quite the facelift in recent years, but if your agenda has nothing to do with the Convention Center or anything that's related to Downtown, find a hotel in another part of town where you're likely to spend more of your time. Staying in downtown, and getting from Point A to Point B is a hellish nightmare that I wouldn't wish upon even my worst enemy. That is not to say that downtown is not worth the exploration — quite the contrary. It's a gorgeous multicultural mosaic, but it's not the ideal area to park yourself. Some alternative neighborhoods to stay in: Beverly Hills (glam mavens) and Santa Monica (sun-worshippers).
2) Don't try to see the entire city on one trip unless you have several days to spare.
If you try to see Hollywood, West Hollywood, Beverly Hills, Brentwood, Santa Monica, Venice, and the beach cities all in one trip, you'll end up seeing only a little of LA and spending most of your time in traffic. Take a few days and maximize your trip by sticking to one area, such as Santa Monica, which offers easy access to Malibu, Venice, and other parts of the west side of the city.
3) Don't get star-struck!
Welcome to LA — where celebrities roam the city streets alongside mere mortals — imagine that! Yes, you may dine alongside Will Smith or Jessica Alba at Fig & Olive. Or you'll see Katie Holmes scrambling to get her early morning coffee at Le Pain Quotidien. But guess what? Who cares! They're just ordinary people that have seized extraordinary opportunities. But if you still want to hunt down celebrities and experience "Hollywood," get tickets to the taping of TV shows/movies. They're often free and can be secured in advance. Just whatever you do, don't fall victim to one of the many tourist traps that await you at Hollywood & Highland. Those hawkers that promise premier celebrity home tours will show you nothing more than the shrouded tree-lined facades of celebrity mansions. Unless your goal is to say that you saw the perfectly manicured lawn of Jennifer Aniston, steer clear. Just stroll through Beverly Hills and WeHo; you'll see your fair share of celebrities dining and shopping, especially around Robertson Blvd. and Melrose.
4) Don't judge the city by its ultra unglamorous airport…at least just not yet.
Changes, big changes are coming to LAX. As the gateway to one of the world's most glamorous cities, it's one of the dingiest airports I've seen and is an embarrassment to Angelenos. But fret not, at last, LAX is slowly transforming itself into a world-class airport and getting something many of its residents already have: a facelift. With that said, don't be astonished to discover that the Hollywood you've seen in the movies may not be the Hollywood you see with your own eyes (you might be disappointed that the beaches may not resemble a Baywatch scene). Even with certain common elements, real and reel L.A. are two entirely different beasts.
5) Don't write off Los Angeles as being devoid of culture.
Los Angeles may not enjoy that European flair and rich history of cities like London and Paris, but don't let that fool you — the City of Angels easily has the power to enchant, intrigue, and satisfy even the snobbiest of culture vultures. Think: world-class museums such as the Getty Center and LACMA, extravagant art galleries, modern architectural marvels such as the Walt Disney Concert Hall, outdoor concerts at the Hollywood Bowl, and much more. As the entertainment/film/music capital of the world, L.A. knows culture. Very well.
Do you have any other DOs and DON'Ts in Los Angeles?