Icelanders have an undeniably passionate love affair with booze, particularly beer. But it's interesting to note that beer became legal in the country only about 26 years ago in 1989, designating March 1 as National Beer Day. You will notice that most bars around Reykjavik do not venture past a wide array of beers and maybe a small selection of house wines and hard liquors, and very few delve into the colorful world of cocktails. The trendy concept of craft and specialty cocktails hasn't quite caught on in the Icelandic capital…just yet. However, during my two months in Reykjavik, amidst the sea of beer worshippers, I managed to find a few beautiful spaces that make it easy and possible to unwind, lounge, and sip on those boozy concoctions, delectable libations, or whatever you want to call them.
These are not all exclusively cocktail bars, but they have a decent range of cocktails and wine on the menu.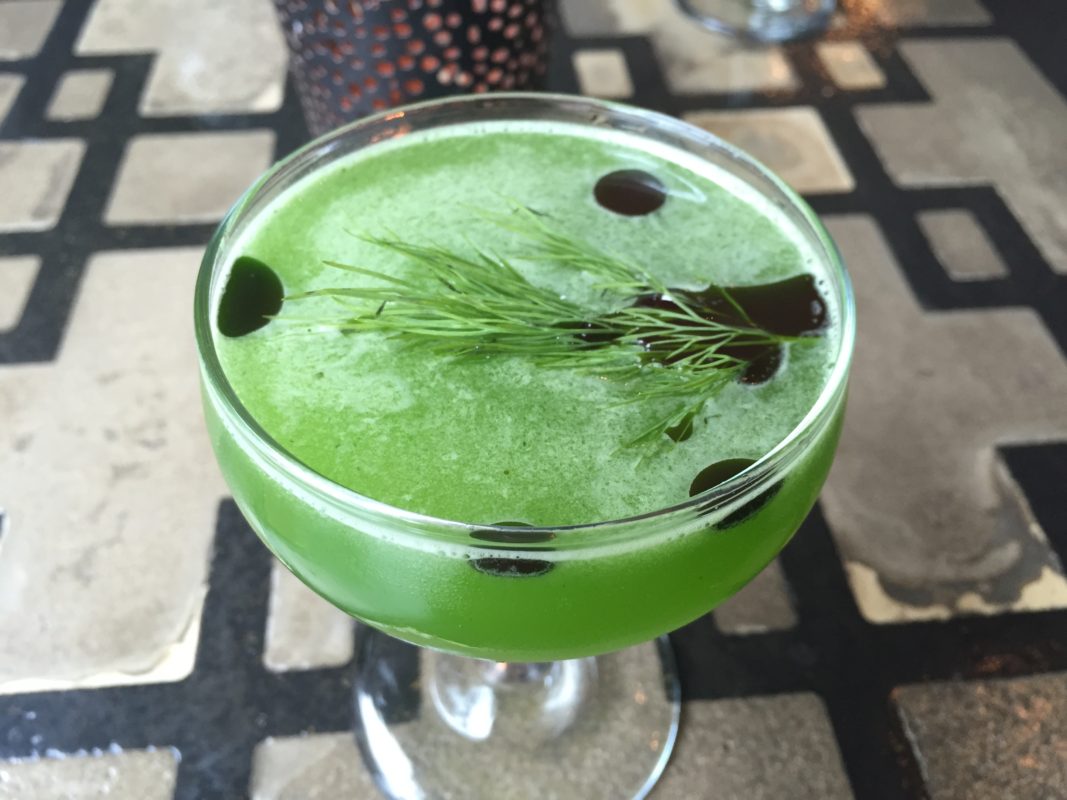 1) GRILL MARKET
Grill Market (Grillmarkaðurinn) is an absolute feast for the eyes and palate! The menu is controlled by the seasons and all the ingredients are locally sourced. The wine list could always be longer and more expansive, but the ones listed do leave a lasting impression. The cocktail list boasts some classics with Icelandic twists with local ingredients. But more than anything, go for the glamorously chic interior design — it'll make you swoooooon!
2) APOTEK
Housed in a former apothecary, Apotek is following the recent worldwide, but specifically Nordic trend of transforming former apothecaries into restaurants/cocktail lounges. The space is glamorous and classy. The food and drinks are innovative and delicious. Without an ounce of hesitation, they serve up my absolute favorite cocktails (rather, cocktail) in the city. The Dillagin cocktail, oh my – my mouth is already starting to water.
3) PERLAN
Literally meaning "Pearl" in Icelandic, Perlan is a f

uturistic revolving glass-domed fine dining restaurant with a cocktail bar. A visit is warranted not for the mediocre food, but for the stunning panoramic views of Reykjavik that can be enjoyed while enjoying a cocktail at the bar. 
4) SLIPPBARINN
Touted as the best cocktail bar in the city by locals, Slippbarinn is known for its knowledgeable bartenders and widest array of cocktails in Reykjavik. It didn't quite hit the mark as the best cocktail bar for me — I wasn't a fan of their dirty martinis, but they more than made up for it with a killer chocolate espresso martini. Located in the Marina Hotel, this chic bar caters to a posh clientele that knows how to wine and dine in style.
5) KLAUSTUR
I'm a sucker for a good hotel bar — it's one of my favorite parts of a hotel experience. Housed in Hotel Kvosin in Downtown, Klaustur offers a classy bar that boasts a fantastic gin + tonic menu and a global high-quality wine list — all curated by an American sommelier. The space is cozy and inviting, and with the expansive wine list and fantastic service, it can easily take a good night into a fabulous night. I also love the willingness of the bartenders to make anything, even if it's not listed on the menu — you don't find that kind of customer service very often in Iceland.
Some Icelandic spirits to try: Reyka Vodka, Mountain Gin, Brennivin Schnapps (also called "the Black Death"), Foss Distillery's Björk Liqueur & Birkir Snaps, Thoran Single Malt Whisky, and Vor Gin.
Cheers! // Skál!