One question I often get asked from my travels is what are the best foods to try in…? While I'm happy to tell you about all the yummy dishes I consumed and all the interesting tidbits I learned, the best way to get up close and personal with a country's food is hearing about it from a local. This new series — Bon Appétit! 15 Foods You Must Try in… — does just that; it's a list of must-try foods (and drinks) in a particular country written by people who actually live there and can comment on their cultural significance and regional variations.
Disclaimer: do not read this on an empty stomach!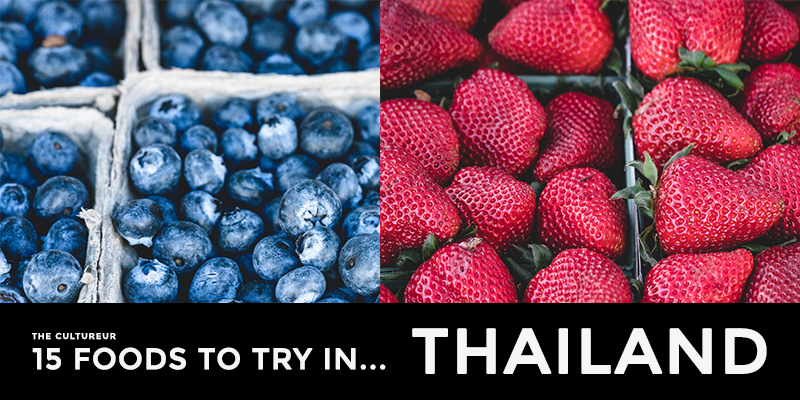 Second on my radar is Thailand, the Land of Smiles, written by the effervescent Nita Gulati of 

Spilling the Beans

. Though born in Bangkok, she now resides in Pattaya City and is always on the lookout for culinary delights throughout her beautiful country and beyond. Read on to learn about her debriefing on the Thai cuisine and her accompanying socio-cultural commentary.
—
Thailand is a fantastic country to visit and live in, and Thai food is undoubtedly one of the best cuisines in the world. While I love trying new dishes and relishing in cuisines from different corners of the globe, there isn't any I adore more than  Thai food. The aromatic spices, the fresh herbs, the truly tantalizing tastes – Thai food and I certainly have the perfect marriage!
For those of us who enjoy spicy food, there are few that can rival the satisfaction of Thai food. For the mild-hearted who simply turn red at the sight of chili, fret not, remember useful phrases such as mai phed (not spicy) and phed noi (less spicy) and your palate and stomach will be infinitely happier. It's so easy to get excellent food anywhere in Thailand, so as tough as it was to highlight only 15, I've finally narrowed down my list of must-try Thai dishes.
1. Kraphao Kai Khai Dao
(Chicken stir-fried with basil leaves served with rice and fried egg on top)
This is one of Thailand's principal dishes that everyone enjoys. I think it is truly delicious, satisfying, and easy to make at home. The chicken can also be replaced with tofu, pork, beef, seafood, whatever your preference is.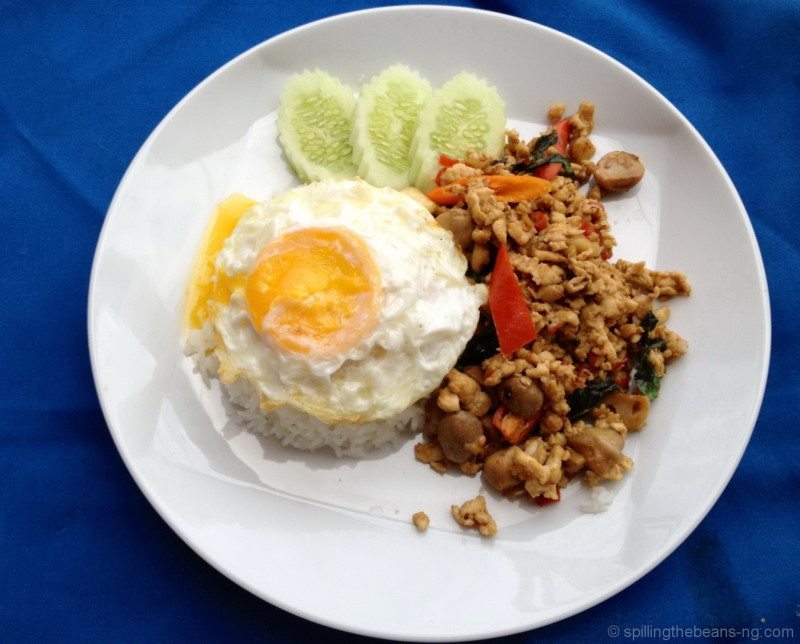 2. Som Tam
(Raw papaya salad)
A combination of spicy, sour, sweet, and salty flavors all in one! It's made by pounding all the ingredients–sliced raw papaya, peanuts, beans, tomatoes, dried shrimp, fish sauce, lime, chillies and palm sugar–with a pestle in a special mortar called Khrok.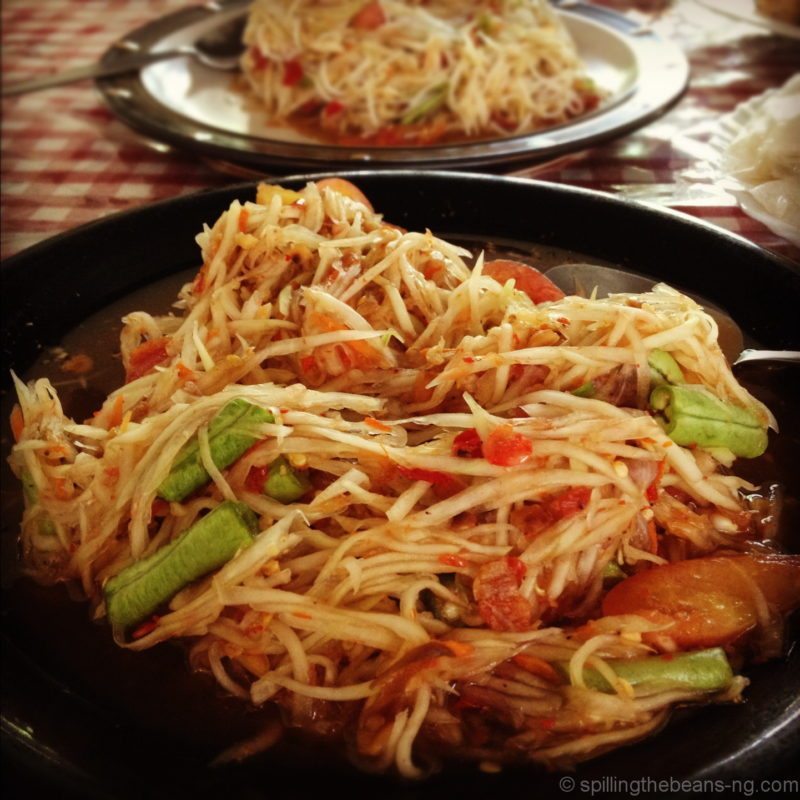 3. Moo Ping
(Grilled pork skewers)
Or what I call awesomeness on sticks! A major player in the street food scene in Thailand, Moo Ping is absolutely tasty on its own or even with sticky rice and Som Tam. I can never have enough!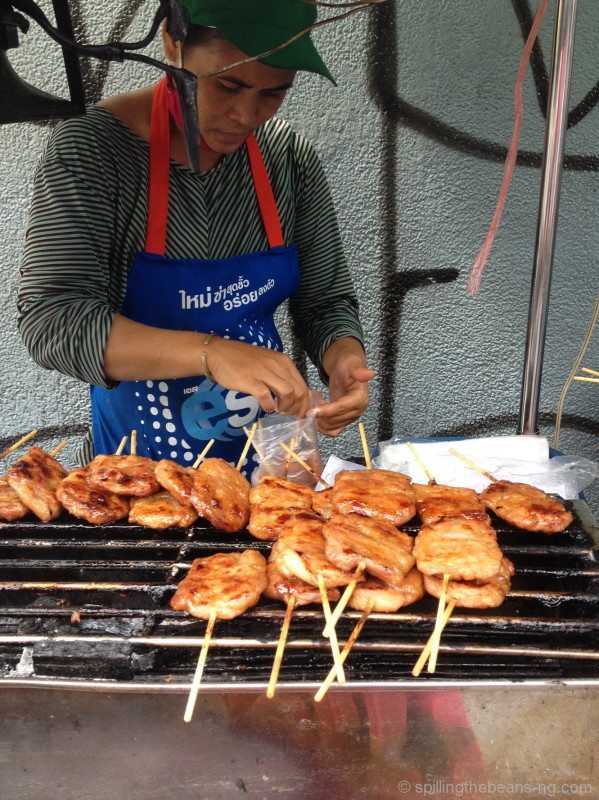 4. Pad Thai
(Stir-fried rice noodles)
Another one of Thailand's genius creations is Pad Thai. A dish that needs no introduction, I simply cannot write about Thai food and not mention the phenomenal Pad Thai – it really lives up to the hype. I like it best with prawns.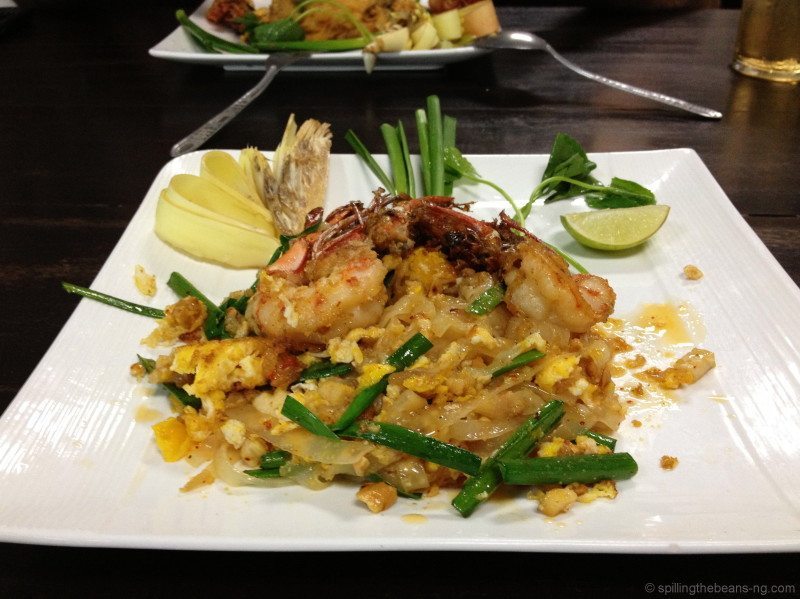 5. Kuay Tiew Tom Yum
(Noodles in Tom Yum soup)
Tom Yum is a soup that most people are familiar with — a sour and spicy aromatic broth seasoned with lemongrass, galangal and kaffir lime leaves. But all of that tastiness, when combined with noodles and meat such as pork, fish or meatballs is just plain wonderful!
6. Phad Phak Boong
(Stir-fried morning glory)
Even the vegetables are prepared so appetizingly here in Thailand. My favorite is morning glory stir-fried with garlic, chillies, and oyster sauce. A few simple ingredients can create a magical dish.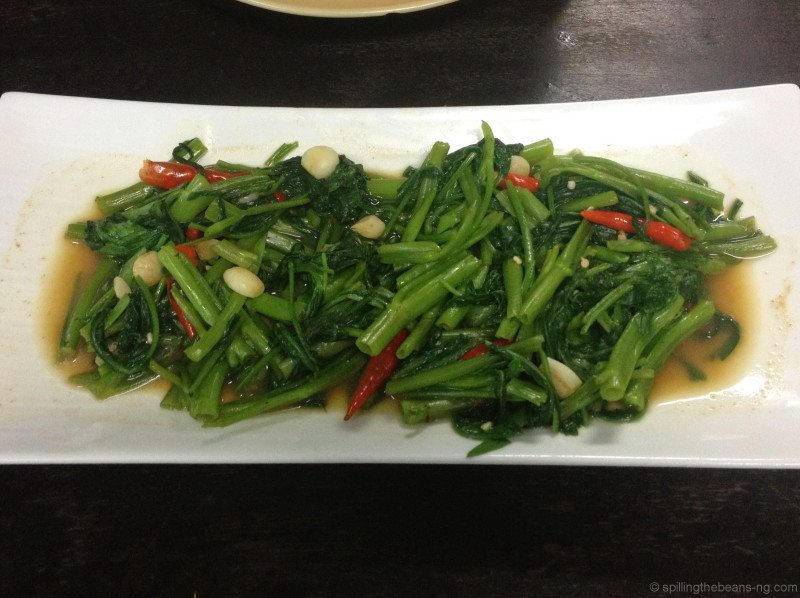 7. Kaeng Khiao Waan
(Green curry)
With coconut milk as a base, green curry is another amazing dish best enjoyed with rice or rice noodles called Khanom Chin. Mostly prepared using chicken (or other types of meat) and mixed vegetables, this is another classic dish to savor.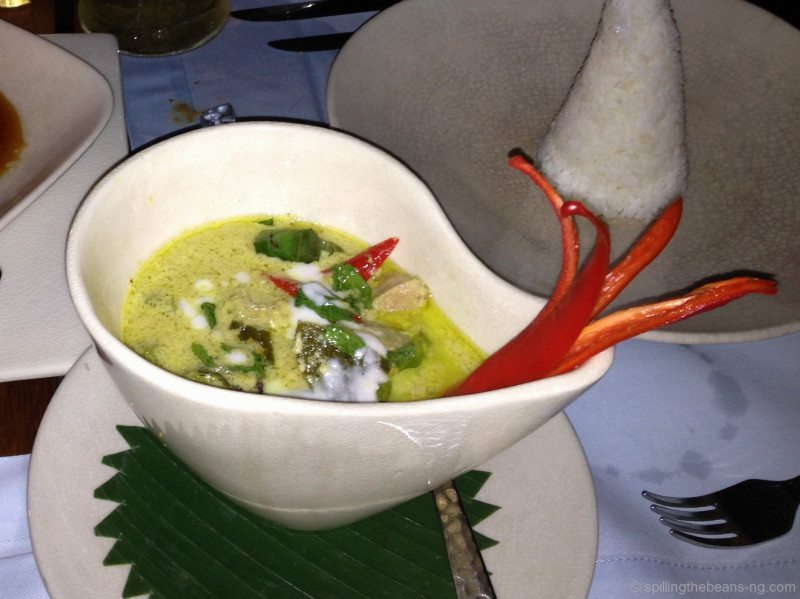 8. Khao Phad Poo
(Fried rice with crab meat)
I know it sounds wrong for the word Poo to be in the name of a dish, but in Thai it means crab. It is simple but I love good fried rice with crab meat.
9. Yum Pla Duk Foo
(Spicy catfish salad)
Thai style spicy salads are called yum. A great appetizer, this is made of fried catfish and topped with green mango salad – a yum that is indeed very yum (pun intended!).
10. Pla Raad Prik
(Fried fish topped with spicy sauce)
There is a lot of fresh and tasty seafood in Thailand and I love this dish. Usually a whole fish is fried and covered with a sweet and spicy sauce that contains tamarind.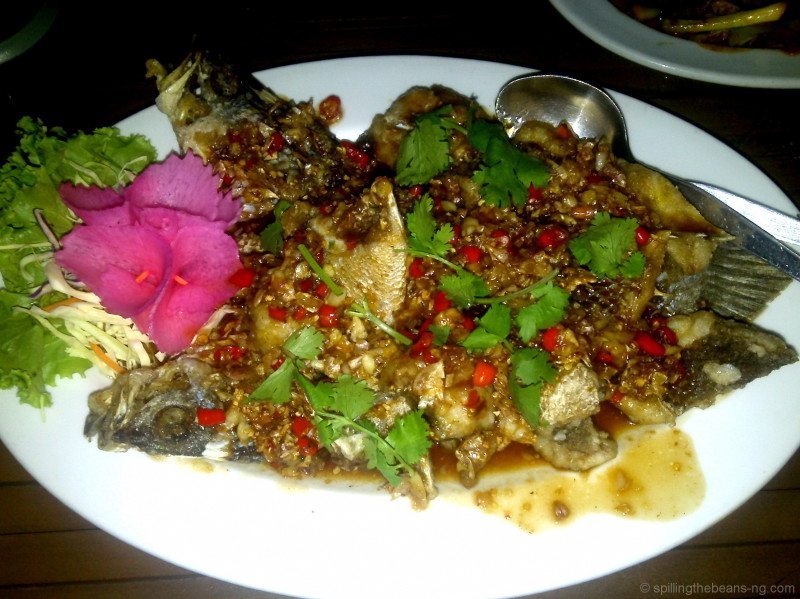 11. Sai Krok Isan
(Northeastern pork sausage)
These fermented pork sausages, which also consist of glutinous rice and garlic, are yummy and a must-try too. They originate from the Northeastern region of Thailand called Isan.

12. Singha Beer
What better way to complement a great meal than to take in a beautiful view, enjoy a fresh ocean breeze, and sip on this awesome local brew? A chilled bottle of Singha will almost always lift my 'spirit'.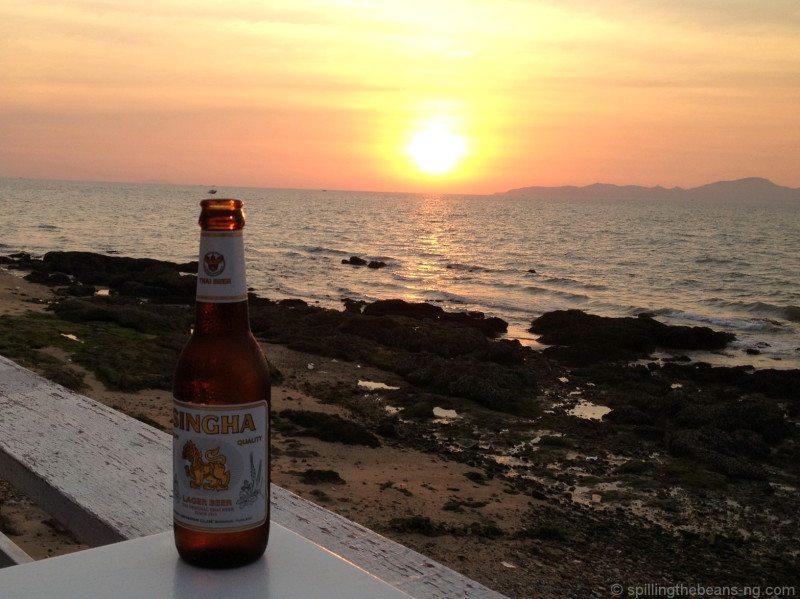 13. Khao Neow Mamuang
(Mango sticky rice)
Another dish that is often associated with Thailand is Mango sticky rice. You can get it almost everywhere but the freshest mangoes are always from the local markets. Isn't this just one of the most brilliant foods ever?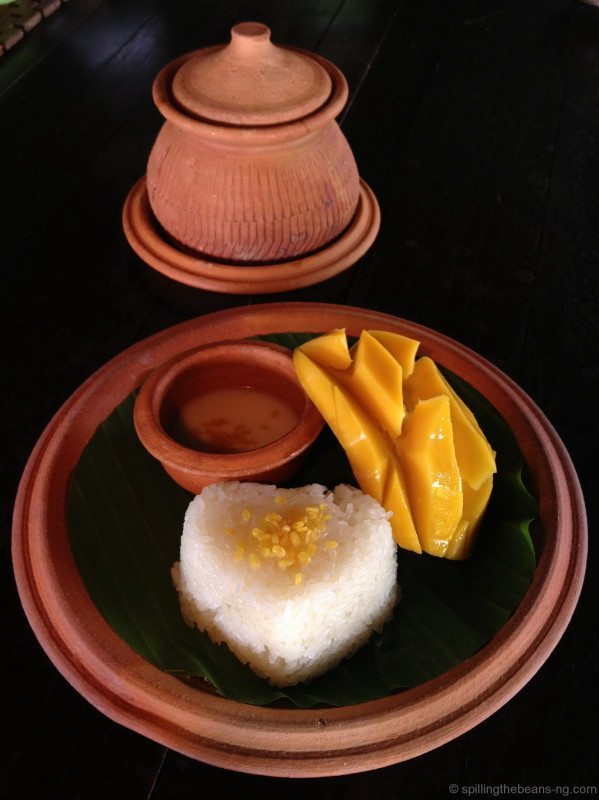 14. Khanom Buang
(Crispy Thai pancakes)
Certain dishes remind you of your childhood, and for me this is one of those. It's a Thai-style crispy pancake that I often enjoyed and bought from local street vendors when I was a child. Stuffed with sweet or salty fillings, they are addictive and it's difficult to stop at just one.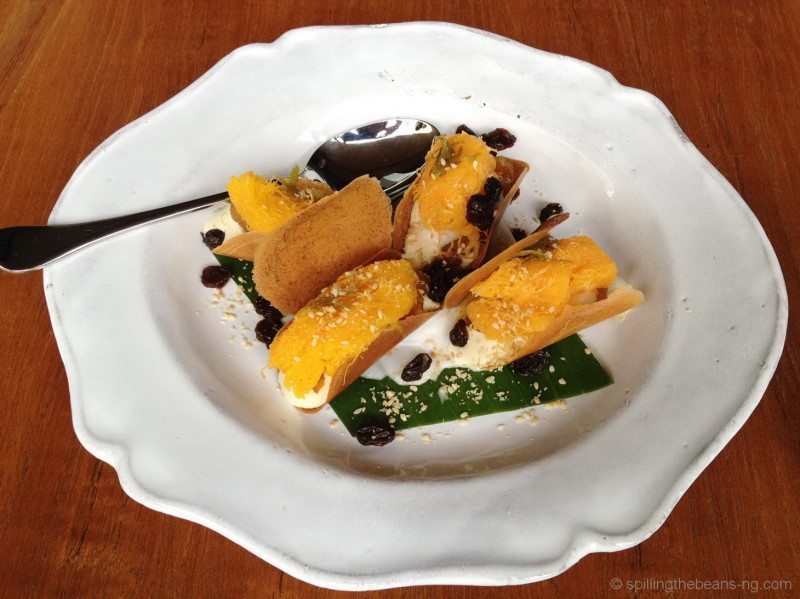 15. Chaa Yen Ice-cream
(Thai tea ice cream)
Thai tea is a famous and not to mention, delicious drink but what I love even more is Thai tea ice cream. The sweetness of cream and the scent of Thai tea fused together as an ice cream is the ideal refreshment for the warm climate of Thailand.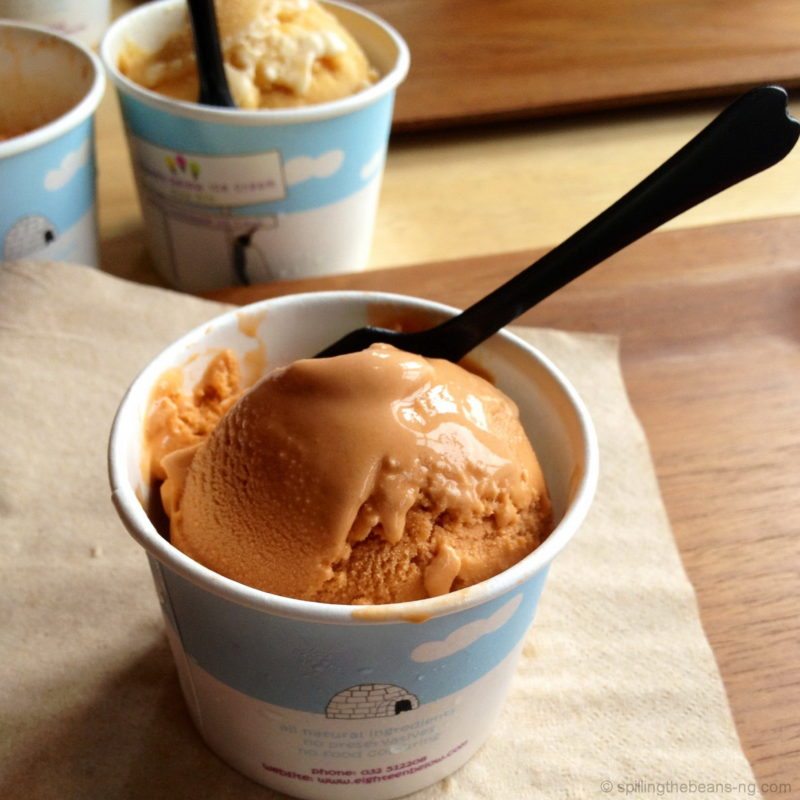 Previous destinations: Australia
Nita Gulati is a food junkie and a non-recovering travelholic living in Thailand. Always on a lookout for new experiences and exciting places to visit, Spilling the Beans, is where she shares stories, experiences, and photos of her journey through the intriguing world (make it galaxy) of food and travel.
15 Foods to Try in… Thailand