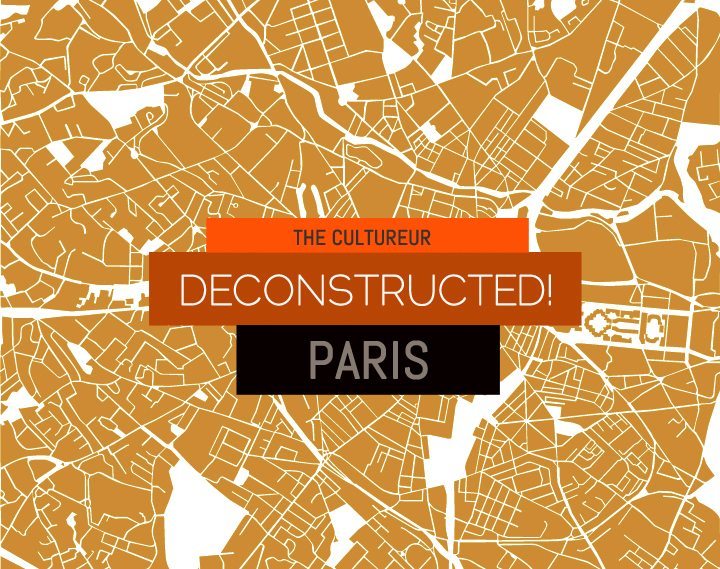 Deconstructed! is a new series of posts that breaks down select urban centers by their individual areas and offers recommendations for hotels, restaurants, bars, landmarks, insider's tips, and hidden gems for each. Stemming from the kinds of questions I often receive, I wanted to create an insider's guide that makes big cities less overwhelming and much more manageable. Each guide is a blend of culture and luxury with a dash of local insight from my own personal experiences.
What better city to kickstart the series than PARIS? The dazzling City of Light shines in all its glory, day or night, but can be daunting for first-timers. Starting in the center of the city with the 1st arrondisement, I'll spiral my way out clockwise through all my favorite areas.
—
1st Arrondissement :: Paris
The 1st Arrondissement (1er) is quite literally the heart of Paris. As a former home of the Kings, expect to be greeted with a regal and elegant vibe as you meander through iconic landmarks, sample trendy and traditional dining options, and lounge at quintessentially French luxury hotels. The first arrondissement is further broken into four quarters: Quartier de la Place Vendôme, Quartier du Palais Royal, Quartier des Halles, and Quartier Saint-Germain-l'Auxerrois. Also part of the 1er is the tip of Ile de la Cité, one of two remaining islands in the Seine River.
Calling art aficionados, culture vultures, luxury darlings, and shopaholics!
Landmarks:
Musée du Louvre:

a museum where the architecture is an engineering marvel and the sprawling collection is a Mecca for art aficionados. Though it's home to the renowned Mona Lisa and Venus de Milo, there is so much more housed under the 652,300 sq. ft. complex, so expect to find artwork that caters to almost every palate of tastes and interests.
Palais Royal/Jardin du Palais Royal:

a former palace and garden that dates back to the 17th century and offers an oasis of tranquility amidst the hustle and bustle of the city. A beautiful blend of history, architecture, and nature that's a true feast for the eyes.

Musée de l'Orangerie:

a vast haven of impressionist and post-impressionist paintings located in the west corner of the Tuileries Gardens, dating back to 1852. It's mostly famous for the Water Lilies murals by Claude Monet, but you can expect to find the beautiful artwork of Paul Cézanne, Henri Matisse, Pablo Picasso, Pierre-Auguste Renoir, Henri Rousseau, and many other artistic geniuses of that era.

Jardin des Tuileries:

a public garden located between theLouvre Museum and the Place de la Concorde that is characterized by dramatic statues, Renaissance architecture, and cozy cafes flanked by stairways and greenery.




Place Vendôme:

a famous square located north of the

Tuileries Gardens

, that was created as a monument to the glory of the armies of Louis XIV, the Sun King. Today, it houses famous residences, the iconic Ritz Hotel, and countless other specialty shops and boutiques.
Pont Neuf: a bridge that connects the 1st and 6th arrondissements is Paris' oldest standing bridge.
Hotels:
Hôtel Vendome: a small luxury boutique hotel in an ideal location with a quintessential Parisian charm.

Hôtel Ritz:

the splendor of this hotel may have been surpassed by newer hotels, but nobody can deny its legendary reputation. *currently under renovation*
Hôtel Le Meurice: another ultra luxury hotel that needs no introduction and has attracted the royal, the rich, and even the radical (i.e. Dalí). Reflecting its uninterrupted attachment to the French art of living, Le Meurice is a haven of peace where the refined grandeur of 18th-century architecture meets the latest in contemporary comfort and elegance.
Restaurants + Bars:
L'Absinthe:

a charming, yet trendy and creative, yet traditional is the best way to describe this haute French bistro.

Maison de Angelina:

quite possibly the richest cup of hot chocolate you'll ever try that'll even have Willy Wonka begging for seconds.
Bar Hemingway: as the former haunt of Ernest Hemingway, James Joyce and other literary geniuses, Bar Hemingway, located in the Hotel Ritz is an institution in Paris' bar scene. The head bartender is known for making his inventive cocktails to be nothing short of fine art. Soaking up the sophisticated, intellectual atmosphere as you sip a martini is the charm of this age-old bar.
Willi's Wine Bar: an absolute classic and a must for wine lovers with a low-key atmosphere and an exhaustive (and impressive) wine list.
Yam T'cha: an amazing French-Chinese fusion restaurant that effortlessly blends the strong flavors of both cuisines.

Jean-Paul Hevin:

a cozy specialty chocolatier that is simply a chocolate lover's paradise.

Bar 8:

a chic champagne bar in the Mandarin Oriental Hotel

Kunitoraya:

a small, family-owned restaurant that turned into my go-to restaurant for udon in the city.

Le Garde Robe:

a natural wine, charcuterie, and cheese haven. One of my favorite wine bars in Paris.

Le Meurice:

a Michelin-starred gastronomic tour through the the richness of French flavors, set in a regal and romantic ambiance. Absolutely one of the best restaurants in Paris.

Ô Chateau:

a wine bar that offers fabulous wine tasting experiences with the experts. One of the few places in the city where you can do that.

Macéo:

could be considered the more elegant sibling of Willi's Wine Bar with a well-heeled crowd and a presentation style that is quintessentially French. Excellent for vegetarians.

Mariage Frères:

a quaint tea salon/cafe with a wide range of teas from all over the world. A place I could spend hours on the weekend.
Hidden Gems + Insider Tips:
Shop along the commercial stretch of rue de Rivoli or head to Forum de Les Halles for trendy boutiques.

Meander through the elegant rue Saint-Honoré for a beautiful collection of high-end designers, diplomatic establishments, art galleries, and an overall serious concentration of chic.
Enjoy the lively atmosphere of the open air market on rue Montorgueil. As one of Paris' oldest open markets, it's a haven of specialty food shops, including bread, wine, and cheese. It's a pedestrian-only street, so stroll through without any traffic disruptions.
Try to avoid Châtelet – Les Halles, a major commuter train hub and the largest underground station in Paris (and the world). It is a total nightmare, especially during peak hours. Get off at one stop before or after and walk to your destination.
Maison Goyard: is there anything better than chic personalized luggage?
Cafe Marly has killer views of the Louvre from the terrace, but the food is decent at best.
Librairie Galignani is a must for literary lovers. I could spend hours perusing through their coffee table books on style, fashion, art, and architecture. It's a stunning establishment that holds the title of being the first English-language book shop on the continent. It's also the place to go if you're looking for English translations of French classics by Balzac, Flaubert, etc.
Metro/RER Stops:
Line 1: Louvre – Rivoli, Palais Royal – Musée du Louvre, Concorde, Châtelet, Tuileries

Line 4:

Châtelet, Étienne Marcel, Les Halles
Line 7: Pont Neuf, Pyramides, Châtelet, Palais Royal – Musée du Louvre
Line 8: Concorde
Line 11: Châtelet
Line 12: Concorde
Line 14: Châtelet, Pyramides
RER A: Châtelet – Les Halles
RER B: Châtelet – Les Halles
RER D: Châtelet – Les Halles
If you have any new recommendations or suggestions, please leave them in the comments. It'll help others and give me more places to try out when I'm in Paris next! =)
*Please note these are all personal recommendations and therefore, it is not a comprehensive guide to fit all styles, interests, and budgets.
1st Arrondissement in Paris