In late May/early June, I was in the Texan capital, Austin to visit a few friends. It was my first time in Texas, well at least, beyond its airports. After 5 days in the City of the Violet Crown, I was impressed — it's a tech-driven commercial hub that is slated to grow exponentially in the next few years, establishing itself as one of America's next boom towns. In addition to economic growth, with such a large influx of millennial young professionals, Austin is touted as one of the trendiest destinations on the culinary map for adventurous fans of gourmet dining, and rightly so.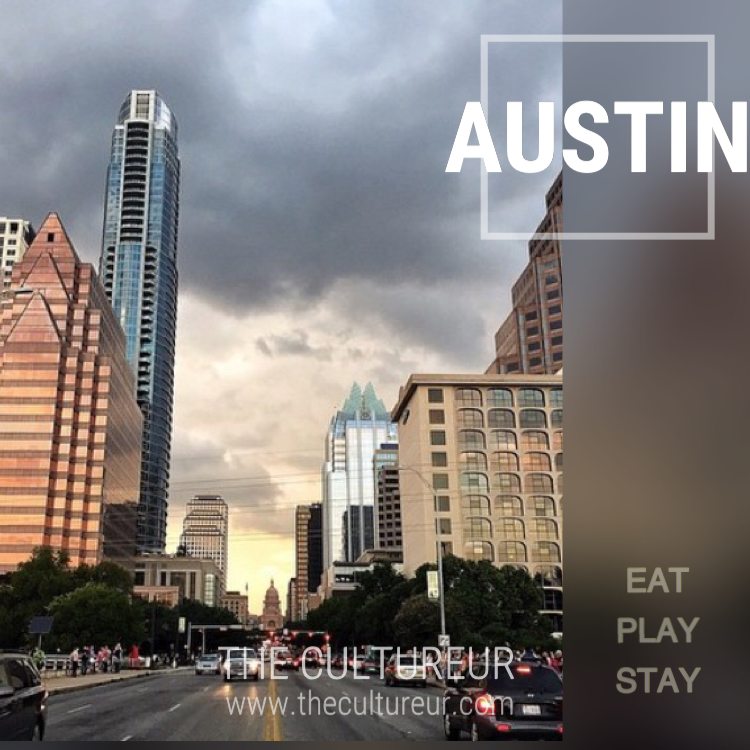 EAT
1) Josephine House — A lovely house-turned-restaurant that is known for their brunch. Cozy and classy perfection.
2) Uchiko — Famed for Japanese farm dining, Uchiko is an inventive Japanese restaurant that serves up innovative and traditional dishes. Its sister restaurant, Uchi is also making waves in the dining circuit in Austin. Go for happy hour and the desserts (they're otherworldly!).
3) South Congress Cafe — Brunch is a popular affair in Austin and South Congress Cafe is a well-established player. Try the Bloody Mary — in this case, things are bigger and better in Texas!
4) Houndstooth Coffee — Artisan coffee shops are in abundance throughout the city; this is one of many gems.
5) Mozart Cafe — If you're looking for a charming restaurant/coffee shop/bakery by the water, this is your place. Add live music by local artists to the mix and you've got one perfect evening.
6) Food trucks — The food truck trend is making its way around the world, and there's no reason Austin should be left behind. Try Chi'Lantro — a delicious marriage of the Korean and Mexican cuisines. 
7) TRIO at the Four Seasons Hotel — We stopped in to grab a quick drink and to seek refuge from the torrential downpour, but we ended up staying for a few hours. The bartenders were absolutely fantastic — I was craving frozen mojitos and even though it wasn't on the menu, the bartender whipped me up a perfect concoction without even a peep. 
8) Freedman's BBQ — I couldn't possibly leave Texas without tasting some of its beloved BBQ. Try the sampler platter to get a taste of everything. 
PLAY
1) 6th Street — 

6th Street, known by locals as "Dirty Sixth" is the Entertainment District of 

Austin

. The hour-long walk from the eastern edge into downtown captures decades of change that have created the new face of Austin. It slowly transforms from urban grittiness to modern glossiness, from a bohemian enclave to high-rise paradise. Historically, it was one of the first integrated parts of Austin, a place where Chinese, Black, White and Hispanic business owners mixed on one block. Today, it's a raucous party scene for college students, music lovers, foodies, and tourists. Reminds me of Bourbon Street in New Orleans.
2) Rainy Street — Think of it as a classier version of 6th Street with gaggles of trendy restaurants and chic bars. 
3) Lady Bird Lake Hike and Bike Trail — A scenic waterfront trail loop ideal for hiking, running, and cycling.
4) Away Spa — Relax and unwind at a tranquil oasis amidst the hustle and bustle of the city. Love its downtown location in the W Hotel and its close proximity to so many great restaurants and bars. Massages and mimosas — what could be better?
5) Texas Capitol Building — 

Built in 1888 in the Renaissance Revival architectural style, the majestic Texas State Capitol building in

Austin is

 the 3rd Capitol building to serve its purpose.
6) SoCo — The couture food trailers, funky shops, and a spirited atmosphere typify the trendy neighborhood of South Congress, fueling the city's slogan of keeping Austin weird.
7) The Driskill Hotel — 

Built in 1886, the Driskill Hotel in downtown

Austin

is an iconic and historic landmark. It's Austin's first 

luxury hotel

and oldest operating hotel. I just could not get enough of the gorgeous Romanesque

architecture

and charming horse and carriage parked in front. What a romantic way to see the city.
STAY
1) The W — We stayed for one night to attend the weekly summer pool parties. Given the blistering heat of Austin in the summer, this was a perfect respite from the hustle and bustle of the city. We had the Cool Corner Suite with views of the pool and skyline from our windows.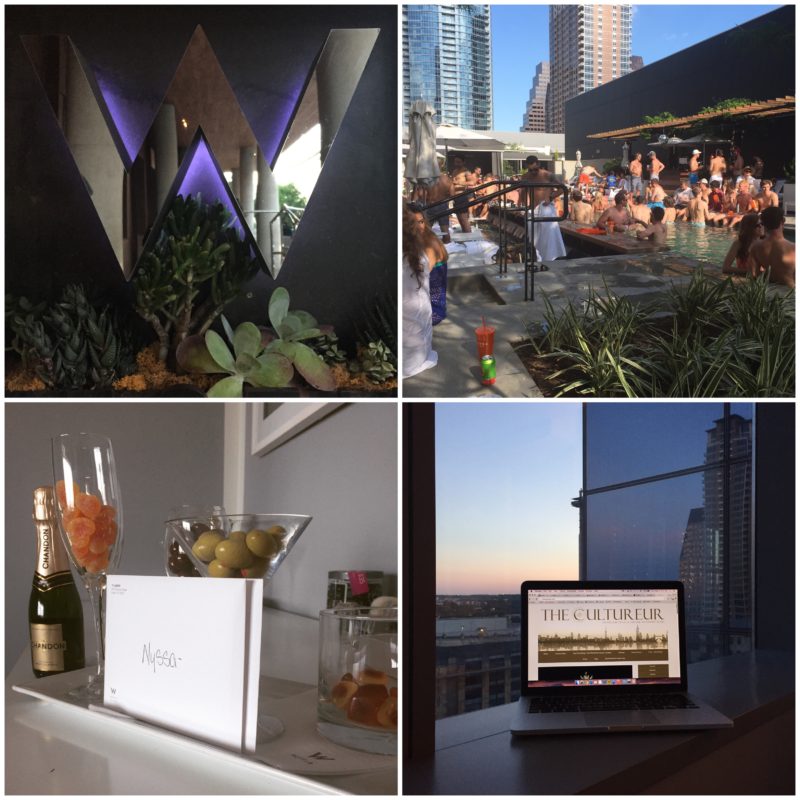 NOTES / INSIDER TIPS:
-Texas hospitality is very much alive and the people were incredibly charming and helpful.
-Drive along Congress Avenue for beautiful views of the River and skyline.
-Be prepared for unpredictable weather — rain, sunshine, humidity, you get it all!
–

Keep Austin Weird: the city's slogan. The notion that weirdness is the essential spark to life in Austin is at the heart of the "Keep Austin weird" mantra that has been emblazoned on tie-dyed T-shirts and bumper stickers, adopted by eccentric and creative Austinites, and co-opted by local businesses, small and large. It has become shorthand for all that is hip in the city. But as

Austin

booms, there's a growing debate over whether its weirdness is being institutionalized and subverted in the process.
-There's a growing trend in the city to transform houses into chic, cozy restaurants.
Duration: 4 nights and 5 days, from May 29-June 2, 2015
Please remember: EAT, PLAY, STAY is an ongoing series that highlights destinations around the world and offers my itinerary for the trip, giving you information on where and what to eat, where to play and what to see/do, and where to stay. The guides are not meant to be comprehensive, but rather reflect my time(s) in that destination. These luxe guides are perfect for those who don't have much time in the city or don't have too much time to research the destination. The places to eat, play, and stay all stem from my own personal experiences with the destination, revealing only those that are my favorites and that I'd revisit again. Feel free to offer any tips/suggestions for my next visit!
Austin travel guide