"Toto, I've got a feeling we're not in Kansas anymore."
Oh no, we're not. But I'm still wandering the quintessentially Midwestern streets, at least mentally, as I write this.
Joining the ranks of Detroit and Houston, Kansas City is yet another U.S. city in the midst of a renaissance. At every corner, sights of development by way of cranes and construction can't be avoided. The restaurant scene is up-and-coming, keeping with current food trends of open kitchens, small plates, craft cocktails, and farm-to-table fare. The rhythm was much slower than what I'm used to, but it was a welcome break from big city life. What impressed me the most was the architecture — a confluence of Art Deco, modern, post-modern, Terra Cotta, and Gothic styles.
The weather was abnormally cold on Sunday, dropping down to 1*F that night, but the city was beautiful nonetheless with a glistening sheet of snow everywhere. I can only imagine how the city comes to life during the warm summer months.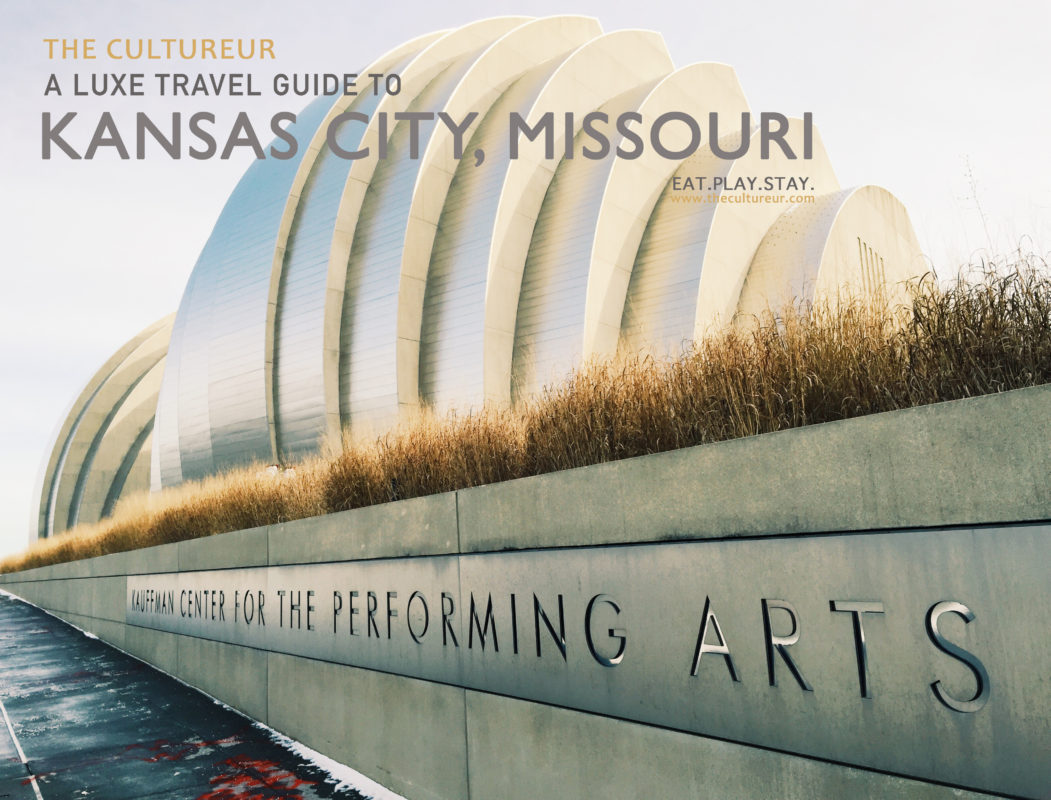 EAT
1) Char Bar — You can't quite go to Kansas City without sampling what some deem as the finest BBQ in the country. We wanted to try the legendary Arthur Bryant's or Q39, but the places were too packed. This was a good substitute.
2) Ca Va — As far as I know, this is the only champagne bar in the city. As a champagne aficionado, my cousin made sure this was on my agenda. We ordered a Jacquesson Cuvée 737 for the table and began an epic night with good company, good conversation, and of course, great bubbly.
3) Blue Stem — A friend from Kansas City recommended this place to me before I left and mentioned that it had the best brunch in the city. While good, I can't say it was the best brunch I've ever had in my life, though I wasn't expecting it to be. Keeping up with current food trends, it's an open kitchen with small plates on the menu.
4) Tannin Wine Bar — This was such a cozy, cute wine bar in the Power and Light District. We sat by the fireside for hours, chatting and consuming copious amounts of tea and wine to beat the 3*F temperature outside. They're also known for their decadent dessert — fudge stuffed peanut butter cookie drizzled with caramel sauce. Though, decadent might be an understatement here. This was my favorite restaurant in the city.
5) Gram and Dun — My cousin lured me here with the promise of the best monkey bread in the city, but we missed it by one day as it was only a weekend brunch thing. Known for its libations and southern flavors, Gram and Dun is one of the newest gastropubs in town.
6) Oddly Correct — I had to check out the budding artisanal coffee scene in the city and from all the reviews I read and heard, this was by far one of the best. After trying its homegrown coffee beans, I can see why.
PLAY
1) Nelson Atkins Museum of Art — The premier arts museum in Kansas City known for its neoclassical architecture and extensive collection of Asian art. It's a great collection to peruse when trying to stay warm in the winter.
2) Kauffmann Center for the Performing Arts — As the city's performing arts center and home to the Kansas City Symphony, the Kauffmann Center is a $326 million concrete-and-glass clamshell overlooking downtown, designed by the prominent architect Moshe Safdie.
3) Crossroads Arts District — Centered at 19th Street and Baltimore, the Crossroads Arts District is an eclectic enclave of boutique shops, one-of-a-kind restaurants, creative businesses, studios and art galleries. There's a ton of street art/murals and ample architectural gems such as the Kauffmann Center and the Community Bookshelf.
4) Country Club Plaza — Locally known as "The Plaza," Country Club Plaza is an outdoor shopping center consisting of 18 separate buildings representing 804,000 square feet of retail space and 468,000 square feet of office space. During the holidays, it's beautifully lit up and adorned with lights and festive decorations from corner to corner.
5) Community Bookshelf, Kansas Public Library — This is quite possibly the coolest (and my favorite) piece of architecture in the city. With 

25-foot-tall book spines of classics, the design is a brilliant way to adorn a parking garage (and library, for that matter).
6) Liberty Memorial + National WWI Museum — A memorial to service men and women who served in World War I. The Liberty Memorial was declared a National Historic Landmark in 2006 and the Museum was designated as America's official museum dedicated to World War I in 2004 by Congress.
STAY
1) I stayed with my cousin, so I didn't experience any hotels this time. 
NOTES / INSIDER TIPS:
-A car is an absolute must while in Kansas City if you want to get anywhere — there's no real public transportation aside from buses.
-You'll likely fly into the Kansas City International Airport (MCI), also referred to as KCI (confusing, I know). It's a really small, relatively simple airport to navigate.
-Hallmark's worldwide headquarters are in Kansas City.
-Kansas City straddles the Kansas–Missouri border.
-Kansas City has a strong heritage of jazz. There's plenty of places around the city to enjoy this music style. There's even an American Jazz Museum that I didn't get to this time, but want to visit next time.
-Some of the nicknames for Kansas City: Paris of the Plains, City of Fountains, and Heart of America.
Duration: 2 nights and 3 days, from January 16-18, 2016
Please remember: EAT, PLAY, STAY is an ongoing series that highlights destinations around the world and offers my itinerary for the trip, giving you information on where and what to eat, where to play and what to see/do, and where to stay. The guides are not meant to be comprehensive, but rather reflect my time(s) in that destination. These luxe guides are perfect for those who don't have much time in the city or don't have too much time to research the destination. The places to eat, play, and stay all stem from my own personal experiences with the destination, revealing only those that are my favorites and that I'd revisit again. Feel free to offer any tips/suggestions for my next visit!
Kansas City travel guide