At the end of March, I visited Minnesota for the first time and spent a few days in Minneapolis and Rochester. Before leaving, I conducted my own research on what to do, what to see, where to eat, etc. and many keyword combinations later, I realized that Minneapolis is not a typical luxury destination. But the fact that it was not typical didn't mean I couldn't carve out my own luxe guide full of experiences that showcase the city's quintessential Midwestern charm and gracious hospitality. Chicago may still win as the luxury darling of the Midwest, but Minneapolis is in the midst of its own renaissance, trying to cultivate an identity that not only stays true to its agrarian roots, but also appeals to a global audience.
Before visiting, the only things I associated with Minneapolis were Prince's hometown, brutally cold winters, and Mall of America. While all three are true, what I also found was an emerging city with a strong focus on art, design, and cultural heritage. There were many museums that I wanted to visit and many walking tours I wanted to take, but time and weather were both not on my side. But I was fortunate to enjoy a quick run along the beautiful scenic pathways around the Chain of Lakes.
The changing landscape has also contributed to a thriving food scene, paying homage to its Nordic heritage while embracing the cuisines of its ethnic communities and culinary trends from around the world.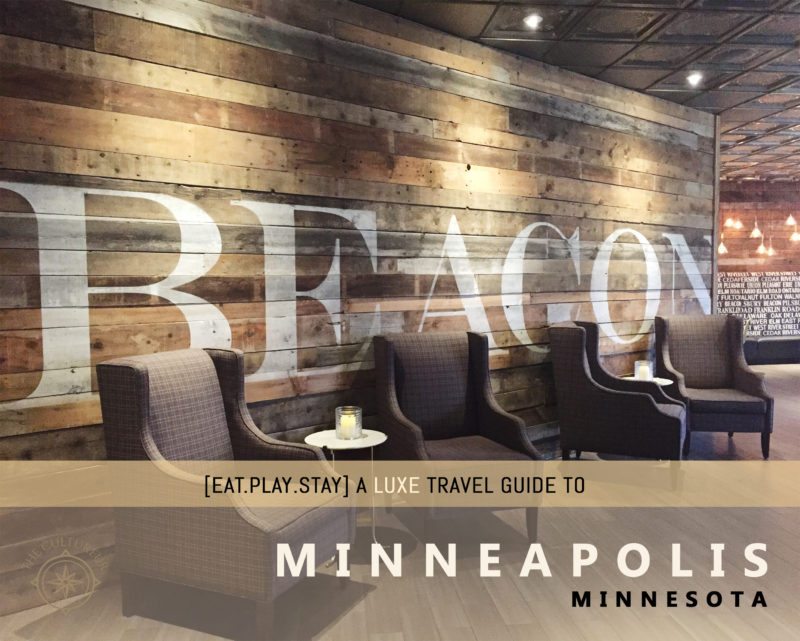 EAT
1) Marin — With a focus on health-conscious fare, Marin is a chic brunch spot tucked away in Le Meridien Chambers Hotel in downtown Minneapolis. Given that I went for brunch, I had to order a Bloody Mary — of course — and it was *pretty* good. Midwesterners take their Bloody Marys very seriously — it's practically a meal in itself with the insane amount of garnish — and they serve it with a beer chaser. Try it for yourself!
2)

Constantine — I loved the plush decor of this cocktail bar! It's hidden away on the basement floor of Hotel Ivy and was crowded even on a Sunday night. The bartenders definitely know their craft and will make almost anything you ask them, even if they're not on the menu.
3) Monello — Often touted as the best restaurant in Minneapolis and housed in Hotel Ivy, Monello celebrates the cuisine of the Campania region of Italy. I had the Chef's Tasting Menu with the wine pairings and I would recommend it to anyone looking for a foodie night out. My favorites were: sea bass crudo with caviar and dill and sautéed sea scallops with roasted root vegetables, cumin, and honey
.
4) Spoonriver — I'm a big fan of restaurants with female chefs, so I made it a point to add this to my itinerary. The brainchild of Chef Brenda, the restaurant focuses on organic local produce and supports local farmers. I tried a variety of different dishes from its eclectic menu, but my favorites were the chai-tini (yum!) and chicken udon salad. It's also a great place for vegetarians and vegans.
5) Beacon House — Housed inside The Commons Hotel, it's a gastropub with locally-inspired dishes and furnished with reclaimed wood and modern industrial accents. It wasn't my favorite place, but their glühwein was the perfect accompaniment to the snowy weather outside.
PLAY
1) Walker Art Center — A fantastic contemporary art museum with an incredibly wide range of modern and contemporary art pieces including books, costumes, drawings, media works, paintings, photography, prints, and sculptures. My favorite exhibition was the 
Guerrilla Girls Twin Cities Takeover. I loved the views of the city from the cafe on the top floor.
2)

Minneapolis Sculpture Garden — Adjacent to the Walker Art Center, the Garden is one of the largest urban sculpture gardens in the U.S. with both permanent and temporary exhibitions. The Garden is currently closed and is set to open again in 2017.
3) Chain of Lakes — This is comprised of four of the largest lakes in Minneapolis where you can rent a canoe/kayak or stroll/bike along 13 miles of paved shoreline paths. Apparently Minnesota has more shoreline than California, Florida, and Hawaii. My favorite was Lake Calhoun — it's the largest lake in Minneapolis.
4) Ivy Spa Club — Housed in Hotel Ivy and known as the best spa in town, it was a great place to unwind and relax. The therapists were friendly and very accommodating.
5) Mall of America — It's a massive entertainment complex with retail stores, amusement parks, food courts, hotels, etc., even the largest mall in the country, but it really wasn't my thing. It seemed like a mall on steroids with far too many tourists.
STAY
1) Hotel Ivy — A chic luxury boutique hotel in the heart of downtown by Starwood's Luxury Collection. I would stay here again.
2) The Commons Hotel — A boutique hotel that's a little too rustic for my taste, but it may work for those looking for place near the University of Minnesota.
NOTES / INSIDER TIPS:
–You'll likely fly into Minneapolis International (MSP) — there's two terminals, so it's pretty easy to navigate. 
–I've only been during late winter/early spring, but I hear that it's a delight in the fall and summer. However, the city makes it easy to navigate even in the dead of winter with its Minneapolis Skyway System — an interlinked collection of enclosed pedestrian footbridges that connect various buildings in 69 full city blocks over 11 miles of Downtown Minneapolis.
–While there is some public transportation, I recommend hiring a car to get around the city. You can rent your own or get a chauffeured car. I used Star Limo for my day trip to Rochester and Total Luxury Limousine for my time in Minneapolis — I'd highly recommend both! They were on-time, flexible, polite, and very knowledgeable of the area — I loved hearing all their personal stories. 
–

With nicknames such as City by Nature and City of Lakes, it really was no wonder that the city's natural beauty was part of my itinerary — the city has many great parks, chains of lakes, and extensive trail systems.
–Minneapolis is home to a large Somali population, which means quality Somali cuisine can be found in abundance — looking forward to trying it next time!
–The adjoining city, St. Paul is the capital of Minnesota and together, they're known as the Twin Cities. I didn't make it to St. Paul, but I hear it's known for its old European-inspired architecture and slower rhythm. 
–Take a day trip out to Rochester — it's about 90 minutes from Minneapolis. The crowning glory of the city is the Mayo Clinic — a world-class global medical destination it most certainly is, but you can also find an amazing array of art throughout. I was even surprised to see Chihuly in the lobby. ? Next time I want to check out the wellness center and full-service spa.
Duration: 4 nights and 4 days, from March 18-21, 2016
Disclosure: My trip was hosted by Meet Minneapolis and the Rochester CVB, but all opinions are my own and accurately reflect my experience. A special thank you to Kristen, Mary, Megan, and Alyssa for your fine Midwestern hospitality!
Please remember: EAT, PLAY, STAY is an ongoing series that highlights destinations around the world and offers my itinerary for the trip, giving you information on where and what to eat, where to play and what to see/do, and where to stay. The guides are not meant to be comprehensive, but rather reflect my time(s) in that destination. These luxe guides are perfect for those who don't have much time in the city or don't have too much time to research the destination. The places to eat, play, and stay all stem from my own personal experiences with the destination, revealing only those that are my favorites and that I'd revisit again. Feel free to offer any tips/suggestions for my next visit!
Minneapolis travel guide