A new year. A new series. I'm introducing EAT, PLAY, STAY this year as an ongoing series that highlights destinations around the world and offers my itinerary for the trip, giving you information on where and what to eat, where to play and what to see/do, and where to stay. The guides are not meant to be comprehensive, but rather reflect my time in that destination.
—
A friend of mine recently remarked, "You've been all around the world, but you haven't really seen your own country. You need to go to the heartland of the U.S. in rural America." Fair point. I can't even deny the veracity of his observation. Given my strong interest in U.S. history, I've always wanted to explore the United States more, moving beyond the metropolitan centers and delving into the local culture of each state. But I've really never had a chance to do so, or maybe I was more concerned with traveling outside the U.S. Either way, I was excited when I was recently contacted by the Chamber of Commerce in Sevierville, Tennessee. Though I had never heard of the town, I was looking forward to exploring small-town America. Sevierville is a small charming historical town right outside of Knoxville with a population of about 15,000. Though we were based in Sevierville, we navigated through the adjacent towns of Gatlinburg and Pigeon Forge quite frequently as everything was in close proximity. Though it's not a destination for those that seek the traditional white-glove luxury service, it's the perfect getaway for those who prefer experiential luxury travel — a marriage of local culture and cuisine, a sense of adventure, and a love for the outdoors.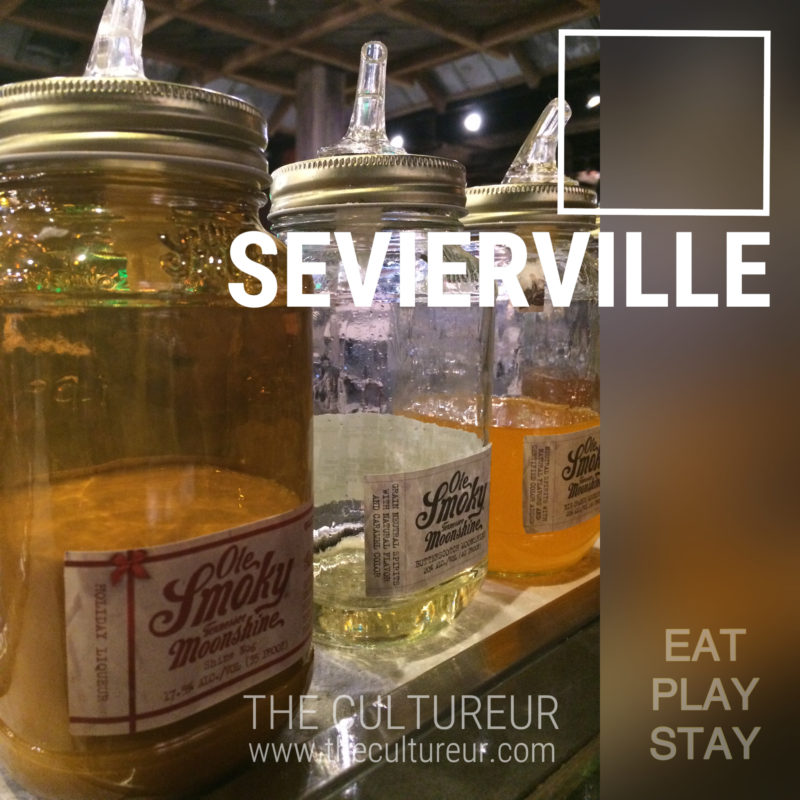 EAT
1) Tony Gore's BBQ — It's known to have the best BBQ in the area! You just may want to try their pile of goodness — potato chips topped with pulled pork, BBQ sauce, and cheese. Southern hospitality at its finest!
2) Flappyjack — This is THE pancake place in the area! We were a bit spoiled and were introduced to these heavenly treats at the cabin.
3) The Diner — Think of a retro 1950s-style diner that oozes with Southern charm. Though known for their fried green tomatos, they serve breakfast all day, burgers, and other casual eats. Talk to the owner, Howard  — he's quite the entertainer.
4) Apple Barn — This was somewhat of an institution in the area. It's a complex that houses a restaurant, winery, shops, etc. The apple fritters and muffins that they start you off with are amazing!
5) Rocky Top Wine Trail — I had no idea Tennessee had such a thriving wine scene! It's known for its sweet muscadine wines. At one of the wineries, I had a lemon blueberry sparkling wine — heaven!
6) Bistro 109 — This had to be my favorite restaurant in town. The ingredients were locally-sourced and super fresh and the decor was sophisticated and glamorous. Loved the long old-school bar and romantic classical piano in the corner.
7) Courthouse Donuts — Situated in the heart of downtown, this is where you go to create your own donut and choose your own toppings. It's also a great place to people watch. I went to the pre-opening of the cafe, so I didn't try the donuts, but I loved meeting the owner of this place — she's a visionary!
8) Ole Smoky Moonshine — Moonshine tasting is a must in the area! Try the butterscotch and apple pie flavors.
PLAY
1) Great Smoky Mountains — You can't head to eastern Tennessee and not enjoy the great outdoors in the Great Smokies. With 560 square miles, there's tons to do for everyone, even in the cold winter months. It's gorgeous!
2) Oak Haven Spa — A trip to the spa year-round is a must, but in the winter months, a much-needed massage followed by a steamy session in the sauna is as luxurious as it gets.
3) Lumberjack Feud Show — This particular show wasn't my favorite show, but a live show in the Pigeon Forge area is a must. At the very least, it's a fantastic place to soak up local culture and people-watch.
4) Christmas Place/Inn — This was my heaven on Earth! It's Christmas all year around here, meaning if you're feeling Christmassy in July, this is your place! Located on Christmas Tree Lane, there's a huge shopping complex on one side called the Incredible Christmas Place and a cute inn that keeps the holiday cheer alive 365 days a year on the other side.
5) Downtown Sevierville — This area has experienced quite a renaissance in recent years. It's a beautiful square that houses many small boutiques, the County's 5th Courthouse, Dolly Parton's statue, and many cafes and restaurants.
6) Tennessee Aviation Museum — Tour through this independently-operated foundation dedicated to preserving aviation history, maintaining and exhibiting historical aircraft, advancing aviation education, and honoring those who have made extraordinary contributions to aviation and aerospace. They're known for their warbird aircraft collection.
7) Tanger Shopping Outlets — These outlets are very well-known in the area, so if shopping is on the agenda, this is a great place to start. To elevate the experience, hire your own local personal stylist and image/color specialist, Donna Roland.
8) Wilderness Park — This is a great option for those looking for water amusement parks or those with families. It's indoors, so it's a great way to feel like it's summer in the dead of winter.
9) Dollywood — We didn't go this time as it was closed, but have heard it's a fantastic theme park.
10) Scenic Helicopter Tours — Take a helicopter ride and get a bird's eye view of the landscape — all the amusement parks and mountain ranges. Unfortunately, I didn't get to do this because President Obama happened to choose a very untimely moment to visit Knoxville and the airspace was blocked off.
SLEEP
1) Oak Haven Resort — I stayed in a cabin for the duration of my time in Sevierville. The cabin was cozy and perched atop a hill. Be sure to bring your own toiletries.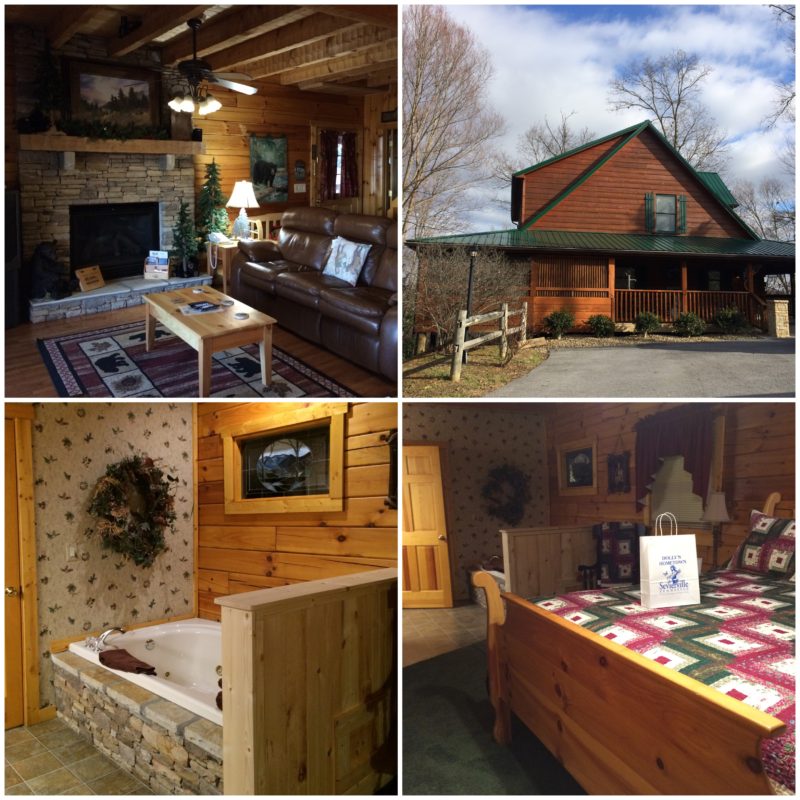 NOTES / INSIDER TIPS:
-Selling liquor is a serious business here, so always have your ID handy and ready to show, even if you're 80 years old. Surprisingly, they just recently started selling liquor in grocery stores. Prior to this, it was only available in liquor stores. They also check your ID religiously when using credit cards, something I'm not used to on the West Coast.
-It's pronounced SEVERE-ville.
-The weather was bone-chillingly cold some days, heading into the low single digits some days. I've been told the weather was abnormally cold for this time of year.
-In general, faith is an integral part of peoples' identity, so it's important to be mindful of that.
-Locals have pride for their town and state carved all over their faces — great to see such exuberance for the locale.
-The South in general is known for its incredibly warm hospitality, and Sevierville is no different.
-The cuisine in the South is incredibly heavy, so I had to space out my indulgences.
-You'll likely fly into Knoxville (TYS) to get to Sevier County — it's a super easy and clean airport to navigate.
-Tennessee straddles two time zones, CST and EST.
-You definitely want to rent a car to navigate the area.
-While some parts of the area are blatantly constructed to attract tourists (I didn't like this part), there are a lot of opportunities for an authentic taste of Americana.

Duration: 4 nights and 5 days, from January 6-10, 2015
Disclosure: My trip was hosted by the Sevierville Chamber of Commerce, but all opinions are my own and accurately reflect my experience. A special thank you to Amanda, Dave, and Monica from the Chamber of Commerce for your fine Southern hospitality and Jamie of BlondMom Blog for being a great roommate and fellow explorer!