In recent years, Los Angeles has experienced a juice revolution in that juice bars offering freshly pressed veggie and fruit concoctions are springing up like ninjas all over the city. Whether you like the taste or you're simply drinking for your health, there's no denying that this health trend is here to stay – and I couldn't be happier about it.
Between the countless indie shops and fast-expanding chains, it's hard to find a pocket of Los Angeles without at least one option, and while many are serving up the same health tonics day in day out, here are my five personal favorites in town.
Time to bid adieu to your morning venti double-shot skinny vanilla latte and say hello to a refreshing glass of green goodness.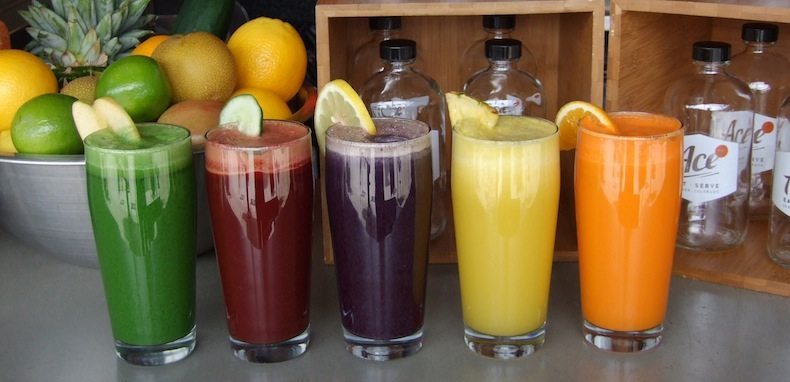 1)   Clover
Clover, which debuted its first juice bar on La Brea in January 2013, is one of the newest kids on the juicing block. The Clover culture is fueled by the practice of sustainable, local, and organic farming, so all produce is seasonal and sourced locally – that's our kind of place. Their namesake "The Clover" is a cold-pressed green blend that's one to look out for. You can taste each flavor-packed ingredient, one by one, down to the cilantro and mint.
2)   Sustain Juicery
Tucked away on Spring Street, Sustain Juicery, written as sə'stān, is an unpretentious oasis of health and wellness in Downtown LA, adding balance to the bevy of cocktail bars that have recently cropped up. Attracting the area's health conscious crowd, they lure their clientele in with a wide variety of detoxifying wellness cocktails (yes, cocktails can taste delicious even without alcohol) and made-to-order fresh juices and seasonal local produce. Next time you find yourself in need of a quick energy booster amidst the hustle and bustle of DTLA, sample some house favorites such as The Classic Green or The Emerald.
3)   Pressed Juicery
With bountiful locations dotted throughout Los Angeles, Pressed Juicery aims to get people back to the basics and is a favorite among locals and out-of-towners alike. In addition to the many stores, there's also the convenience of a monthly juice subscription that delivers juices straight to your doorstep – a great option for those living locally or visiting for an extended period of time.
4)   Coral Tree Cafe
Juicing can be an expensive habit, but Coral Tree Café injects affordability into the mix with prices that are on the lower end of the spectrum (without compromising taste and quality). Try colorful blends such as the The Garden Salad or The De-Toxifer, and you'll instantly see that they can hold their ground in the big, bad world of juicing.
5)   Liquid
Nestled amidst the retail heaven on Melrose Avenue, Liquid Juice Bar is a family-owned organic juice and smoothie bar. In between your shopping sprees, take a quick break and load up on your leafy greens with favorites such as the Green Energy Potion or Immunity. Or better yet, create your own with their custom blend options.
If you haven't yet waltzed into the world of pressed greens, these five juice bars will help you get started. Sure, some of the kale-laden drinks might look like pond scum, but as the age-old saying goes: never judge a book by its cover.