INDIA gave the world the chicken.  The Portuguese gave India the potato and chili pepper.  For thousands of years, fantastic exchanges have taken place in the South Asian cuisine and these days those changes appear to be driven by travelers unable to ignore the allure of this beautiful land.
A very fortunate few have spent years traveling around the world and have come to consider India their second home.  Super thin, olive complexion, scraggly beard, Andreas' dreadlocks hung to his waist when not tied up.  Italian by birth, he had spent a couple of years living the austere life of a sadhu but was now back in the mainstream and had found work as a consultant in a small hotel in the Himalayan village of Old Manali.  Of course he specialized in the cuisine of his motherland.
The hotel/restaurant was surrounded by massive snow capped mountains, lush greenery, and glacial rivers.  Large numbers of Israeli backpackers passed by the window to a soundtrack that included everything from Slayer to Toni Braxton, literally.  My meal was served, without much delay, in those ubiquitous stainless steel dishes.  One bite, then another, and a moment later, from sheer disbelief, my eyes began to water.  India is famous for its contrasts, and that of taste and ambiance I was then experiencing was as great as any, for this was by far the best lasagna I have ever had.
Savoring every morsel, I allowed my mind to wander the surrounding valley.  For such a small area there is an incredibly diverse range of cuisines represented, often times prepared by hands who grew up in their respective traditions.  I've tasted hummus and falafel on par with some of the best in the Middle East.  One can also find delicious Korean and Japanese food.  Next door to my guest house two Spanish couples are putting the final touches on a cafe they hope to open soon.  Tapas, paella, etc.  In a very short period of time this growing Himalayan village has become quite cosmopolitan.  Think something like Shangri La meet Santa Barbara.
One often hears the assertion that there are two Indias, the changing and the unchanging.  The most famous Indian of all time, the Buddha, concluded that there is only change.  I think he's right.  Pilgrims to the nearby Hidimba Temple, featured in the Mahabharata, now arrive by an A/C Volvo bus and although travelers are still doing their part to share ideas, the influence is coming from anywhere but Southwest and Central Asia these days.
A cursory glance at history reveals that India has always been in a state of flux.  Encounter and assimilate has been its modus operandi.  It begs the question, what lies ahead?  Generations from now what will be authentic?  I have already tasted apple cinnamon samosas and I love combining warm gulab jamun and vanilla ice cream whenever I get the chance…  Like the lotus that emerges from the muddy waters so pristine, or perhaps better yet, that effulgence from Vishnu's navel, the living kaleidoscope that is India continues its perpetual blossoming.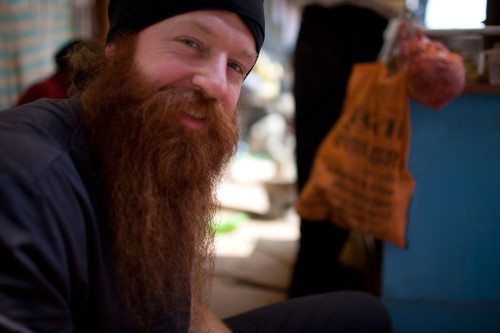 Author: Dan Meyer — an American freelance writer currently living in India. With a background in political theory and ethnography, he occasionally works as a professional guide and consultant in the fields of religion, culture, and adventure travel. He can be contacted via this blog and would appreciate any and all feedback, comments, and queries.