Indian food in the Indian capital? You don't say.
Jokes aside, with the recent explosion of international dining options and fusion restaurants in New Delhi, traditional Indian food seems to have taken a back seat. But when I'm traveling to another country, I expect loads of authentic culinary experiences that showcase the best the host country has to offer, which is why I look forward to feasting on kebobs, chicken tikka masala, garlic naan, and all that jazz along the rich spectrum of Indian food when in India. Having spent a total of 1.5 years in New Delhi, I've rounded out my favorite haunts that I visited every time my palate was in the mood for a dose of Indian authenticity (but not in the mood for oil-drenched curries), and all five are literally institutions in the dining circuit of New Delhi. If you don't believe me, just ask any Delhiite, or better yet, try it out for yourself!
1) Bukhara: I am not one to sing the high praise of lentils, though, I don't know what happens to me here. The iconic Dal Bukhara, which is cooked to perfection overnight, casts somewhat of a magic spell on my tastebuds. It's absolutely mouth-wateringly delicious, and I have never been able to say that about any lentil dish, EVER! Along with this signature dish, try the kebob platter, and you will leave as one satisfied glutton. I can completely understand why Bukhara is the culinary pride of ITC Maurya Luxury Hotel, and why it has been the recipient of an impressive number of global food awards. The prices are steep, but the warm, robust flavors that tantalize your palate make every rupee worth it. It's always been incredibly crowded every time I've been, so I'd highly recommend reservations.
Recommendations: Dal Bukhara + Kebob Platter + Roomali Roti + Mango Lassi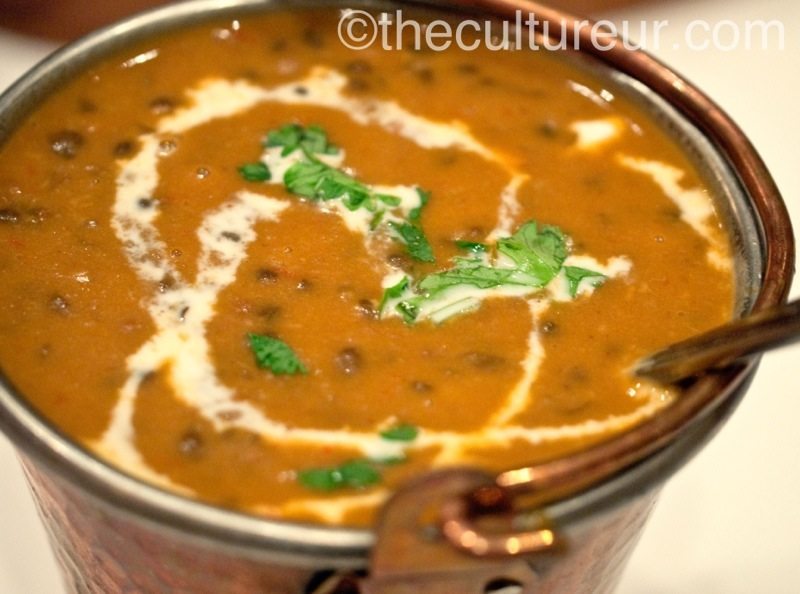 2) Punjabi by Nature: I love this restaurant for its lush decor, high quality of food, aromatic flavors, spiced meats, and innovative dishes. I also loved the fact that when I lived in Anand Niketan in Delhi and would call for delivery, they would already start making my order once the manager would see my number on the phone. Simply put, the garlic naan is so damn good, it hurts. And given the massive size of the naan and curry portions, it's incredibly easy to over-indulge, which has pretty much happened on every occasion I've eaten here. But I'll say it again…oh my god, that naan!
Recommendations: Garlic Naan + Murgh Punjabi Masala + Gol Guppa Shots
3) Sagar: South Indian restaurants are heavily outnumbered by North Indian establishments in the Indian capital, which makes complete sense given Delhi's geographical location. But that's not to say that you can't find yummy South Indian dishes in Delhi. One of my favorites is Sagar, nestled in the busy commercial area of Defense Colony in South Delhi. Although the Indian cuisine is known for its complexity and explosion of flavors, there's a unique simplicity to South Indian dishes that sets it apart from North Indian cooking. Expect lots of dishes with coconut and mango flavors, with a wide array of vegetarian concoctions. With a really low-key atmosphere and a very loyal clientele, it's really easy to see why Sagar has been around for decades and how it has established itself as a culinary institution in Delhi.
Recommendations: Masala Dosa + Idli + Lassi



4) Karim's: Foodie or not, you seriously cannot go to Delhi and not indulge in, what might be, the best kebabs in the world! There's nothing glamorous about the place, but the food is straight up finger-lickin' delicious. Given its burgeoning popularity, Karim's now has become a chain throughout the city, but the original location in Old Delhi, near the Jama Masjid still stands out as the best. Expect loads of locals, but considering that almost every guide book has listed this place as a must-try, you'll also see loads of trudging tourists. But don't let that stop you! You really have to taste the magic to make sense of the high volume of fans all over the world!
Recommendations: Chicken Tikka + Lamb Curry 
5) Khan Chacha's Kebobs: During my time in Delhi, almost every Sunday, you'd find me at Khan Chacha's Kebobs. I'd usually spend the entire day running errands, shopping, reading, and eating at Khan Market. While the neighborhood in which it's located is super posh and caters to expats and an affluent local crowd, rest assured that the kebobs at Khan Chacha's are every bit authentic and reasonably priced. When I was there, it was a cozy streetside stall churning out kebobs faster than the speed of light, but I hear it's turned into a full-blown restaurant now.
Recommendations: Chicken Tikka 

A few other honorable mentions: Dum Pukht, Park Balluchi, D
akshin, Spice Route, Chor Bizarre, Gunpowder, and the stalls at Dilli Haat.