One question I often get asked from my travels is what are the best foods to try in…? While I'm happy to tell you about all the yummy dishes I consumed and all the interesting tidbits I learned, the best way to get up close and personal with a country's food is hearing about it from a local. This new series — 15 Foods to Try in… — does just that; it's a list of must-try foods (and drinks) in a particular country written by people who actually live there and can comment on their cultural significance and regional variations.
Disclaimer: do not read this on an empty stomach!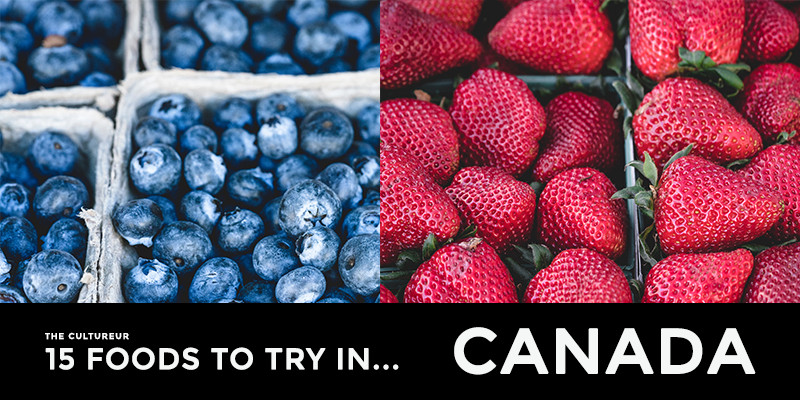 Up next on the list is Canada, written by the fabulous Anubha Momin of Finding True North. Originally from Toronto, she now resides in Iqaluit and is always on the lookout for culinary delights throughout her beautiful country and beyond. Read on to learn about her debriefing on the Canadian cuisine and her accompanying socio-cultural commentary.
—
Trying to define Canadian food isn't easy. With over 3.8 million square miles of land, Canada is the second largest country in the world, and home to various ecosystems from deserts to forests to Arctic tundra. This geographic diversity is reflected in our food: regional cuisine varies from coast to coast as the locavore trend continues to flourish. In addition to our unique spatial features, Canada is also built on immigration, and with the influx of new people and cultures came new tastes, ingredients, and recipes. It also means that many foods that are popular in Canada are imports, and thus, not unique to our borders. That being said, there are a few items on the menu that we Canucks can be proud to call our own. Below is a list of 15 foods that were invented, cultivated, or perfected in the Great White North. Sounds good, eh?
1) Ketchup Chips
Touted as a Canadian invention (though some dispute this claim), ketchup chips are as loved as they are exclusive: apparently, you cannot get ketchup chips anywhere else. As for the concept itself, you put ketchup on your potato fries, so why not put ketchup seasoning on your potato chips? Tangy, sweet, and salty, the pairing makes so much sense; it's a wonder that they're not available everywhere.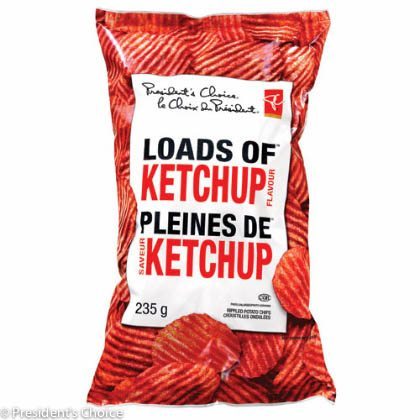 Suggested serving: In my ketchup chip experience (which is extensive), no one makes this snack favourite better than the Canadian brand President's Choice with their aptly-named PC Loads of Ketchup Flavour Rippled Potato Chips.
2) Double-double
Named after a former Maple Leafs hockey player, Tim Hortons is Canada's coffee chain. Timmies is the Canuck's go-to place to satisfy the need for Timbits, buttery bagels, and (of course) coffee. To get a truly Canadian experience (and pass off as a local), order the "double-double", Canadian code for a coffee with two creams and two sugars.
Suggested serving: You can get Tim's all across the country, but for something really special, why not enjoy a piping hot double-double at Tim Hortons' northernmost location, situated in the subarctic community of Iqaluit, Nunavut.
3) Butter tarts
Butter tarts are definably Canadian (I mean it; check out the Oxford English Dictionary definition) mini pies filled with a mixture of butter, sugar, syrup, and eggs. A true butter tart should have a slightly runny filling, looser than that of a pecan pie, and a rich, crumbly crust. You can have them with raisins, but please, no nuts.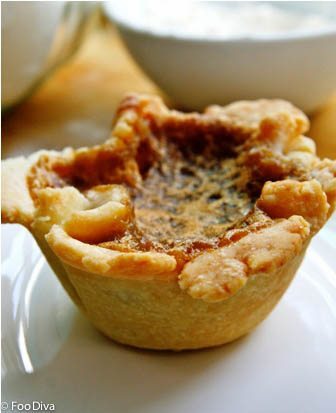 Suggested serving: Great butter tarts can be found at bakeries all over Canada, especially in Ontario, but why not try baking your own from this classic recipe?
4) Montreal bagels
It takes a few characteristics to be called a true Montreal bagel. First, every single dough-ring is handmade, giving them a slightly wonky, charming shape. Second, Montreal bagels are denser and sweeter than the average bagel, having been boiled in sweetened water prior to baking. Finally, the bagels are cooked in wood-burning ovens, giving them a distinctive texture, flavor, and color. The end result is a very distinct, and very Canadian, bagel.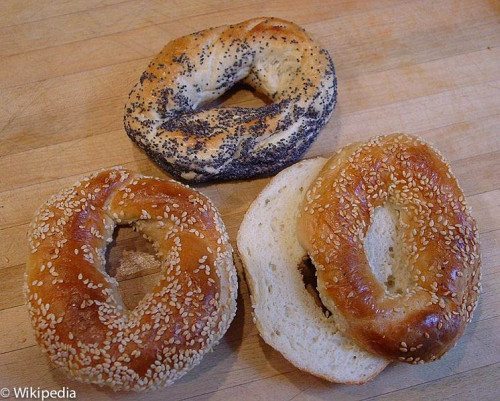 Suggested serving: There are two main contenders for Montreal bagel supremacy, both aptly located in the French-Canadian metropolis of Montreal: Fairmount Bagel (the original, opened in 1919) and St-Viateur Bagel. Try them both and profit.
5) Caesars
Invented in 1969 by Walter Chell, then bar manager of the Calgary Inn, the Caesar is the Canadian version of the Bloody Mary: a mixture of vodka, tomato and clam juice, Worcestershire sauce, hot sauce, and spices, served in a celery-salt-rimmed glass with a celery stalk. Tomato and clam juice may seem like an odd combination, but it gives the drink a slightly briny flavor, like a tomato after a day at the beach.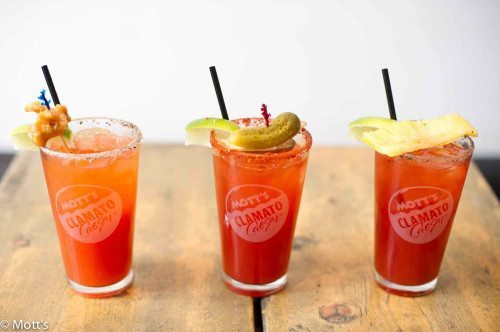 Suggested serving: Go back to where it started and order a Caesar at the 4th Avenue Keg Steakhouse and Bar, located where the old Calgary Inn (now the Westin Calgary) once stood.
6) Ice wine
Ice wine is made by pressing frozen grapes to extract a concentrated grape juice. This creates a sweet, flavorful wine that is always served chilled, often alongside dessert. Though ice wine was invented in Germany, Canada has long been the world leader in ice wine production. This is due to the unique climate of places like the Niagara Peninsula in Ontario (where most of the ice wine in the world is produced), where warm summers and cold winters create the perfect grapes for award-winning ice wines.
Suggested serving: Every winter, the Niagara wineries come out of hibernation to hold the Niagara Icewine Festival ("Icewine" in Canadian English is one word and capitalized). Here you can sample the delicious dessert wine from a number of vendors, including the world's largest ice wine producer, Pillitteri Estates.
7) Saskatoon berries
Bearing the name of Saskatchewan's largest city, Saskatoon berries are similar in shape and flavor to blueberries, but with an earthier, more "wild" taste. Saskatoons have been a staple of the First Nations diet in the prairies for generations, and are still hailed for their "superfood" properties.
Suggested serving: The berries are delicious on their own, but are more accessible in jam or jelly form. Available online, Saskatoon berry jelly is perfect on toast or spread over waffles.
8) Ontario peaches
Is there anything that says summer more than biting into a ripe peach? Ontarians would probably say: Absolutely not. Lucky for them, they have access to some of the world's best peaches. Juicy and oh-so-pretty, Ontario peaches are fist-sized, the perfect handheld, standing-over-the-sink summer snack.
Suggested serving: A great peach should be eaten in season and freshly-picked. If you're in southern Ontario during the July-August peach season, use this endearingly dated website to find a place to pick your own.
9) Arctic char
Canada's Arctic accounts for over 40% of the nation's land mass and provides a unique environment for a variety of specialty foods. One example is the Arctic char, a coldwater fish that tastes like a cross between salmon and trout. Ranging in color from pale pink to vibrant red, Arctic char is important to both Canada's commercial fishing trade, as well as the culture and heritage of Inuit peoples, who have been living in the Arctic for thousands of years.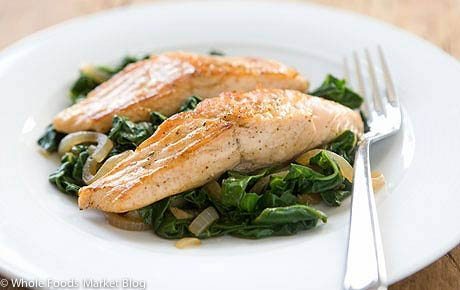 Suggested serving: Arctic char is equally tasty baked, fried, or raw. To enjoy this northern delicacy from anywhere in the world, place an order with Truly Wild.
10) Atlantic Canada lobster
Over half the world's American lobster supply comes from Atlantic Canada, where the cold waters produce some of the finest shellfish in the world. Even Americans think so: Dorothy Cann Hamilton, founder and CEO of the International Culinary Center in New York, proclaims lobsters from Fourchu, Nova Scotia are "without question, the very best lobsters in the world."
Suggested serving: To eat your lobster like an east coaster, boil it and then serve it cold, with a generous side of hot melted butter and napkins. Yes, lobster, according to those that catch and eat it the most, is a dish best served cold.
11) Prince Edward Island mussels
The tiny province of Prince Edward Island (PEI) is Canada's largest producer of cultured mussels. Exported around the world, PEI mussels are recognized for their consistency in flavor and size.
Suggested serving: At the 21 Breakwater Restaurant, overlooking the harbor in Souris, PEI, ask your server for PEI mussels served with lime zest, butter, and artisanal bread.
12) Montreal smoked meat sandwich
Another entry from this French-Canadian city–Montreal. The history of Montreal smoked meat (like Montreal bagels) is tied to the influx of Jewish immigrants, though it's not known exactly by whom or when (check out this fascinating interview for more on the mystery of Montreal smoked meat). Salting and curing beef brisket with a blend of spices, before it is smoked and then steamed, develops Montreal smoked meat's distinct flavor. It is similar to, but not as the same as, pastrami or corned beef, and served on rye bread with a generous slather of yellow mustard.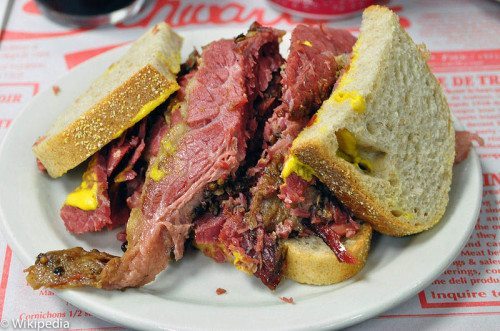 Suggested serving: The famous Schwartz's Deli in Montreal is a good place to start (aside: it is now part-owned by another Canadian treasure, Celine Dion). That being said, the peppery beef sandwich is available in delicatessens nationwide, and has even made its way south to the Big Apple.
13) Muskox
Another northern delight, muskoxen are primarily found in Canada's Arctic and Greenland. Muskox has a deep, meaty flavor, similar to bison, and a tender, melt-in-your-mouth texture due to a rich marbling of fat.
Suggested serving: Muskox meat should not be cooked beyond medium-rare and is perfect for a very, very delicious burger.
14) Caribou
Caribou is another name for reindeer, and not surprisingly, its flavor is similar to that of venison: gamey and lean. A staple food and clothing resource for early Aboriginal populations, caribou remains an important part of the social, cultural, and political landscape of Canada's North.
Suggested serving: If you want to truly see what caribou tastes like, enjoy it raw, frozen, thinly sliced, and dipped in soy sauce and wasabi. Or, you can braise it with red wine and bold spices for a tender, flavorful roast.
15) Poutine
You can't really talk about Canadian food without paying homage to the humble poutine. Another Quebecois invention, poutine is a plate of fries, topped with cheese curds, and covered with gravy; a formidable answer to the munchies or a hangover. The most important and distinctive component to the dish is the cheese: they must be curds, and they must be squeaky.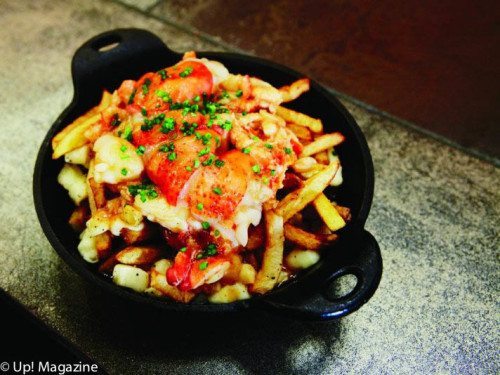 Suggested serving: If you're ever in Quebec, give in and order this addictive, messy dish at any roadside chip stand or greasy spoon. Or, if you're feeling either very indulgent or very Canadian, try the lobster poutine at Garde Manger in Old Montreal. Created by chef Chuck Hughes, this explosion of buttery-cheesy-saucy goodness is perhaps the reason Hughes became the second Canadian to win a battle on Iron Chef America.
*Special mention*
Vancouver food trucks
This suggestion is not a food item, but more of a food experience. Vancouver, British Columbia is considered one of the top five cities in North America for food trucks following a 2010 pilot project that has changed the city's foodie scene. Case in point: Vikram Vij's Railway Express received the People's Choice Award for "Best New Restaurant" in 2013. A haven for both cultural and culinary diversity, Vancouver's food trucks take roadside eating to a new level; think hot dogs with Japanese flair (courtesy of Japadog), or a food truck with two tandoori ovens (Soho Road Naan Kabab).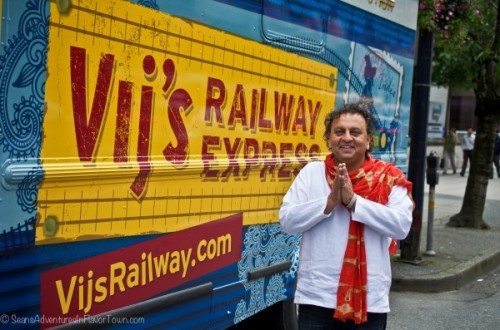 Suggested serving: So, how can one enjoy some of the world's best food trucks? Via the World's Best Food Truck Tour, of course! And that's not just the name of the excursion; it's been touted as the world's best in several reviews.
Originally from Toronto, Anubha Momin is a sexual health educator and freelance writer who somehow ended up in the Canadian Arctic. She now chronicles life above the treeline on her blog, Finding True North, and as a contributor to the Go Girl Travel Network. Her main interest in life is food, and second to that is eating.
15 Foods to Try in…Canada