One question I often get asked from my travels is what are the best foods to try in…? While I'm happy to tell you about all the yummy dishes I consumed and all the interesting tidbits I learned, the best way to get up close and personal with a country's food is hearing about it from a local. This new series — 15 Foods to Try in… — does just that; it's a list of must-try foods (and drinks) in a particular country written by people who actually live there and can comment on their cultural significance and regional variations.
Disclaimer: do not read this on an empty stomach!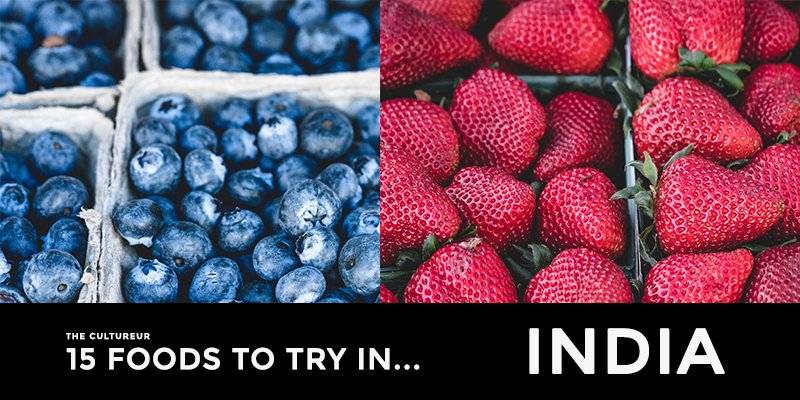 Moving East after Canada, we arrive in India to embark on a special culinary tour narrated by the ever-so-lovely Upasna Verma of Life On My Plate. Currently residing in New Delhi, she is always on the lookout for culinary delights throughout her beautiful country and beyond. Read on to learn about her debriefing on the Indian cuisine and her accompanying socio-cultural commentary.
—
In a country as diverse as India, every state or region has its own distinct history, language, culture, and identity. But more importantly, each state or region offers a different cuisine, a different taste, and a different style of cooking.
Our food has evolved not only as a culmination of traditional family secrets passed down through generations, but also as a reflection of thousands of years of history – centuries of foreign rule and their effect on the Subcontinent. Though regional food in the country's northern states is strongly influenced by the central Asian cuisine (the home of the Mughals who ruled over India for many years), you'll also find traces of Turkish, Persian, French, Portuguese, and British influences lingering on. 
Selecting just 15 foods in a country where every state boasts a whole list of unique dishes is no easy task. But for what it's worth, here are a few of my favorite foods in India that I'd recommend trying on your next visit. 
This list is in no way exhaustive, and there's still so much more amazing stuff you could try, but here's a savory start…
1.    Chole Bhature
The much-loved street food, Chole Bhature packs a mean caloric punch. As a combination of spicy chickpeas and huge deep-fried flour-based bread, it is as indulgent as it is delicious. Usually served with onions, green chutney, and pickle, it can be eaten for breakfast, lunch, and/or dinner. We serve it at our self-hosted parties or at festivals. And we'll relish it equally, whether we're standing at a street-food stall or sitting in a restaurant.
2.    Chaat
This originated in the state of Uttar Pradesh, but is now relished pretty much all across the country. This isn't just one food item, but rather the collective term used for a family of savory snacks that we all cherish. Street food at its best – Chaat is spicy, messy, sometimes of dubious hygiene standards, yet completely irresistible. The options are endless: 1) Aloo Chaat – small and crispy chunks of fried potato served with chutney, 2) Aloo Tikki, 
my favorite
 – mashed potato cutlets served with tamarind and mint chutney, 3) 
Bhelpuri
 – made with puffed rice, vegetables, and spices tossed in a tangy tamarind sauce, or 4) the very popular 
Panipuri or Gol-gappa
 as it is known in the North. And even if you're a bit weary of the 'Delhi-belly', do not under any circumstances give trying our Chaat a miss; just stick to well-known restaurant chains such as 
Haldirams or Bikanerwala, 
and you'll be just fine.
3.    Makki ki Roti & Sarson ka Saag
As a very popular winter meal in most Punjabi homes (Punjabi = people from the northern Indian state of Punjab), this is one of my personal favorites. My idea of a perfect winter afternoon lunch would include Sarson ka Saag – a vegetable curry made from mustard leaves and spices, Makki Roti – Indian flatbread made from maize flour, and a glass of lassi, a cold spiced buttermilk to wash it all down.
4.    Butter Chicken
Butter chicken is to North Indians (Punjabis in particular) as pizza is to Italians. Comfort food like no other, nothing beats the satisfaction of lapping up its delightfully thick gravy with a crisp garlic naan (Indian flatbread) while sipping on a chilled beer.
5.    Awadhi Kebabs
The historical city of Lucknow
 

in Uttar Pradesh 

(in the former Awadh region) 

deserves a special mention all on its own. The legacy of this multicultural city lives on through its cuisine. The soft and succulent Kakori and Galouti Kebabs (both made from mutton) need no such introduction. Another notable kebab is the 100-year-old Tunde Ke Kebab, believed to have been made with over 160 spices.
6.    Kashmiri Rista & Gushtaba
Kashmir, a land so beautiful that it's known as our Heaven on Earth, also gave us the mutton dishes of Rista & Gushtaba, and I'd say they truly are heavenly. Rista is a fiery dish of meatballs in spicy red gravy, while Gushtaba is a stunning medley of meatballs cooked with yoghurt and spices.
7.    Rajasthani Laal Maas
There's a ton of delicious food that hails from the royal state of Rajasthan, from the exotic Ker Sangri (a vegetable medley of berries and dried beans made with yoghurt and spices) to the Gatte ki Subzi (tiny chunks of gram flour in a spicy yoghurt broth). But my favorite meat dish is the sizzlingly spicy mutton gravy of Laal Maas, the literal translation of which is red meat.
8.    Khandvi & Dhokla
Khandvi is a light savory snack made by rolling up thin gram flour and curd crepes, seasoned with mustard and sesame seeds. Dhokla is made by steaming a fermented mixture of rice, chickpeas and spices. Both are super healthy (no frying involved) and extremely versatile. Eat it alongside a meal or as a snack by itself, but don't forget to accompany it with the two ubiquitous Indian chutneys: tamarind and mint-coriander. These are favorites in the state of Gujarat.
9.    Macher Paturi
People from the state of West Bengal in the eastern part of the country love their fish and the number of preparations known to them would fill many a page. The image that first comes to mind though would be the Macher Paturi, a spicy Bengali fish dish that is first marinated in mustard paste and then steamed in banana leaves.
10. Hyderabadi Biryani
Biryani is a rice dish full of flavor and spices. A lot of Indians make their own versions of Biryani at home (my mother-in-law makes a version with Jackfruit), but Hyderabadi biryani (from the city of Hyderabad) is in a league of its own. When Mughal Emperor Aurangzeb conquered Southern India, the Mughal cuisine fused with the kitchens of the Nizam (monarch) of Hyderabad, creating the culinary gem that we now know as Hyderabadi biryani. It's typically made with lamb, but chicken and vegetarian versions are also common now.
11. Goan Vindaloo
With its long coastline, India enjoys a wide variety of seafood. Of all the seafood dishes you could try in the southern region, the curry dish of Vindaloo from Goa is one of my favorites. As a former Portuguese colony, Goa's cuisine is largely influenced by the flavors of Portugal. In fact, Vindaloo is inspired by the Portuguese dish carne de vinha d'alhos, a meat dish made with wine and garlic. You'll find Vindaloo in chicken, beef, pork, and even vegetarian varieties, but I like it best with prawns.
12. Vada Pao
This popular street food is almost synonymous with the state of Maharashtra. As an Indian burger of sorts, it's a deep-fried spicy potato patty placed in between two slices of pao (unsweetened buns). Simplicity at its best, you can't help but love it.
13. Idli and Sambhar
Usually eaten for breakfast in South India, Idlis are light, fluffy steamed rice cakes. Though they can be enjoyed alone as a healthy meal, they're generally accompanied by cold coconut and tangy tomato chutneys and piping hot Sambhar (spicy lentil broth).
14. Appam & Stew
Another delicacy from South India made from fermented rice batter, Appams are fluffy, airy pancakes that I absolutely love. It's eaten with a subtly-flavored vegetarian or chicken stew, made from a symphony of fresh vegetables, aromatic spices, and creamy coconut milk. This is a delight from Kerala that will completely win your tastebuds over.
15. Momos
Even though momos are believed to have originated in Nepal, they're widely popular in India. Little balls of meaty goodness, what's not to love? They're basically dumplings made with flour, stuffed with a filling of your choice – chicken, mutton, pork, beef, and usually cabbage for vegetarians. You'll find momos everywhere in India – on portable carts, street food stalls in markets, restaurants, etc.  Both steamed and fried versions are available, but the steamed ones are much better. Go easy on the accompanying red chili sauce because if you're not careful, you'll soon have a fire raging on your tongue and tears streaming down your face.

Upasna Verma lives in New Delhi, India and loves to eat! She's a literary junkie, travel enthusiast, amateur photographer, corporate slave, and above all, restaurant aficionado. Her blog, Life On My Plate is part journal, part travelogue, part life vignettes, part musings and other miscellany — all woven through a fabric of personal dining experiences.
15 Foods to Try in…India