Houston had been on my radar for quite some time, but I wasn't able to make it happen until a few weeks ago. In fact, my first time in Texas, beyond the airports, was earlier this year in May when I was in Austin. Even though I hate the heat and humidity, I'm still intrigued by the great state of Texas.
Like many cities across the United States, Houston is in the midst of a renaissance — an ethnic and cultural transformation, if you will. In fact, it's now the most diverse city in the United States, even surpassing the likes of New York City and Los Angeles. In particular, the vast social and cultural changes are greatly impacting its culinary scene, with restaurants drawing on cultural influences from all the city's ethnic enclaves. There are more than 11,000 restaurants in the city, so it's no wonder that Houstonians eat out more than residents of any other city in the United States. As such, I must warn you — if you go hungry in H-Town, it's not the city's fault.
I recently attended the Global Congress on Travel Risk Management at the Royal Sonesta Hotel. While the conference took up most of my time, I did scratch the surface in the city — enough to whet my appetite and pave my way for return. In fact, I will be back in Houston in February 2016 for the Hospitality Law Conference and I'm looking forward to staying a few extra days and exploring the city some more. But so far — I like what I've seen, tasted, and experienced.
— UPDATED
I returned from Houston last night, rounding out my second trip to the Bayou City. The primary purpose of the visit was to attend the annual Hospitality Law Conference put on by Hospitalitylawyer.com, but no trip is complete without at least a little play.
I love when I can don both my legal and travel writer hats, and this was another such trip. Lawyers are known to drink the most out of any profession, so it seemed only fitting that I'd inject a healthy dose of booze into my itinerary by finding the best damn dirty martini (my signature drink!) in the city and staying true to both of my professions. VERDICT: this victory goes to the talented and dexterous bartenders at the Four Seasons Hotel (thanks, Cory!). Try the liquid nitrogen dirty martini and all will be well in the world again (just make sure that the steaming "cauldron effect" has evaporated before consumption — it could be lethal otherwise).
Looking forward to continuing this quest on my next trip to Houston!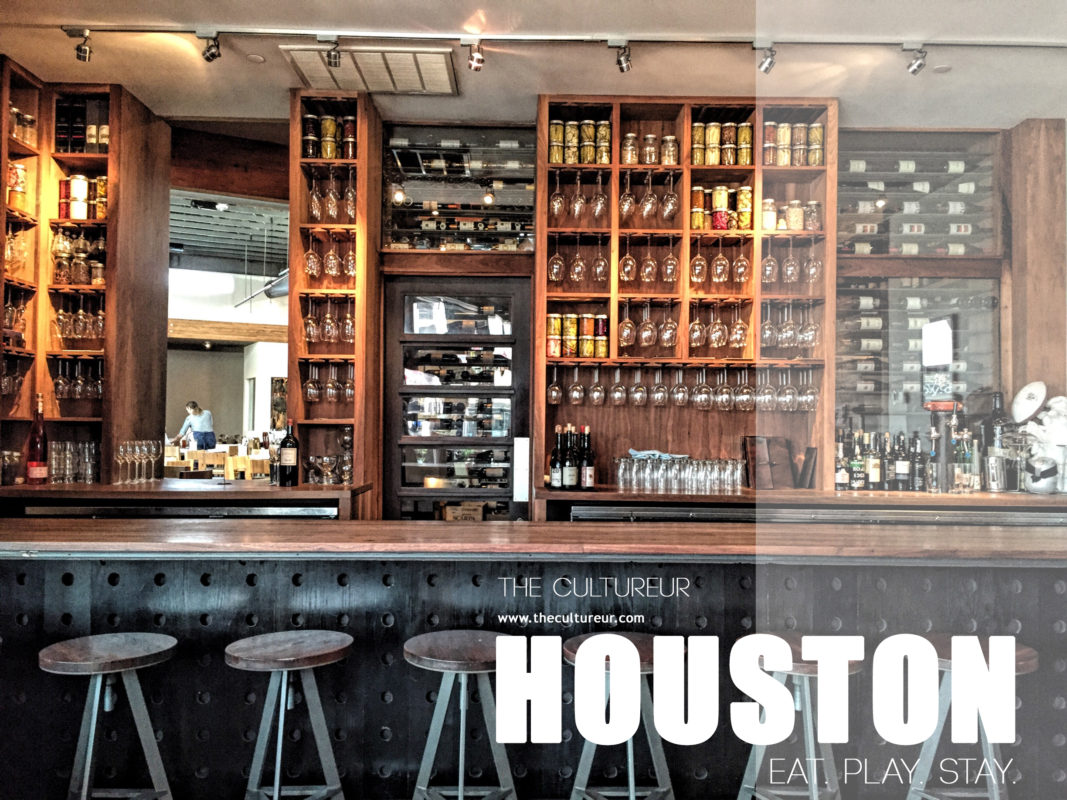 EAT
1) Underbelly — Chef Chris Shepherd pays homage to the beautiful diversity of Houston through the delicate tapestry of rich flavors and local ingredients. He refers to Houston as "the new American Creole city of the South." The menu changes daily–depending on what's available from the local farmers–and showcases disparate ingredients such as lemongrass with habanero — the ultimate fusion of cultures through cuisine. Try the Korean Braised Goat + Dumplings and Vinegar Pie with Salt Brittle.
2) Artisan's — The chef/owner, Jacques Fox is a true artisan in every sense of the word. For a taste of Paris in Houston, this is the place. The decor is gorgeous, the food is exquisite, and Jacques is a true delight — don't forget to introduce yourself to him. 
3) Uchi — Chef Tyson Cole first opened this in Austin and after enjoying much success, he brought it to Houston. It's done just as well, with a focus on fusion contemporary Japanese. Considering Houston is one of the largest port cities, the sushi was fresh and delicious. The jury is still out to see if it's the best sushi in Houston…
4) Camerata at Paulie's — A wine bar without the pretension and with a well-curated list of wines. There's also a great selection of cheeses and cured meats to match the wines.
5) Anvil Bar & Refuge — After asking a few locals on what their favorite bar was in town, all roads led me here. The craft cocktails were excellent and even on a Tuesday night, the place was packed — always a good sign!
6) Stone's Throw — Once the party stopped at Anvil Bar, we headed across the street to Stone's Throw until 2a. The drinks were well-crafted, the bartenders were knowledgable about their craft, and the vibe was laidback, yet refined. This is more of a cocktail lounge than your average bar.
7) Hugo's — My f

irst stop in

Houston included 

mezcal 

margaritas

, lobster tacos, sopa Azteca, and churros.

 The food was fantastic, but more than that, I loved the American Dream backstory — Hugo, the owner/chef was an undocumented Mexican immigrant who went from cleaning dishes to being an award-winning restaurateur and owner of 3 restaurants in the Houston area! 
8) Chocolate Bar — The chocolate bar concerns itself with all things cocoa, and does so with a sense of humor. Think of this as Willy Wonka's delicious contribution to Houston.
9) SaltAir Seafood Kitchen — The interior is relaxed with a touch of elegance and much of the food, from the raw bar to the seafood selection changes daily. It's a great place to unwind after a long day with a craft cocktail or two in hand.
10) Cacao & Cardamom — A beautiful chocolatier replete with Jackson Pollack-inspired artisanal chocolates. It's owned by a fabulous well-traveled Houstonian, Annie who draws inspiration from her travels for the inventive flavors.
11) Peska — Try out the OmaRkase (Chef Omar's take on Omakase) — the menu changes daily and features an eight-course feast that highlights exotic locales around the globe. The crowning glory of the experience was having the 21-year-old culinary prodigy sit with us at the end and explain his thought process behind the dishes and flavors.
 12) Goode Company BBQ — If you're in Texas, good ole BBQ is a must on your itinerary!
13) Helen's Greek Food and Wine — I almost want to keep this culinary gem to myself, but it would be blasphemy to not share. The owner, Evan spent 7 years in Greece prior to opening this in the Rice Village and his passion for Greek food, wine, and culture can be tasted in every bite. The wine list exclusively boasts Greek wines. A must-visit!
14) Tout Suite — Go for brunch, stay for the coffee, pastries, and design.
15) La Table — We popped in right before closing for a quick nightcap, so I can only speak to its drinks and decor. On my best dirty martini quest, it scored towards the middle, but I'd go back to try its food. With floor-to-ceiling windows and romantic touches throughout, the decor was enough to draw me back.
16) Baby Barnaby's — A cute, intimate cafe tucked away in a residential neighborhood — it's great for weekend brunch. There's apparently always a wait, but we got lucky and were seated immediately.
*When late-night hunger pangs strike, head over to one of the many taquerias dotted around the city for some serious Mexican goodness.
PLAY
1) Museum of Fine Arts Houston (MFAH) — As one of the largest museums in the U.S., I'd highly recommend setting aside a few hours to go through all the fabulous galleries, and even then, you'll only scratch the surface. Request a guided tour to truly appreciate the artwork and the back stories. Also, make an appointment with the Works on Paper Study Center to view the prints, drawings, and photographs that are not on display.
2) Rothko Chapel — An open nondenominational space that serves as a chapel as well as a major work of modern art. There's no photography allowed inside. For me, the interior radiated an eerie, almost uncomfortable vibe, but it's worth seeing, even just for a few minutes. 
3) Alley Theatre — As one of the three oldest resident theaters in the U.S., the Alley Theatre is the crowning glory of Houston's theatre district. I'd highly recommend catching a show while in town. We saw the comedy, One Man, Two Guvnors on the newly-renovated Hubbard Stage.
4) University of Houston (Conrad Hilton School of Hospitality Management) — Consider the Hilton Hospitality Archives as the Smithsonian of the hospitality field. Contact Dr. Mark Young to set up an appointment and tour through decades of hotel artifacts, papers, memorabilia, etc. from iconic companies such as Hilton, Marriott, Walt Disney, Howard Johnson, and more. One of its claims to fame is the wedding album from Elizabeth Taylor's first wedding to Nicky Hilton.
5) Space Center Houston — If you're interested in experiential travel and space exploration, the Level 9 tour is the ultimate behind-the-scenes tour for you. The all-day tour lets you get up close and personal with the work of NASA. Reservations are required and should be made at least 3 months in advance. It's about 30 minutes from downtown Houston, so you'll want to book a car.
STAY
1) Royal Sonesta Galleria Hotel — a great upscale business hotel in the Galleria area.
2) The St. Regis — a luxury hotel in between two of the most affluent neighborhoods in Houston — River Oaks and the Galleria.
3) Four Seasons — a luxury hotel in downtown that offers the perfect location and a high caliber of services and amenities.
4) Hotel Sorella — a modern luxury boutique hotel in western Houston in City Center — a city within a city.
5) Hotel Derek — a boutique hotel in the Galleria area. The crowning glory was the prime location to the conference I was attending, but I'm very unlikely to stay here again. 
NOTES / INSIDER TIPS:
-Winter is the best time to visit if you're not a fan of triple digit temperatures and 90+ humidity. 
-Houston is the 4th largest city in the United States in terms of population, trailing behind NYC, LA, and Chicago.
-Houston has a Theater District second only to New York City with its concentration of seats in one geographic area. Located downtown, the 17-block Theater District is home to eight performing arts organizations with more than 12,000 seats.
–Houston is known as the most diverse city in the United States, according to studies at Rice University. There is no racial/ethnic majority in the city and more than 90 languages are spoken throughout the greater Houston area.
-Rent/hire a car to best navigate the city as public transportation is dire. Uber is another great option; there's no Lyft.
-I'd recommend finding a hotel in the area of town that you're planning to spend the most of your time. Getting around with the traffic and all the new development can be a nightmare.
-Houston is home to the Texas Medical Center, the largest medical center in the world, with a local economic impact of $10 billion. More than 52,000 people work within its facilities, which encompass 21 million square feet and attract more than 4.8 million patients each year.
-Like many big metropolitan cities, Houston is a city of distinct neighborhoods. Take some time to read up on the histories of these neighborhoods to get a better sense of the city's transformation.
-There are two airports in the city — IAH and HOU. IAH will probably be your point of entry as it's the largest and most accessible.
Duration: 3 nights and 4 days, from October 11-14, 2015; 6 nights and 7 days, from February 21-27, 2016
Please remember: EAT, PLAY, STAY is an ongoing series that highlights destinations around the world and offers my itinerary for the trip, giving you information on where and what to eat, where to play and what to see/do, and where to stay. The guides are not meant to be comprehensive, but rather reflect my time(s) in that destination. These luxe guides are perfect for those who don't have much time in the city or don't have too much time to research the destination. The places to eat, play, and stay all stem from my own personal experiences with the destination, revealing only those that are my favorites and that I'd revisit again. Feel free to offer any tips/suggestions for my next visit!
Houston travel guide