You know what I loved most about Reykjavik, and Iceland in general? That it was unlike any other destination I had ever been to. There was no city or country to compare it to in my mind. It effortlessly blended the casualness of a village with big-city know-how. Given the global homogenized direction of our world and as a frequent traveler, I can't think of a higher praise for a destination in today's day and age.
Reykjavik, a world capital with a diminutive downtown that spans three square miles, makes the adage–"Good things come in small packages"–truer than ever. With rapidly evolving art, music, architecture, design, and fashion scenes, Reykjavik is bubbling with endless creativity, making it hard to leave, even with a geologically heaving landscape of mountains, geysers and waterfalls just outside the city.
About the food — "You've been to more restaurants in your two months in Reykjavik than I've been to in my entire time here," quipped a friend who was born and raised in Reykjavik. I can't say I disagree. When I'm in a destination for a finite amount of time, perhaps for the fear of missing out or for the desire to learn about the local culture through its food, I have the tendency to put everything on my plate and inadvertently, wade through the finest flavors the city has to offer.
World-class chefs are pushing culinary boundaries in the Icelandic capital in unprecedented ways. There's widespread belief, albeit mistaken, that Reykjavik doesn't offer much more than fermented shark, minke whale, and puffin. While these delicacies can be found in abundance around the city, the Icelandic capital is not starved for options when it comes to international cuisines and vegetarian food. Reykjavik may not be a foodie's paradise in the traditional sense, but it sure has its gems, especially when it comes to seafood specialties. Moreover, the number of international restaurants around the city is a testament to the growing diversity in Reykjavik. As tourism continues to boom, you can expect a steady stream of new prospects on the horizon.
If you couldn't tell already, I'm in love with Reykjavik and Iceland. The brightly-colored houses, the shimmering waterfront, the dramatic landscapes, the never-ending daylight in the summer, the open-minded attitudes, the laidback style…consider me a bona-fide groupie.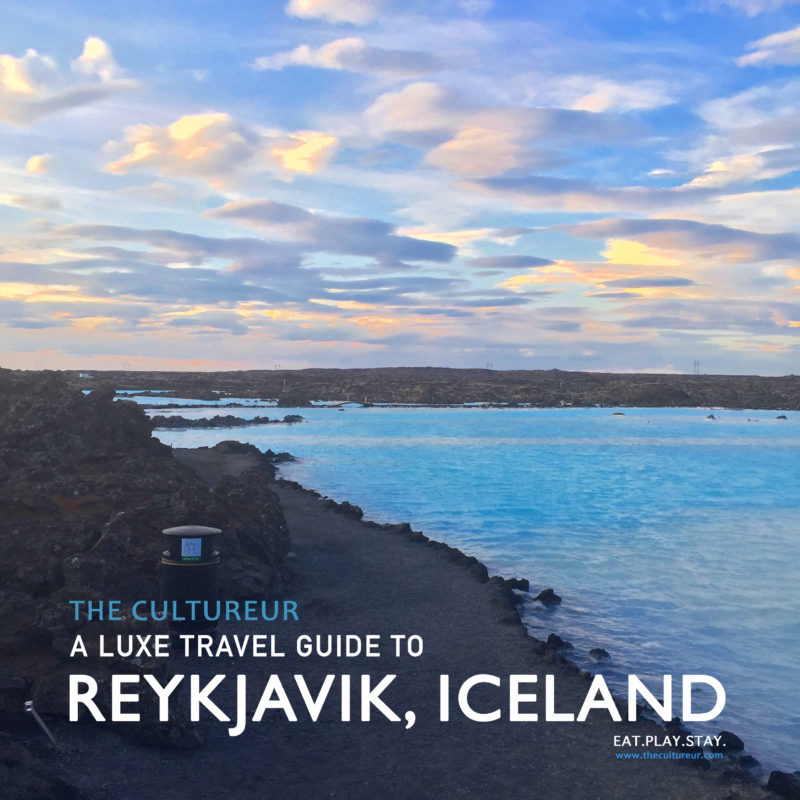 EAT
1) American Bar — Aptly named, the American Bar specializes in all things American culture and entertainment. With a diner style decor, expect to find burgers, chicken wings, ribs, milkshakes, American whiskeys, American beers, and local microbrews. My advice: have the beer and burgers, but stay away from the Bloody Marys. If you're looking for other American food options, there's all the usual suspects — Subway, Dominos, T.G.I. Friday's, and KFC — for those who can't seem to cut the cord.
2)

Te og Kaffi — There's many locations throughout the city, but my favorite was the one on the terrace of the bookstore on Austurstraeti. It's a beautiful open space with a skylight and outdoor patio.
3) Reykjavik Roasters — Excellent sessions of people-watching + great coffee + perfect work spot + free WiFi.
4) Sandholt Bakery — Their pastries are a must!
5) Eldur og Is — A delightfully quaint ice cream and dessert parlor nestled in the heart of the city on Skólavörðustígur.
6) Cafe Paris — If not for the food, go to grab one of the most coveted seats to people-watch in Reykjavik.
7) Teni — I must admit I wasn't expecting to be blown away by Ethiopian food in Reykjavik, and while it wasn't the best Ethiopian meal I've had, it was better than I expected. If you're craving the injera goodness and the rich, spicy flavors of Ethiopia, give this a try. But keep your expectations in check. But to their credit, the food was surprisingly very spicy. Also, there's apparently a new Ethiopian restaurant — Minilik — in the countryside that is becoming quite the hotspot amongst locals.
8) Matur og Drykkur — Literally meaning food and drink in Icelandic, Matur og Drykkur is a creative culinary powerhouse that couples locally-sourced fresh ingredients with traditional Icelandic cooking techniques. I was fortunate to have native New Yorker Chef Paul work his magic for my 30th birthday dinner and I couldn't have been more pleased with his culinary prowess and attention to detail. This is easily one of my favorite restaurants in Reykjavik and after you try the cured arctic char, halibut soup with mussels, and salted cod croquettes, you'll see why. My advice: start with the caviar and move into the Icelandic tasting menu with the drink pairings — the experience is excellent.
9) Apotek — This was one of my favorite spots to unwind, to enjoy their signature Dillagin cocktail, and to load up on langoustine. It's a great place for happy hour.
10) Cafe Loki — I deliberated for quite awhile before I decided to indulge in a "typical" Icelandic meal, but I finally decided to take the plunge and try the rye bread with mashed fish and smoked trout, smoked lamb on flatbread, dried fish with butter, meat soup, and the showstopper: fermented shark. Am I glad I tried it? Yes. Will I be running to the nearest rotten shark retailer? Not a chance. For those wanting a traditional experience with the delicacies, I highly recommend this Icelandic feast at least once. Make sure to chase that cube of shark with a shot of Brennivín (also called Black Death) — a clear, unsweetened schnapps that is considered to be Iceland's signature distilled beverage.
11) Sea Baron — With an unpretentious and relaxed vibe, Sea Baron is home to what many claim is the world's best lobster soup. Almost every major publication, including the New York Times has written about it. I'm a fiend for anything lobster, especially Icelandic langoustine, so I'll let you reach your own verdict.
12) Grillmarkaðurinn (Grill Market) — An absolute feast for the eyes and palate! The menu is controlled by the seasons and all the ingredients are locally-sourced. The wine list could always be longer and more expansive, but the ones listed do leave a lasting impression. The cocktail list boasts some classics with Icelandic twists with local ingredients. But more than anything, go for the glamorously chic interior design — it'll make you swoooooon!
13) Aalto Bistro — Located right next to the University of Iceland, Aalto is a beautiful bistro that shows off Chef Sveinn Kjartansson's creations. They're simple, healthy, and delicious. It's a great place for lunch.
14) Fiskmarkaðurinn (Fish Market) — Right when I was about to write off Reykjavik as a hopeless sushi destination (surprisingly!), I'm rewarded with the most succulent pieces of raw fish around. The maki rolls with salmon roe and langoustine and scallop nigiri at the Fish Market are to die for.
15) Bæjarins Beztu Pylsur — Literally translates to "the best hot dogs in town." Popularized by Bill Clinton, this hot dog stand along the Harbor always enjoys a never-ending line and a roster of loyal patrons. I'm not generally a fan of hot dogs, but the lamb hot dogs are quite tasty.
16) Solon Bistro — If you're in the mood for excellent people-watching and happy hour, this is a perfect option. Good food and great ambiance in the center of town.
17) Shalimar — This is probably the best Indian/Pakistani restaurant in town. If you request dishes to be spicy, be prepared for your tongue to be on fire.
18) Dill Restaurant — One of my favorite restaurants in the city — the service, food, all of it is superb and culinary perfection. Creativity is bursting out of every dish and the decor is intimate and romantic.
19) Sushi Samba — Combining Japanese and South American flavors, this isn't your typical sushi restaurant. I'll admit more than the food, I enjoyed the vibrant atmosphere and trendy decor. I'm a purist when it comes to sushi, so I don't often gravitate towards rolls, and certainly not ones that are layered with heavy sauces.
20) Tacos fyrir mig — For Mexican food aficionados, don't expect much more than tacos, and given the wide range of fish and seafood specialties on offer, the shrimp tacos are admittedly pretty good. Authentic? No. Delicious? Yes. If you don't want every inch of your taco smothered in the usual creamy mayonnaise, be sure to request the sauce on the side, but expect to be met with stares of utter bewilderment and shock.
21) Bunk Bar — Once again, you can find the beloved tacos here topped with dollops of creamy mayo-based cocktail sauce — but those shrimp tacos are absolutely delectable!
22) Ban Thai — With the recent influx of Thai immigrants, there has been a surge in Thai restaurants around the Icelandic capital. The first time I went to Ban Thai, it was completely booked surprisingly. In a relatively small city like Reykjavik, I was a little shocked that I wasn't able to get in without reservations. So the next time, I made sure to make reservations. The flavors are authentic and delicious, but be sure to let the waiter know to adjust the spice levels if you're in the mood for a true Thai feast. This is a great spot for vegetarians.
23) Glo — This was about the only vegan/vegetarian restaurant I found in the city. Other restaurants had a few token veggie options, but this was the only one that was exclusively vegetarian.
24) Perlan — Literally meaning "Pearl" in Icelandic, Perlan is a f

uturistic revolving glass-domed fine dining restaurant with a cocktail bar. A visit is warranted not for the mediocre food, but for the stunning panoramic views of Reykjavik that can be enjoyed while enjoying a cocktail at the bar. 
25) Kaldibar — This is one of the hottest bars in town — always packed, always fun.
26) Veiðikofinn — If you're interested in cappuccino lobster soup (amazing!) or reindeer, this is your place. Other specialties to look out for are guillemot with roasted potatoes, langoustine, wild goose, and minke whale. The chef is fantastically talented and has a knack for marrying unusual flavors. Definitely do the tasting menu.
27) Klaustur — I'm a sucker for a good hotel bar — it's one of my favorite parts of a hotel experience. Housed in Hotel Kvosin in Downtown, Klaustur offers a classy wine bar that boasts a global high-quality wine list — all curated by an American sommelier. The space is cozy and inviting, and with the expansive wine list and fantastic service, it can easily take a good night into a fabulous night. I also love the willingness of the bartenders to make anything, even if it's not listed on the menu — you don't find that kind of customer service very often in Iceland.
28) Slippbarinn — Touted as the best cocktail bar in the city by locals, Slippbarinn is known for its knowledgeable bartenders and widest array of cocktails in Reykjavik. It didn't quite hit the mark as the best cocktail bar for me — I wasn't a fan of their dirty martinis, but they more than made up for it with a killer chocolate espresso martini.
PLAY
1) Harpa Concert Hall — Created by Ólafur Elíasson, Harpa is home of the Iceland Symphony Orchestra and one of the finest emblems of Nordic ingenuity. I've been to many cities around this region, and while I'm a big fan of Nordic architecture and the striking craftsmanship that it entails, nothing has blown me away as much as this geometric glass & steel masterpiece. A must-see in Reykjavik for any art, design, culture, and/or  architecture lovers. This is hands down my favorite piece of architecture in the city! Catch a show or performance if possible, but whatever you do, don't miss it at sunset. 
2) Hallsgrimkirkja — The church is named after Iceland's most popular hymn writer, Hallgrímur Pétursson from the 17th century. The design inside is minimalist but impactful; it's inspired by the basalt and ice formations in the country.
3) Sólfar — Also known as the Sun Voyager, Sólfar is a gorgeous sculpture by Jón Gunnar Árnason along the Reykjavik Harbor and serves as an ode to the sun.
4) Alþingishúsið — Otherwise known as the Iceland Parliament House. Love the civility of the city — not a single bodyguard or barricade in sight. There were even peaceful protests right in front of the building but no riot gear or guns.
5) Þúfa — Art is everywhere in the city, inside and outside. Þúfa by Ólöf Nordal is an outdoor artistic man-made hill, 26 meters in diameter and 8 meters high, with a trail of stone steps that spiral around to the top. On the top, you'll find a small fishing shed where different types of fish are hanging for drying. It's also a fantastic vantage point for unique shots of Harpa Concert Hall pressed against the gorgeous Reykjavik Harbor.
6) Norðurflug Helicopter Tours — Seeing the beautiful city of Reykjavik from the sky is a treat, but I'd recommend a longer tour over a shorter one because you cover more ground and there's more time to truly soak up the city's splendor. Consider taking it to destinations out of the city.
7) Seltjarnarnes — It's one of the oldest municipalities along the coast and a great place to stroll along the water and experience stunning Icelandic sunsets.
8) Hæstiréttur Íslands — Also known as the Supreme Court of Iceland. I'm fascinated by the legal and political systems of Iceland, so taking a tour through its highest judicial body was a treat. There's 8 district courts that cover both civil and criminal cases. And because all citizens are registered in a central database at birth, there is no need for voter registration. There's also little to no security and no bailiffs, which is a sharp contrast to the courts in the U.S. If you can do a tour, I'd highly recommend it.
STAY
1) I had my own apartment during my time in Reykjavik, so I didn't stay at any hotels. And the luxury hotel scene is pretty dire. However, I'd highly recommend looking into Airbnb options. For a hotel, I'd recommend Hotel Kvosin — from the hotels that I saw in the city, it was the most stylish and chic.  
NOTES / INSIDER TIPS:
-I loved summertime in Iceland, but it's by no means warm, which is perfect for me. But you're in for a treat no matter when you go — the never-ending hours of daylight in the summer, the spectacular foliage in the fall, the colorful Northern Lights in the winter, or the vibrant blooms in the spring.
-Some of the best shopping is in central Reykjavik on the main streets of Laugavegur, Austurstraeti, Laekjargata, and 

Skólavörðustígur.
-The city is known for its street art and murals — it's dotted throughout the city. 
-There is one main international airport in the country. KEF will probably be your point of entry as it's the largest and most accessible, even though it's about 45km out of Reykjavik.
-Consider taking guided culinary, photography, and/or walking tours through Reykjavik.
-If you're on the Golden Circle tour and looking for a spectacular restaurant that has an impressive menu full of Icelandic lobster, try Fjöruborðið in Stokkseyri — a small fishing town along the Southern coast, about 45 minutes outside of Reykjavik. Try the lobster bisque — probably one of the best in the country.
-I got a local SIM card from the phone company, Nova. It was a very easy process.
-The nightlife is in a league of its own — the party starts in the wee hours of the morning and lasts until you want it to last.
-One of my favorite Icelandic breakfast items is Skyr — a thicker and slightly more textured version of Greek yogurt. My recommendation is to head to the nearest grocery store (Hagkaup, Bonus, Víðir, etc.) and choose from a wide array of flavors for your morning meal.
-There's no Uber/Lyft in Reykjavik, but taxis are in abundance. However, I'd highly recommend walking whenever possible — the city is relatively small and very walkable.
-If you want to use Netflix in Iceland, look into getting a VPN.
-A whole world of adventure awaits outside of Reykjavik — consider glacier hiking, underground caves, glacial lagoon at Jökulsárlón, Fontana Spa, Golden Circle tour, Blue Lagoon, Álafoss, driving around Ring Road, Akureyri, and so much more. Hire a private chauffeured Super Jeep tour.
-Some souvenirs to buy from Iceland: Brennivin, Mountain Gin, Blue Lagoon skincare, Arctic sea salt flakes, and Icelandic wool sweaters.
Duration: 2 months, from early June to late July 2015 
EAT, PLAY, STAY is an ongoing series that highlights destinations around the world and offers my itinerary for the trip, giving you information on where and what to eat, where to play and what to see/do, and where to stay. The guides are not meant to be comprehensive, but rather reflect my time(s) in that destination. These luxe guides are perfect for those who don't have much time in the city or don't have too much time to research the destination. The places to eat, play, and stay all stem from my own personal experiences with the destination, revealing only those that are my favorites and that I'd revisit again. Feel free to offer any tips/suggestions for my next visit!