Deconstructed! is a new series of posts that breaks down select urban centers by their individual areas and offers recommendations for hotels, restaurants, bars, landmarks, insider's tips, and hidden gems for each. Stemming from the kinds of questions I often receive, I wanted to create an insider's guide that makes big cities less overwhelming and much more manageable. Each guide is a blend of culture and luxury with a dash of local insight from my own personal experiences.
What better city to kickstart the series than PARIS? The dazzling City of Light shines in all its glory, day or night, but can be daunting for first-timers. Starting in the center of the city with the 1st arrondisement, I'll spiral my way out clockwise through all my favorite areas.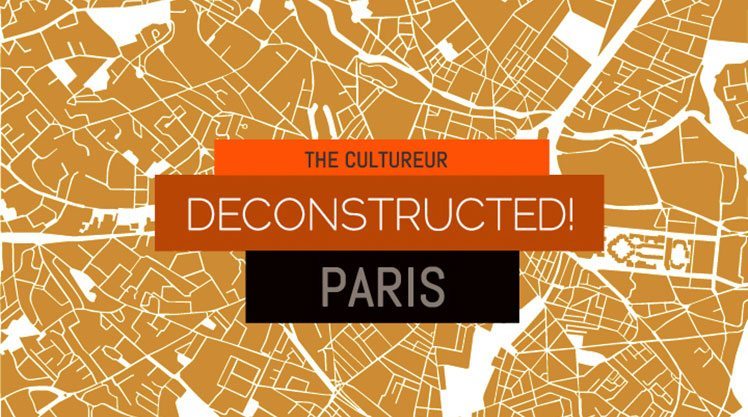 ---
3rd Arrondissement :: Paris
The 3rd Arrondissement (3eme), known as Upper Marais, bisects the vibrant Marais neighborhood in Paris and is considered the quieter half to its boisterous counterpart in the 4th. Though its one of the smaller arrondissements, it's one of the most celebrated neighborhoods, lined with countless designer boutiques, vintage shops, open-air markets, old Jewish bakeries, charming cafes, and popular museums. 
Calling food enthusiasts, bar hoppers, culture vultures, and shopaholics!
Landmarks:
Musée Picasso: boasts one of the most extensive collections from Picasso — over 250 paintings, 1,700 drawings, nearly 300 sculptures and works in diverse other mediums make up the permanent collection. Masterpieces include Man With a Guitar and studies for the famed Demoiselles d'Avignon.

Musée de la Poupée: more than 500 dolls exhibited from all over the world.

Musée des Arts et Métiers: divided into seven sections, the displays cover different aspects of Paris' infrastructure and scientific innovations from the past to present. 

Musée Carnavalet: a lovely museum that shows the history of Paris through both meticulously detailed 3D models and classy bourgeois as portrayed by belle époque painters. Don't miss Marcel Proust's cork-lined bedroom.

Les Archives Nationales:  houses original documents illustrating France's history and evolution. Its most rare collections, which are not directly accessible to the public, are presented during temporary exhibitions. The site itself is of great historical significance – it was here that Bolingbroke (the future king Henry V) gave a farewell banquet in 1399 before leaving for England.

Musée d'Art et d'Histoire du Judaïsme: French museum of Jewish art and history located in the Hôtel de Saint-Aignan.
Hotels:
Pavillon de la Reine: Marrying the royal luxe atmosphere of Place des Vosges and the nonchalant attitude of the Marais, Pavillon de la Reine is both luxuriously charming and historically relevant. It's the perfect luxury boutique hotel in the center of town that brings out your inner king/queen. Request a room facing the inner courtyard for some glorious views.
Restaurants + Bars:
Les Enfants Rouge: a traditional French bistro by day and popular trendy bar by night.

Broken Arms Cafe: a cozy coffee shop meets beautiful designer boutique.

Nanashi: casual cafe with oriental-inspired cuisine prepared with super fresh ingredients; perfect for vegetarians.

Le Marie Celeste: great for cocktails, oysters, and tapas-style plates.

Breizh Cafe: minimalism decor, casual friendly staff, and mouth-watering crepes.

Jacques Genin: quite possibly the most amazing lemon tart you'll ever try.

Loustic: coffee shop perfection — cozy, high quality coffee, friendly staff, WiFi, people watching…the list goes on.

Fondation Café: an espresso bar dedicated to the art of coffee.
Hidden Gems + Insider Tips:
The 3rd arrondissement is often referred to as "Temple" after the medieval fortress that once stood in the area was built by the infamous military order known as the Knights Templar.

The oldest surviving private house of Paris, built in 1407, is to be found in the 3rd arrondissement, along the rue de Montmorency.

Don't leave without a visit to Le Marché des Enfants Rouges, the oldest covered market in Paris (dates back to the early 1600s).

If you have any appreciation for Art Nouveau at all, visit the gorgeously grand George Fouquet Jewelry Store for a sprawling collection of old jewels.
Metro/RER Stops:
Line 3: Arts et Métiers, République, Temple

Line 5: République

Line 8: Chemin Vert, Filles du Calvaire, République, Saint-Sébastien — Froissart

Line 9: République

Line 11: Arts et Métiers, République
If you have any new recommendations or suggestions, please leave them in the comments. It'll help others and give me more places to try out when I'm in Paris next! =)
*Please note these are all personal recommendations and therefore, it is not a comprehensive guide to fit all styles, interests, and budgets.
3rd Arrondissement in Paris