If you've been following me on here or my social media channels, it should come as no surprise when I say that Detroit is one of my new favorite cities in the United States. The Motor City is one of the most unassuming, yet fantastically charming cities. At every corner, you'll find abandoned buildings that are being repurposed and revamped to create fresh, new spaces for entertainment, dining, and public services. Attracting a steady stream of creative visionaries, intellectual minds, and entrepreneurial spirits, Detroit is a breeding ground for innovation and a treasure trove of cultural and historical gems.
Detroit is big enough to matter in the world and small enough where you can matter. –Jeanette Pierce 
I've been to Detroit four times now, and every time, I've been surprisingly impressed and charmed by its hearty soul and resilient spirit. It's rare that a city moves me as profoundly as Detroit has. As I mentioned in my first impressions post, Detroit is not your traditional white-glove luxury destination, but it delivers lavishly to those who consciously seek out its cultural treasures and dare to peel back the intricate layers of history with its inventive restaurants, sleek hotels, and forward-thinking galleries — all without the pretension. It is the ultimate emblem of experiential luxury travel.
It reminds me of a hybrid between Berlin and Seattle, one of my former homes and my current home city, respectively. It's the tech ambition of Seattle and the creative vision of Berlin that mirrors Detroit's strengths. It's still rough around the edges, but it's making progress every day to be the shining city that the proud locals know it can be. While vestiges of its bruised past reverberate in every corner, so do glimpses of its promising bright future.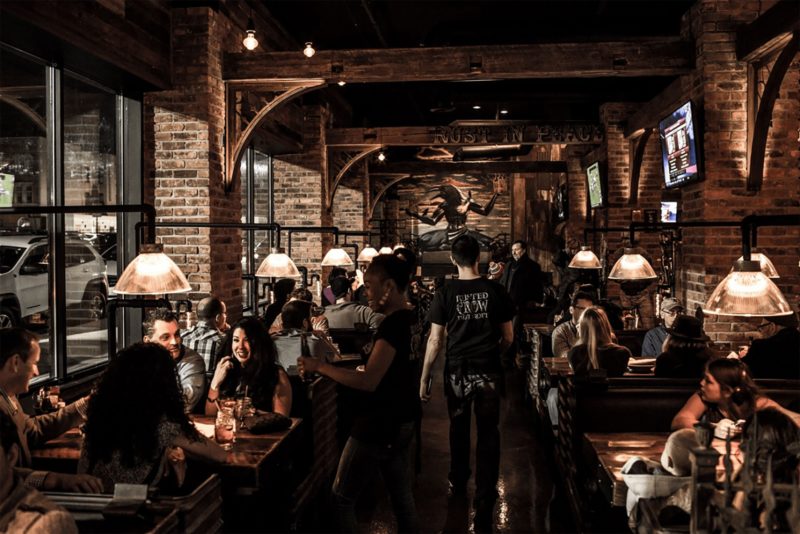 EAT
1) Wright & Co. — It's one of my favorite restaurants in the city. The gorgeous chandelier, perfect location, charming building, glamorous decor, inventive food, craft cocktails — all of Wright is right!
2) Gold Cash Gold — As a pawn shop-turned-restaurant, this is the perfect marriage of Detroit's past, present, and future.
3) Sugar House — This craft cocktail bar is a gem in the Corktown neighborhood — the drinks are great and the decor is gorgeous.
4) Antietam — Another great craft cocktail bar for a night out.
5) Imperial — This is a neighborhood joint in Ferndale — try the tacos and the incredibly spicy Bloody Mary!
6) Public House — Another neighborhood bar in Ferndale that's perfect for after-hours drinks.
7) The Whitney — This is Detroit's oldest and most storied dining establishment. It's also rumored to be a former haunted house. It's great for after-dinner drinks.
8) Great Lakes Coffee — You can expect fabulous coffee shop by day and cozy wine bar by night. What's more is that they roast their own beans.
9) Anthology — Another key player in Detroit's third wave coffee scene — fantastic unpretentious, single-origin coffee.
10) Two James Distillery — This is one of my favorite bars in the city with their super crafty cocktails and distillery. Don't forget to do the distillery tour and taste all the homegrown liquors. It's the first licensed distillery in Detroit since Prohibition.
11) London Chop House — Established in 1938, this is a classic elegant steakhouse with an English feel and accompanying cigar lounge that caters to a posh clientele.
12) Townhouse Detroit — As one of the new restaurants in town, they're already packing quite an impactful punch with a menu that fuses the best of all the different ethnic enclaves of the area. Love the patio area and trendy decor. Another favorite of mine.
13) Our/Detroit Vodka Bar — I'm a gin gal generally, but I loved the concept of this vodka distillery by Pernod Ricard: connected globally, but made locally. There's locations all around the world, but each has its own local twist.
14) Café con Leche — Single origin coffee from Mexico is one of the selling points of this fabulous Latin-inspired coffee shop. The owner, Jordi is incredibly passionate about coffee and teaching others about the process — meeting people like him is always a pleasure. I'd highly recommend doing a flight/tasting session to learn about the different tasting notes and to see the process from start to finish (from beans to cup).
15) Lafayette Coney — There is nothing glamorous about this joint, but you have to try one of the city's specialties at what many locals argue serves the best coney dogs in town.
16) Astro Coffee — Expect quality coffee with a great atmosphere in the up-and-coming neighborhood of Corktown.
17) Kresge Court Cafe at Detroit Institute of Arts — This is easily one of my favorite spaces in Detroit with a mix of traditional and modern furniture, airy vaulted ceilings, and cozy living-room style. If I lived in the Motor City, I'd set up my mobile office and spend all my weekends here. It's the perfect place to read a good book, enjoy a cup of coffee or a drink, and/or catch up with a friend.
18) Grand Trunk Bar — A very cool bar in a converted 1900s-era railway station with high ceilings and heavy doses of nostalgia.
19) Bon Bon Bon — Decadent Detroit-based chocolate maker that produces fresh, artisan quality chocolates in its quaint parlor in downtown.
Misses: Selden Standard, Eagle Tavern
PLAY
1) Detroit Institute of Arts (DIA) — I'd highly recommend setting aside a few hours to go through all the fabulous galleries, and even then, you'll only scratch the surface. Request a guided tour to truly appreciate the artwork and the back stories. There's also live music on Friday nights. The larger-than-life Diego Rivera murals are a must!
2) Henry Ford Museum/Greenfield Village — A large indoor and outdoor history museum complex in Dearborn dedicated to Henry Ford and all of its innovative technologies and creations. This is one of those museums that can't be missed if you really want to understand Detroit and its history. Don't forget to stroll through Greenfield Village afterwards and ride in an actual Model T! An added treat for history buffs — the actual bus that Rosa Parks made history on is on exhibit here.
3) Motown Museum — As the home of Motown and all its glory, Detroit and its rich cultural past is best understood through its museums. This is a must for music lovers.
4) Campus Martius Park — A reestablished outdoor park/recreational area in downtown. The park is bustling with energy and is the perfect place to people-watch, grab a midday drink, or do some work at one of the many pavement cafes.
5) The Guardian Building — This is a 40-story historical skyscraper in downtown that boasts a gorgeous art deco-styled lobby. It's often called the Cathedral of Finance.
6) Fisher Building — Another art deco-styled building that's an architectural gem. This is one of my favorite buildings in the city.
7) Shinola Factory and Tour — As a luxury lifestyle brand that specializes in watches, bicycles, and leather goods, this is one of the most celebrated success stories from Detroit. I'd highly recommend requesting a tour through the Factory that's down the street from the flagship store — it's the perfect place to see the city's legendary strong work ethic in action.
8) Z Garage — Stroll through this 10-story parking garage that has been converted into a mural gallery that reflects the work of 27 artists from across the globe.
9) College for Creative Studies (CCS) — Tour through this one-of-a-kind complex that houses a middle school, high school, college, and graduate program that all focus on art and design. I'd recommend getting a tour of how the clay modeling process of car design works — it's fascinating! Or sit in on a class about automotive design by one of its esteemed faculty and alumni, Colin Phipps.
10) Eastern Market — It's one of America's oldest and biggest farmer's markets and it's fabulous!
11) Detroit Experience Factory tours — Take a tour on coffee, architecture, luxury shopping, you name it, and they've got it for you. What's more is that all the individuals are highly knowledgable and passionate about Detroit — their energy is infectious and will make you fall in love with the city too!
12) Monument to Joe Louis ("The Fist") — As a memorial to the boxer in Detroit's Hart Plaza, it's meant to represent the power of his punch both inside and outside the ring.
13) Salt and Cedar — An artsy letterpress studio in the historical heart of Eastern Market where you can design your own hand-bound journal.
14) The GM Renaissance Center (RenCen) — A group of seven interconnected skyscrapers in Downtown Detroit that overlooks the International Riverfront. It's not only the General Motors Headquarters, but also the tallest building in Michigan. The architecture is gorgeous and it's a photographer's playground!
15) Michigan Central Station — The last train left here 27 years ago. Once a symbol of Detroit's grandeur is now a painful symbol of the city's collapse for many Detroiters. But it also serves as a beacon of hope for Detroit's rise and reawakening. I hope they never tear it down, even if it's for its architectural beauty alone. I can't even imagine how fabulous this building and all that it stood for was back in the day — if only time travel were a thing…
STAY
1) Detroit Marriott Renaissance Center — a business hotel in the GM Headquarters building in the heart of downtown. I stayed here on my first visit to Detroit, but I'm not likely to stay here again.
2) The Westin Book Cadillac — an upscale chain hotel but with layers and layers of history.
3) The Henry, Autograph Collection — a luxury boutique hotel in the suburbs of Detroit in Dearborn.
4) MGM Grand Detroit — the most modern and luxurious hotel option in Detroit.
NOTES / INSIDER TIPS:
-Autumn is the best time to visit the city — the weather is perfect and the gorgeous fall foliage is in full swing. To experience the fall foliage in all its glory, trek up a few hours to Traverse City. It's also a great place to go wine-tasting in Michigan wine country. As a side, I'd highly recommend NOT visiting during the brutal arctic months of winter.
-There is always something going on in Detroit when it comes to cars, culture, or culinary, so try to match up your visit with one of the many festivals, seminars, conferences, etc. (i.e. Woodward Cruise, NAIAS, Dally in the Alley, Detroit Design Festival, CultureLAB…the list goes on)
-Venture out to the suburbs (Dearborn, Ferndale, Royal Oak, Birmingham, etc.) to get a full comprehensive flavor of the area.
-Fun fact: Detroit is the birthplace of techno music.
-The suburb of Dearborn has the largest Arab population outside of the Middle East — expect amazing Middle Eastern food!
-Detroiters are some of the warmest, most inviting people you'll meet, and their pride for their city is beyond contagious. Strike up conversations with anyone you meet and you'll see that gleam in their eyes.
-One of the biggest culinary trends in Detroit is popup restaurants. I'd highly recommend finding one during your visit and checking it out for the experience, if nothing else.
-Detroit is the only city in the contiguous U.S. where Canada faces south.
-Rent a car (with or without a chauffeur) or use Uber/Lyft — both are great options to navigate the city.
-I love that the city has hundreds of different slogans (Detroit v. Everybody, Nothing Stops Detroit, etc.), but they're all essentially saying the same thing: Detroit is progressing forward and it IS America's greatest comeback city.
Duration: 4 nights and 5 days, from September 8-12, 2015 | 3 nights and 4 days, from June 2-5, 2015 | 2 nights and 3 days, from January 10-12, 2015
Please remember: EAT, PLAY, STAY is an ongoing series that highlights destinations around the world and offers my itinerary for the trip, giving you information on where and what to eat, where to play and what to see/do, and where to stay. The guides are not meant to be comprehensive, but rather reflect my time(s) in that destination. These luxe guides are perfect for those who don't have much time in the city or don't have too much time to research the destination. The places to eat, play, and stay all stem from my own personal experiences with the destination, revealing only those that are my favorites and that I'd revisit again. Feel free to offer any tips/suggestions for my next visit!