Montréal is not your ordinary North American city, and therein lies its greatest allure. With its proud French heritage, vibrant nightlife, and general air of bonhomie and elegance, Montréal is often called the most European city in the region. In fact, Montréal is the third largest French-speaking city in the world, after Paris and Kinshasa. And like many great cities of Europe, it is a wonderful destination to explore by foot.
Before visiting, I had high hopes for Montréal. After all, it had been towards the top of my travel list for quite some time. And it gives me great pleasure to report that it lived up to its hype and more. The sights were visually stunning, the food was mouthwateringly delicious, the culture was uniquely rich, and the people were delightfully pleasant. 
Everything else aside, the food alone is grounds for a luxe weekend jaunt. Montréal is the kind of city where attentions turn — quickly and often — to the pleasures of the table. You can hardly walk a block without succumbing to flaky croissants, raw milk cheeses, or wood-fired bagels baked to perfection. Gastronomy is one of the city's strongest assets, so it's futile to do anything but let your palate steer your path.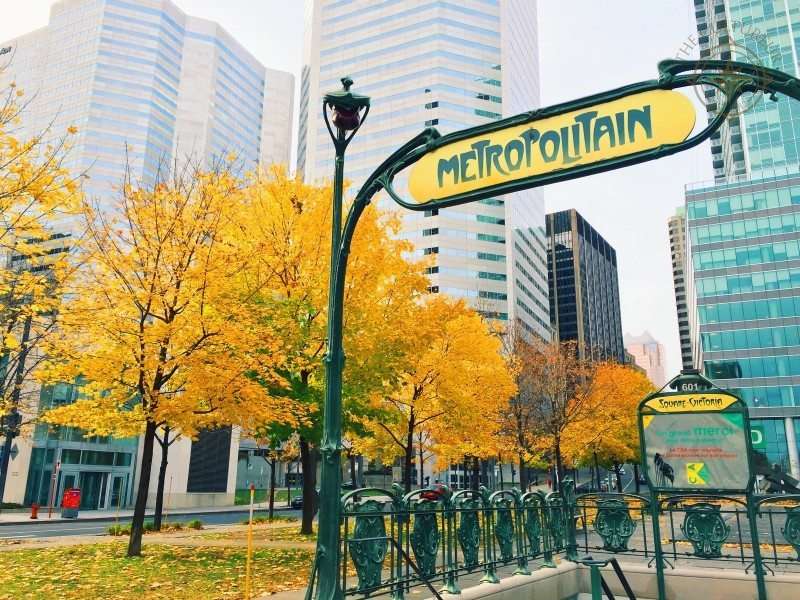 EAT
1) Bar Furco — If you're looking for a trendy wine bar, this should satisfy that quest. At the recommendation of the bartender at Brasserie T, we stopped in for a quick nightcap after dinner on my last night in Montreal. It was a random Monday night, but it was still incredibly packed with a young well-heeled crowd.
2) Maison Christian Faure — With a gorgeous display of macarons, pastries, and other mouthwatering goodies, this patisserie is the perfect place to indulge your sweet tooth or enjoy a delicious cappuccino and croissant. On our evening food tour, we stepped in for a quick bit and grabbed a peek at the pastry school on the premises. All I kept thinking was that it would be a dream come true to take lessons with the world-renowned pastry chef, Christian Faure!
3) Cafe Myriade — It's a local coffee chain that has 3 different locations around the city. I went to the one on the ground floor of Club Monaco on the bustling Rue Sainte-Catherine. It was somewhat hidden, but it was busy nonetheless. With its glamorous design and inviting ambience, it was the perfect spot to enjoy a latte.
4) Communion — Located in the heart of Old Montreal, Communion serves seasonal French fare with small plates, oysters, and wine in a charming bistro-style setting with a lively patio facing the port. This was the first stop on our evening food tour and the perfect introduction to the fantastic food scene in Montréal.
5) Mercuri Montréal — With an impressive open wood fire oven, Mercuri is the first of its kind in Montréal. Add a creative and eclectic menu and a décor that is both rustic and contemporary, and you have an extraordinary fine dining experience.
6) Brasserie Centrale — Serving brunch, lunch, dinner, wine, and cocktails, Brasserie Central provides numerous specialties, including Serrano ham with parmesan and truffle honey oil, as well as an oyster bar. I loved the Eggs Benedict with lobster!
7) EVOO — We were fortunate to meet Chef Sophie and do a behind-the-scenes tour to get a glimpse of how she takes an old school approach to create her twist on contemporary French gastronomy. Known for its full Irish breakfast and NutellOO spread, EVOO is easily one of the top brunch spots in the city.
8) Los Planes Restaurant — On the first stop during my food tour, we waded through Salvadoran flavors at Los Planes in the Rosemont-Petite-Patrie district. The location may be tiny, but the food is bursting with exciting flavors and authenticity. Try the pupusas and horchata!
9) Les Anges Gourmets — My guide on the food tour told me that there was a large Portuguese population in Montreal, so naturally I had to find a Portuguese bakery to get my pasteis de nata fix. When asked about the best Portuguese bakery in the city, all roads led me here and I'd be lying if their desserts didn't mentally transport me back to Lisbon. Muito gostoso!
10) O'Bagel — Before coming to Montreal, I had made a list of all the delicious treats I had to try, and bagels occupied the top spot on that list. My food guide recommended Fairmount Bagel, St. Viateur, and O'Bagel as the top bagel shops in the city. I didn't try the first two, but had just enough time to grab a pack of freshly baked bagels to go at O'Bagel at Marché Jean Talon. The only thing I can compare these to are New York bagels, and as much as I love my NYC bagels, Montreal bagels win, hands down! Montreal vs. New York City: Who Does the Bagel Better?
12) Chez l'Épicier — For over 15 years, Chef Laurent Godbout has reinvented Québecois gastronomy with regional accents, continually offering delightful dishes. Chez l'Épicier is also a fine grocer where various local and imported products are available for purchase. I loved the pumpkin risotto!
13) Brasserie T! — I spent my last meal in the city here, meeting locals and chatting about the food scene with the bartenders and waiters. I found a menu inspired by seasonal bounty and boasting homemade charcuteries, tartars, seafood platters and other delicacies found in a typical brasserie. The bartenders were fabulous and made me bespoke cocktails with fresh fruits and herbs!
14) La Champagnerie — It's the only champagne bar in the city, as far as I know, so naturally I had to stop in for a taste. We stopped in on our way to dinner, and it was relatively quiet, so we had the sommelier all to ourselves. His recommendations were solid and did not disappoint. I raise two glasses to their selection of champagne and the beautifully designed industrial-style bar!
15) Birks Café, par Europea — I had the afternoon to myself to indulge in one of my favorite afternoon activities — afternoon tea. Strangely enough, the best afternoon tea, according to Montreal Tourism, is at Birks Café, which is also jewelry store. While I didn't love the impersonal atmosphere and the service and food were not up to standards, I did enjoy the quiet ME-time.
16. Dispatch Coffee — Three words: homemade Oreo cookies.
PLAY
1) VDM Global Culinary Tours — On one of my first nights in the city, I embarked on an evening food tour through the city. We started at Communion for appetizers and drinks, stepped into Maison Christian Faure for sweets for later, and ended up at Mercuri Montreal for the main feast. I loved walking my way through the romantic cobblestone alleyways of Old Montreal at night, soaking in the charming architecture and hearing about the city's vibrant history along the way.
2) Spade & Palacio Tours — This was one of my favorite walking food tours — it was led by Danny Pavlopoulos, a local foodie who navigates his way through the city with flair and a dash of humor.  We started at Marché Jean Talon, wading through some of the tastiest flavors in the city and visiting more than 6 different favorite eateries, cafes, and watering holes.
3) Marché Jean Talon — Located in Little Italy, this is one the city's oldest public markets with aisles full of merchants selling fruit, vegetables, flowers and baked goods. The farmer's market is flanked by delis and cafes with tiny patios. It's the perfect place to take in the local culture while nibbling on sandwiches, crêpes, bagels, tacos, pastries, ice cream, fresh juices, and excellent coffee. Stop by Le Marché des Saveurs du Québec, one of the few stores in town devoted entirely to Québec specialties such as wine and cider, fresh cheeses, smoked meats, preserves and many other delicious gifts.
4) Sherbrook Street West — Once an enclave for Montréal's wealthiest families, this posh area of the city is now lined with designer boutiques, antique stores, art galleries and many other places to pick up unique and high-end trends.
5) Old Montréal (Vieux-Montréal) — This was one of my favorite parts of the city — it's part of downtown Montreal that has been preserved in much of its original state, with some of the oldest buildings dating back to the 1600s. Old Montréal is oozing with European charm, with its cobblestone streets, vibrant café culture, and historic 17th and 18th century architecture.
6) Notre-Dame Basilica — The church's Gothic Revival architecture is among the most dramatic in the world. I don't typically prefer to go into houses of worship, but I'm very glad I went inside to see the grand, colorful interiors — the ceiling is colored deep blue and decorated with golden stars, and the rest of the sanctuary is a polychrome of blues, azures, reds, purples, silver, and gold. It is filled with hundreds of intricate wooden carvings that are a feast for the eyes.
7) Musée d'art contemporain de Montréal (MAC) — Founded in 1964, this is Canada's first museum devoted to contemporary art. It is located on the Place des festivals in the Quartier des spectacles and is part of the Place des Arts complex. It's a great place to wander for a few hours.
STAY
1) Hotel Le Crystal — A boutique all-suite hotel in downtown Montréal on Rue de la Montagne.
2) Loews Hotel Vogue — A luxury hotel in downtown Montréal with a glamorous lobby and eye-catching decor including a sparkling pendant chandelier, plush velvet seating, and deco-inspired furniture.
NOTES / INSIDER TIPS:
-Autumn is my favorite time of year and Montréal reenforces that autumnal love. The vibrant hues of red, orange, and yellow are stunning all around the city and liven up an already vivacious city. But I hear summer is spectacular with all its musical shows and cultural events.
-You'll likely fly into Montréal-Pierre Elliott Trudeau International Airport (YUL). Be warned that it's one of the most inefficient airports I've been to, from the service desk to the security line, so arrive early to allow for all the extra time it's likely to take you.
-It's easily one of the most cultured cities in North America — it's a gorgeous, gorgeous city!
-In 2006, Montréal was named a UNESCO City of Design, only one of three design capitals of the world (the others being Berlin and Buenos Aires).
-My souvenirs included maple syrup, cidre de glace, jewelry from local designer, Anne-Marie Chagnon,

 croissants, bagels, and a book about Montreal chefs.
-I used Quartz Limousine from the airport — they were on-time, pleasant, and flexible. I'd highly recommend them!
Duration: 4 nights and 5 days, from October 30-November 3, 2015
Disclosure: My stay was hosted by Montreal Tourism, but views are my own and reflect my actual experience. This post may contain affiliate links.
Please remember: EAT, PLAY, STAY is an ongoing series that highlights destinations around the world and offers my itinerary for the trip, giving you information on where and what to eat, where to play and what to see/do, and where to stay. The guides are not meant to be comprehensive, but rather reflect my time(s) in that destination. These luxe guides are perfect for those who don't have much time in the city or don't have too much time to research the destination. The places to eat, play, and stay all stem from my own personal experiences with the destination, revealing only those that are my favorites and that I'd revisit again. Feel free to offer any tips/suggestions for my next visit!